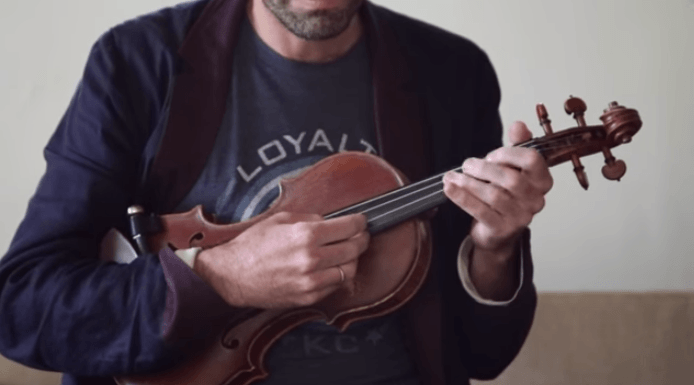 Screenshot of Andrew Bird's perfect, perfect fingers strumming away at his perfect, perfect cover.
This must be the week for covers that make everybody cry.
With Pentatonix's release of their heart-stopping "Hallelujah" cover, I thought I'd reached my maximum Feelings From A Facebook Video allotment for the week. But then Andrew Bird went and snatched up my heart with his gorgeous cover of Lou Reed's "Perfect Day." And to make things even more feelings-y, the song is a duet with Matt Berninger of The National fame.
Bird has had a pretty incredible year; he released what feels like his millionth studio album (it's his thirteenth) over the summer to rave reviews, especially when it came to his electric duet with Fiona Apple in "Left-Handed Kisses." 
Apparently realizing his knack for killer collaborations, Bird's new web series "Live From The Great Room" invites guests such as Apple and Berninger to play both covers and selections from their own discographies in cozy low-fi Facebook Live shows. The "Perfect Day" cover comes from Berninger's Great Room session, and it is — in a word — perfect.
The cover does what all good covers must: it creates a song that is good in its own right. It leaves just enough room for that bubbly nostalgia for the original track to weave in and out of the chorus. 
Berninger's sultry, gravel-toned crooning is suited so well for Lou Reed's music that it is downright eerie, but it's the trademark whistling and delicate piccicato from Andrew Bird that really makes this a homerun. He also uses live looping (he operates it barefoot), which gets me every time. And yet, the simple beauty of "Perfect Day" is impeccably preserved.
What I mean by all of this is that I cried and I think you will, too. So grab your tissues.