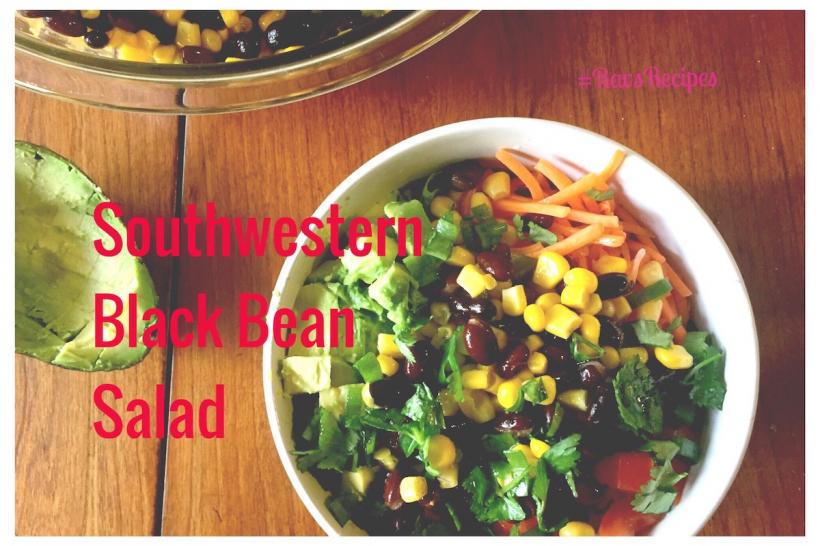 This heart black bean salad is yummy, nutritious, and perfect for meal prep!
It's the new year, and I'm pretty much the same. Except we moved into a new house, are renovating our 65 year old kitchen, and OH YEAH I'M PREGNANT. 
To say my cooking is limited is a shocking understatement. We are trying to slowly unpack our house, and making do with a janky temporary kitchen. I'm also experiencing some weird aversions and cravings, which is silly, but I'll take it if it means I get a baby at the end of it.
Fresh foods have been hard to come by here, and I also don't have the energy to cook. So, that's a conundrum. My fix for this? Preparing one meal and several servings. Instead of making lunch once a day, I make it once every three days. It saves on energy, brain power, and I don't have to figure out feeding myself in my janky kitchen more often than absolutely necessary. 
Black beans are a pantry staple in my house and I love working with them. They're inexpensive, full of nutrition, and easy to dress up. 
This black bean salad is one of my staples and I typically can't get enough of it.
Ingredients: (Makes 4 servings)
1 can black beans
1 can sweet corn
2 avocados
1 bag salad mix of your choice
2 large tomatoes chopped, or one pound of cherry tomatoes halved
1 bag shredded carrots
2 Tbsp pickled jalapeño, chopped
Cilantro, chopped
Green onion, chopped
Garlic powder
Cumin
2 Tbsp red wine vinegar
1/2 cup lime juice
1/4 cup olive oil
Directions:
Combine corn, black beans, jalapeños, a healthy dose of garlic powder, and a touch of cumin with salt and pepper. Set aside.
Combine olive oil, lime juice, red wine, a pinch of cumin, salt and pepper and mix. Set aside.
Fill a bowl halfway with salad mix and place tomatoes, avocado, corn, black bean mixture, and carrots on top. Sprinkle with cilantro, green onion, and a little dressing if you're going to eat it immediately. If you're lazy like me and only want to make this once, skip adding the avocado and dressing until just before you are ready to eat. If you're adventurous and so inclined, add some queso fresco and crushed tortilla chips.