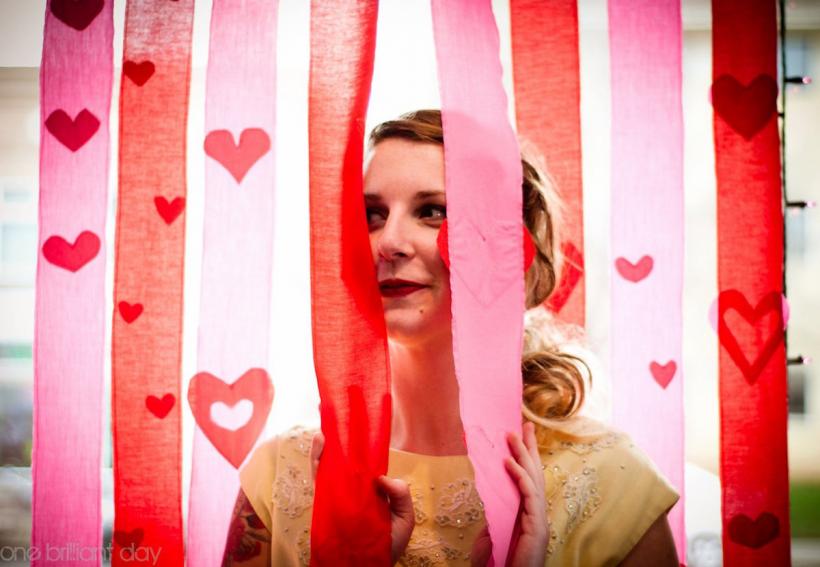 Kit, by David Adams of One Brilliant Day
 Valentine's Day, schmalentine's day. While many couples celebrate and are deeply wooing each other this weekend, singles often feel incredibly left out. Even otherwise happy couples often feel undue pressure to engage in these incredibly performative feats of affection in order to prove their true love for the other. 
What if I told you that you are whole without a partner? This is just as true for those of you within relationships. What if there are no "soul mates" and you just have to learn to love yourself? Despite what romance novels will tell you, absolutely no one in this world knows you like you know yourself. If the core of love is truly knowing and accepting a person, then you have the key to experience the truest love that can exist: self-love. And with self-love there must be self-care. 
It may sound lonely at first, but once you truly embrace the fact that there is no one else that can love you like you can, it becomes gloriously liberating. 
Whether it's adorning your body via retail therapy, wining and dining yourself, picking up a sexy new "power tool," or a few other things, self-care and self-love go hand-in-hand. With that in mind, this weekend I challenge you to be your own valentine. 
1. Adorn Yourself
If you've got the cash, take yourself out for a nice new outfit… and don't forget the lingerie. The little black dress (or jumpsuit, if you prefer pants) that has been tempting you online or flirting from the rack deserves a loving home — your closet. Keep it company with some sexy lingerie, be it that hot lacy bra and garter set that you were eyeing or the super sexy androgynous briefs that skim your ass just so, you don't need a special someone to get dressed up for. In fact, you are that special someone. 
Perhaps there's a piece of jewelry that you have been lusting after, but have been looking for a good reason to #treatyourself. Let yourself sparkle and shine. Go on, buy that new lipstick if you're into makeup. Paint yourself up to the gods and express your inner deity. Make those watching you hang on your every last word with that powerfully painted pout or smoky gaze. 
Don't forget your best "come hither" shoes, either… whether it's fuck-me-pumps or polished wingtips, we're into it. 
Today is the day, Valentine. No one can love you like you and even more certain, no one knows what you like more than you. 
2. Invest In A New Powertool
While it's liberating to DIY your orgasm with just your hands, everyone deserves to be able to lay back and go hands-free with or without a partner. Release your inner pillow queen, at least for tonight. The best way to do that? Invest in new powertools!
Everyone has different preferences, but it certainly doesn't hurt to try something new — unless you are into a bit of kink and you want it to. Give it a few minutes of research but take advantage of massive Valentine's Day discounts that are usually good until the day after, February 15th. Some places even give you a free gift when you sign up for their mailing list. 
Here's a chart if you need help!
3. Wine and Dine Yourself
You don't have to be self-conscious about going out by yourself any longer. You get to order what you really want without having to consider anyone else's dietary sensitivities or judgment. Whether you're vegan or a carnivore, dieting or doing your thing, there's often outside pressure to be something else other than just you. When you take yourself out, it's simply not there. 
If you want some privacy, ask for a quiet corner. If you feel self-conscious, bring a book or catch up on a few articles while you enjoy your meal by yourself. However, dining by one's self does bring the occasional benefit of interesting conversation with other solo-diners. 
One thing to make sure of is that if you are solo drinking, check in with a friend. It may seem excessive, but it's a great backup plan in case you feel a little uncomfortable with your surroundings or need someone to give you a reality check. Have someone drop you off where you are going, whether it's a cab or a pal, and call a cab when you call it quits. 
4. Get A Massage
It ain't gonna rub itself, sweetheart… or is it? For this tense feminist, the ultimate act of self-care is massage. However, massage isn't always in the budget. You can often find Groupons, first-time client deals, and discounted rates at massage schools. However, not everyone's wallet can even go that far. Not only that, but some folks who are recovering from trauma bristle at the intense intimacy vulnerability required to open yourself up to massage from another human being. 
There are tons of self-massage techniques that truly work and only take a few minutes to provide deeply needed relief to tense bodies. There are tons of YouTube how-to videos and also tools that you can purchase to aid with providing relief for your body. One of the most suprising of them? Tennis balls! 
5. Take A Relaxing Bath or Shower
Whether you go out or stay in, bathing is pretty much a given. Fancy baths are the usual go-to for pure relaxation and spoiling oneself and accompany a massage and glass of wine (or fancy tea) perfectly. 
But what happens if you forgot to scrub the tub, have mobility issues, or just have a shower stall? That's the last thing you want to do when you are spoiling yourself is scrub the tub or worry about slip or getting in and out of the tub if it's hard for you and you're alone. You don't have to skimp on relaxing aromatherapy just because you are limited to a shower! 
While it isn't the same as lying back in a warm galaxy or mermaid bath, there are some wonderful shower bombs out there that turn your tub into a cocoon of relaxing aromatic steam. Whether you hit Etsy up or snatch up a pack from your favorite beauty store, shower bombs make spoiling yourself even more accessible on a day-to-day basis. Anything that makes self-care easier and more accessible is a bonus in our books. 
6. Cloud 9
You know what else feels like self-care? Some good ol' ganja. You can incorporate a lot of these ideas with the healing element of cannabinoids (CBD). Want to take a bath? Treat yourself. Have a hankering for something sweet? Try these recipes for edibles or hit up a local dispensary if recreational weed is legal in your state. Need that sweet tooth to also be a warm, comforting Valentines-y cup of chocolate? Try this simple recipe for pot chocolate. 
If you really want to get sensual with your high and have the cash to truly spoil yourself like the queen (or king) that you are, you simply must check out weed lube to get a spectacular full-body high. Just don't drink the entire bottle, please. 
Maybe you just want to keep it simple and indulge in some really good bud, a movie, and something tasty. Try one of Caitlin Rose's beautiful pussy pies, super femme one-hitters, or titty tokers to celebrate the human body in a whimsical way. 
It doesn't matter which way you choose to do it, just "do you" this Valentine's Day. Celebrate your self-love through self-care and properly treat yourself, whether through beautiful things, nurturing your body, or doing whatever the hell is it that makes you feel the most "you." The most important takeaway from all of this is that you do not need anyone else to love you in the truest way possible -- that can only be done by you. So be your own best friend, best lover, and best valentine this weekend.