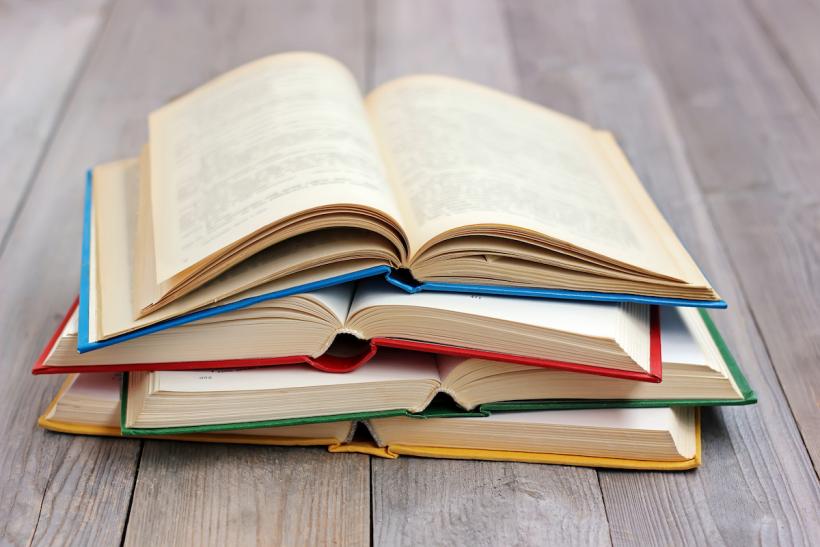 It is a truth universally acknowledged that a reader, regardless of their fortune (and current to-read list), must be in want of another good read. Under most any circumstance, there are few hours in life more agreeable than those devoted to reading. Books are the lights of our lives, the fires of our spirits. The great black and white pages have eaten us readers alive. For a time we used to go to bed early, but these texts―for which we have sacrificed beer, makeup and take-out money, constructed our reading lists out of our every source of literary recommendations, and line our homes with beloved titles―have grown in importance, causing us to miss many a bedtime. You don't know about us readers without having seen the books on our shelves and nightstands.
As readers, though, we also take a glance at the news and some real things have happened lately. The President's recent remarks could result in a screaming that comes across the sky. Many evenings when people of color are returning home after a hard day's work and are pulled over, police officers step out of their squad cars, walk up to the car they've stopped, and shoot the Black drivers in the face. Each survivor says, "I am an invisible man (or woman), and you should know we started dying before this president, and like his ratings, we continue to fall."
Today's America is the saddest story we've ever heard. We're pretty well fucked. We want more. We want more volume, more riots. We turn up the knob on the TV until our ears ache with the shouts of angry men, and we want more density, more weight to help us in our feud for more. But, you may say, we asked you to write about the books we should be reading right now. I'm getting there.
Books are a foreign country; authors do things differently there. They speak in our voice, American, and there's a shine in their pages that's halfway hopeful. So, to start with, let's look at all the books.
It seems that a week can't go by without news of another Black American being killed by the police. Nazis are being rebranded as "white nationalists," and our president is slow to denounce their actions. Not much seems to be done about any of these, apart from adding these occurrences to the news cycle, spikes in the #BlackLivesMatter / #BLM hashtags, and increased protests and riots. But, of course, this is not new to the Black community. Racism, the fight for basic civil rights, and enslavement are well-documented in written and cultural history. But these histories have largely been written and spoken by white people, and it's time we heard more from Black writers.
The Real Cool Killers is a great place to start. Himes, a celebrated Black author, wrote in many genres, but he always focused on racism in America, and so it's unsurprising that this crime-noir-thriller is notable for the criticism it received. Megan Abbott, crime fiction author and analyst of crime fiction, said that The Real Cool Killers "moves black male characters from representations peripheral and stereotypical (as icons of degeneration or service industry employees) to the center," and Wendy Walters, Director of the Honors Program at Emerson College and specialist in Black literature, especially in the context of the diaspora, said that the book's two protagonists are "viable folk heroes for the urban community."
Most notably, John McDonald of U.C. Berkeley said this book "may make one wonder, considering recent events, how much the New York City police department has really changed in forty years." So despite the 1959 publication date, give Himes a chance. You might come away with a greater understanding of the history of the Black community and their struggles.
It's almost impossible not to have heard of #NoDAPL, the protests against the Dakota Access Pipeline. If, by chance, you lived under a news rock between April 2016 and February 2017, the protests were based on the fact that the pipeline would run near to the Standing Rock Indian Reservation, threatening the tribe's access to clean water and the sanctity of their burial grounds.
However, this is far from the first time this has happened. In the 1920s, oil was discovered under the Osage Indian Nation, making them one of the most affluent groups in the country. Then, the Osage began to be murdered one by one. Killers of the Flower Moon documents these killings, the FBI's investigation of the case, and the conspiracy that was uncovered as a result. It's essential reading in an age when oil is still valued higher than the lives and homes of American Indians.
Islamophobia has only grown since September 11th, 2001. Trump signed an executive order called "Protecting the Nation from Foreign Terrorist Entry into the United States," but it's better known as "the Muslim ban." The ban is currently being challenged by many courts, but the overall message to Muslims and people connected to prominently Muslim countries is clear: you're dangerous, untrustworthy, and not welcome here.
However, Afghan-American writer Nadia Hashimi challenges our perceptions of Muslim culture by writing a compelling narrative about the concept of bacha posh, which allows families without sons to dress one of their daughters as a boy. These girls can use male names, chaperone their sisters, go to the market, and attend school — but only until they reach marriageable age.
The Pearl That Broke Its Shell tells the stories of modern-day Rahima and her great-great-grandmother Shekiba, both of whom have utilized bacha posh. As Hashimi says, "There's been a huge amount of progress since the Taliban fell from power. We're seeing a lot more girls attending schools and earning professional degrees and becoming physicians or being involved in the government. We actually had women in the last election who were running for vice president. But there's definitely still a long way to go before we can say that women in Afghanistan have equal footing with men." Her book recognizes this progress, while challenging the disparity between Afghan women and men and educating Western readers about lesser-known customs within the Muslim world.
As the threat of nuclear war looms over us, post-apocalyptic novels are more relevant than ever, and The Country of Ice Cream Star is one of the best I've read — and one of the most pertinent to today's political climate. The world has been devastated by plague. The heroine of the story, Ice Cream Star, is Black and while her people can parley with other people of color with relative ease, they're most wary of "the roos," AKA Russians and other white people. And while it's clear that we as readers are meant to root for the people of color, it's equally as clear that the roos have far more power in almost every way. Remind you of current events at all?
To be fair, I didn't know until looking further into this title that Newman was a white writer. The Country of Ice Cream Star is written in patois-esque language (an example: "Is only skew insanities, how God survive when we all kilt. How any person worship gods, when gods ain't even brave to die.") that is reminiscent of Marlon James' A Brief History of Seven Killings, which led me to believe she was a person of color (and I wish she were, for representation's sake). Still, as Jason Sheehan wrote for NPR, "Don't fight, because this book is just too good. Don't fight, because it would be a shame for the beauty and the power of Ice Cream Star (both the novel and its namesake main character) to get lost in a flood of bickering over who gets to write what about who, and where to shelve a book that reads more than a little bit like a bloody indictment of the entire post-apocalyptic YA genre. Just read it, and sink into it, and let it crawl into your head before you make your judgements."
Although the term "gaslighting" has been used since the 1960s, it's become remarkably more popular in today's world, especially as feminists seek to combat it. In case you're not familiar with the word, it refers to one person trying to manipulate another by making them question their memories, experiences, feelings, beliefs, and even their sanity. It's (unsurprisingly) a common occurrence in unhealthy or abusive relationships.
Dr. Stern has a doctorate in Applied Psychology from NYU and a post-doctoral certificate in psychoanalytic group psychotherapy from the Postgraduate Center for Mental Health in New York City, and has created and run workshops for women's personal and professional development for 15+ years. Her book teaches you to notice thoughts and emotions that can signify gaslighting, such as second-guessing yourself, wondering if you're worthy enough, making excuses for the other person's behavior, making decisions based on what the other person would think rather than what would make you happy, getting used to and sometimes even enjoying constant criticism, and feeling like you can't do anything right. Then, it helps you learn how to combat gaslighting, determine whether or not the relationship can improve, and ensuring that you have the skills to avoid gaslighting for the rest of your life. In this age of internet harassment, The Gaslight Effect is a must-read handbook for psychological survival.
Karaoke Culture

by Dubravka Ugrešić, translated by David Williams
Did you know that only 3% of books published in America are works in translation? The sad truth is that you probably didn't, and that's largely because readers don't have access to literature originally published in other languages; you can't be aware of a problem unless someone's talking about it. Thankfully, there's Open Letter Books, a publishing house dedicated to publishing, promoting, and engaging in all things related to translated literature. In other words, they're working tirelessly to solving the three-percent-problem.
One of my favorites among their authors is Croatian author Dubravka Ugrešić, who has written nineteen books in Croatian, thirteen of which have been translated into English, and three of which have been published by Open Letter. Everything I have read by Ugrešić has been fantastic, but Karaoke Culture holds a special place in my heart. It was the first work of hers I read, the first book I ever reviewed for publication (she even read the review and liked it!), and the book that I find myself recommending most. It's a fascinating piece of cultural criticism, encompassing bloggers, Asian teenagers writing cell phone novels, Serbian recreations of the Hollywood sign, hotel minibars, Victoria Beckham, Yugoslavian political struggles, and (of course) literal karaoke. It's accessible, beautifully written, funny, straightforward, and meandering while remaining completely controlled. If you want to dive into translated literature that's meaningful for the entire globe, look no further than Karaoke Culture.
Hopefully now you understand that the more you read, the more you know, and so there is only one thing to do then ― to learn. Learn how the world is crafted and who crafts it. That is the only thing that people can never exhaust, never dream of regretting. Learning is the best thing for us, and the best place to look? The sequestered nooks, and all the sweet serenity of books.
Books referenced in the opening and closing paragraphs, in order of appearance: Pride and Prejudice by Jane Austen, The Portrait of a Lady by Henry James, Lolita by Vladimir Nabokov, The Thief of Always by Clive Barker, Remembrance of Things Past by Marcel Proust, Atonement by Ian McEwan, The Adventures of Huckleberry Finn by Mark Twain, Gravity's Rainbow by Thomas Pynchon, The Last Thing He Wanted by Joan Didion, "The Slap" by Stephen Millhauser, Invisible Man by Ralph Ellison, Tracks by Louise Erdrich, The Good Soldier by Ford Maddox Ford, The Martian by Andy Weir, We The Animals by Justin Torres, A Room of One's Own by Virginia Woolf, The Go-Between by L.P. Hartley, Underworld by Don DeLillo, The Marriage Plot by Jeffrey Eugenidies, I Can Read With My Eyes Shut! by Dr. Seuss, The Once and Future King by T.H. White, "Morituri Salutamus" by Henry Wadsworth Longfellow
Related