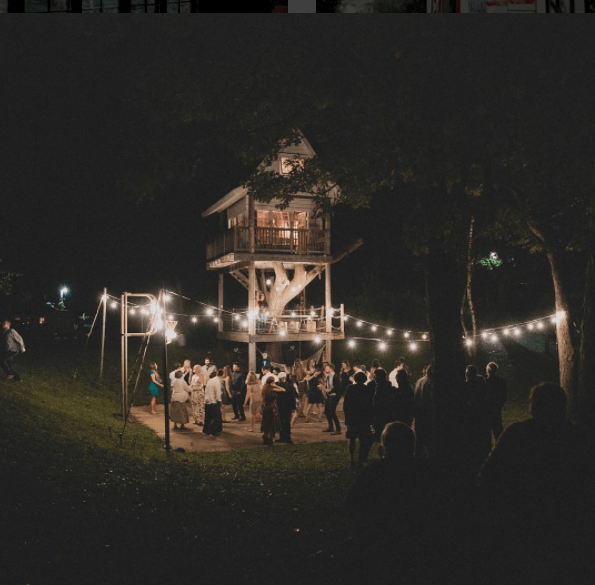 Get outta town and into some the wild, the weird, and the downright nasty with these off-the-grid weekend getaways. (Image Credit: Instagram/campwandawega)
It's no secret that time away from the office needs to be savored as much as humanly possible. Spending the weekend with your people restores your sanity. 
But often, weekend time is spent completing chores and following through on obligations that just seem to pop up before you can cleverly avoid them. Therefore, getaways are the true lifeblood of the week's end.
And you know it's time to switch up your routine. It's been far too long.
Make the most of it by scheming a uniquely unforgettable trip. Hopefully the ideas below will spur some Instagram-worthy boomerangs, if nothing else.
1. Think outside the (hotel room) box.
Shake things up by staying in a truly quirky environment. Whether you decide to lodge in a Rhode Island lighthouse, a treehouse in Washington state, a castle in New York, an ocean liner in Long Beach, a railroad car motel in the heart of Pennsylvania Amish country, or even a houseboat in the Carolinas, the more novel the accommodations, the better.
2. Channel your inner zoologist. 
There are some serious bucket-list-worthy wildlife refuges all over this country of ours. And you'd be surprised how up close and personal these places will let you get to the animals. You can camp amid the 400 bighorn sheep at the Kofa National Wildlife Refuge in the Sonoran Desert, gallop with wild ponies along the coast of Virginia at the Chincoteague National Wildlife Refuge, timidly inch away from the myriad alligators at St. Marks in Tallahassee, try (and fail) to give a moose a muffin at the Aroostook Refuge nestled in the woods of Maine, or pal around with some bison at Wichita Mountains Wildlife Refuge in Oklahoma. There's probably a refuge somewhat near you and it's probably pretty cool, just sayin'.
3. Spend a night (okay, probably a day) at the museum.
Whatever interests you the most, there's a museum out there solely dedicated to its intricacies. Immerse yourself in whatever unusual passion you have, whether it's buying a ticket to the whaling museum in Nantucket, D.C.'s International Spy Museum, Cali's museum devoted to Pez memorabilia, Texas' barbed wire museum, and umm yes, a toilet seat art museum in San Antonio will also cover it, if you're into that kind of thing.
4. Achieve ultimate glamping status.
Dig out all the camping and fishing gear you've neglected in the recesses of your closet, add some easily portable amenities, pack some fancy snacks and a nice bottle of wine (or two), and you have a rather agreeable camping excursion that works for the whole family. You may live near a legendary national park, a decent state park, or just chance upon a seemingly empty field, but getting out in nature will do you and your loved ones some good, and may even provide you with the perspective you can only get from an outdoor vision quest.
5. Release your inner child or your inner grandma.
Head to the countryside for a picnic at a winery and stay at a whimsical bed and breakfast. Bonus points for counting more than 50 cat tchotchkes and/or doilies in your room alone. Grab some binoculars and take up birdwatching (or "birding," as the real pro-birders call it).
6. Relive your glory days by signing up for an adult summer camp.
PA's Soul Camp provides your standard nostalgic dose of boating, bonfires, and a talent show. For those of you who didn't get enough of the movie American Pie, you can register for Adult Band Camp in Interlochen, Michigan (just remember the camp is for people who actually want to play musical instruments in a traditional sense). Plus, Wisconsin's Camp Wandawega is a hipster's dream. Imagine living out a Wes Anderson movie and that about covers it.
7. Get a little supernatural.
If you have an affinity for the eerie side of things, discover the supposed seven ghosts haunting the Myrtles Plantation in Louisiana or search for ghouls with a bonafide ghost hunter (with detection equipment!) in Texas. Take a jaunt through the classic Salem Witch Walk in Massachusetts for a bewitching take on charms and spells. You can also partake in a live-action witch trial in Colonial Williamsburg if you want to be more historical about it. Just don't blame me if you end up growing fangs or sporting a Ghostbusters uniform by the end of the weekend.
8. Become an uber-fan.
Visit a town that hosts your favorite TV show or movie of all time. Albuquerque is littered with scenes from Breaking Bad. You can't go to Chicago without thinking about Ferris Bueller dancing through the streets. And the Coen brothers would be so proud of you if you took a chance on Fargo, North Dakota. Truly geek out and feel like you're a part of the show. Who knows, you may even run into one of the characters while you're there.
9. Weave a flower crown and get to the true meaning of festive.
Research some epic music or film festivals that you can feasibly travel to within the timespan of a weekend. For fans of the big screen, there's the obvious Sundance Film Festival, but there are plenty of other choices catered to specific types of film too. For example: Chicago Underground Film Festival, Ashland Independent Film Festival, Hot Springs Documentary Film Festival, etc. For music, there's SXSW (of course), Bonnaroo, Hangout Fest, Coachella, and more. You can shake it at Shaky Beats or Shaky Knees.

There are also some pretty bizarre festivals available. West Virginia's sadly stereotypical Roadkill Cookoff, Montana's Testicle Festival (complete with bull testicle eating contest), the Underwater Music Festival in the Florida Keys, and the Wisconsin State Cow Chip Throw and Festival, where you can sling cow dung with the best of them.
Love or hate them, at least with these getaways, no one can whine about being bored. Relax, enjoy, and maybe even learn something.