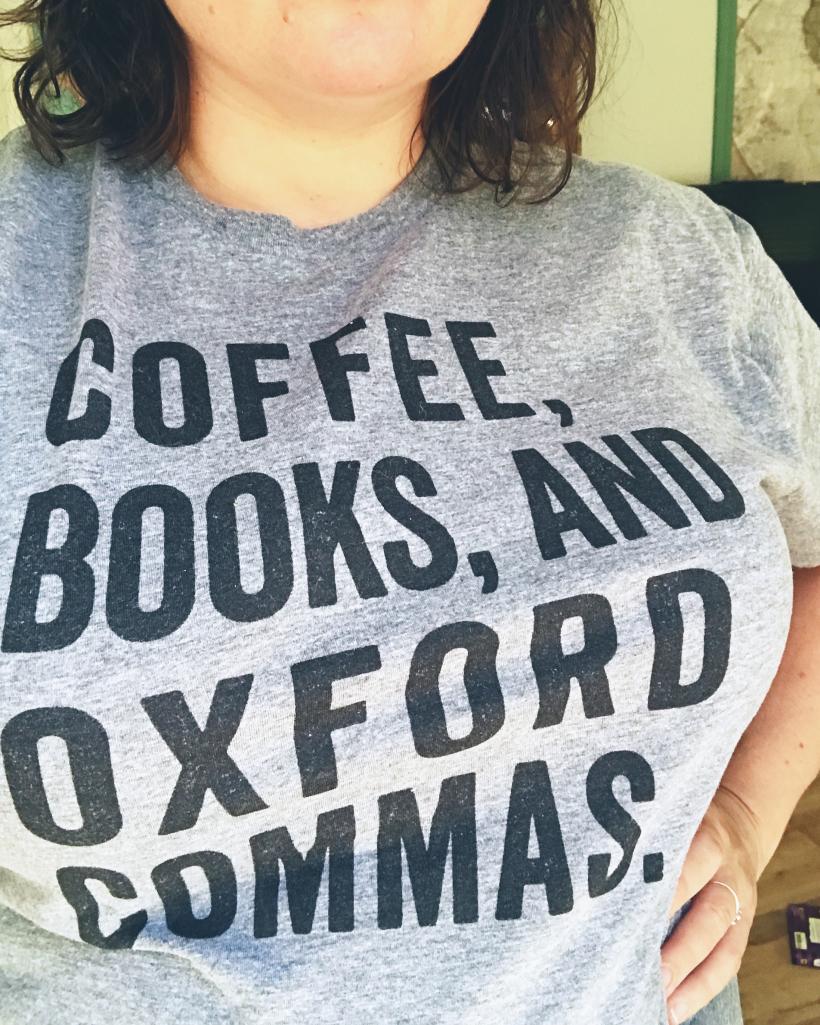 I like big books.
(where is my shirt from? Here.)
I love books. 
A lot.
I love books so much that the first thing I did when we bought our new house was build a bookshelf into the dining room wall.
My husband told me I could have this wall. But now this wall is full. This means I'm going to have to start strategically placing books around the house in places he won't notice.
Or I could get rid of some of my books.
LOL. No.
Reading is one of my favorite things. I love it for all of the reasons people say they do, expanding your mind, opening you to news worlds, etc etc, and also just because TV gives me a headache. I just love books. I love the way an old book smells like the places it's been. I love the way the dog-eared pages of a paperback show me all the places other people have stopped to ponder a passage. I love a Steinbeck first edition, with its 60 or 70 years of wear-and-tear.
I just love them all.
♦♦♦
End of year round-ups are fun. It gives us a chance to reflect on what we loved, what we didn't, and, in the case of this year, what we'd never like to see happen again (@Trump). Because I love books, and because end-of-year round-ups are fun, let's combine those two things and create some literary magic. For all of you folks who aren't sure what to read this year, here's your list. And if you've got books to add, comment (or come find me on Goodreads.)
The List (in no particular order):
by Samantha Irby
Samantha Irby is just something special.
In a world where a carefully curated essay collection is what's up, Samantha takes it to the next level.
I laughed till I peed my pants. (Which doesn't take much, but still.) You will laugh. You might cry. You will not regret putting this on your shelf.
by Hillary Clinton
What did happen? Well, an idiot became president.
I was crying on page one. I'm a crier, I'll admit. But reading this was like a really hard therapy session.
You know the kind. You don't want to go because you know you're probably going to do that embarrassing snarf cry thing you do when you're really upset. But you need to go because the only way to get over this thing is to go right into the center of it.
That's this book.
It took me a month and two boxes of Puffs + with lotion to read it. Then I listened to the audiobook just because I wanted to hear Hillary say it herself.
by Jesmyn Ward
Deserves the Pulitzer.
The end.
by Nina Riggs
Want a good sob? If Hillary's book and the state of the nation didn't get you, this will.
Her writing is magic. Her story is just the kind of thing no mother wants to think about.
by Jessica Valenti
I actually read this in 2016. But then again in 2017. Why? Because Jessica is one of my favorite feminist writers. The end.
I read this book in a day. I am a busy person so that ought to tell you something.
Jessica is so relatable, so real, so goddamn raw, I couldn't put it down.
by Lindy West
Another 2016 but read it again in 2017 book... Shrill, It's a tough call, but this might be my favorite memoir. Ever.
Everything Lindy writes is magic. The list of writers I dream of publishing on Ravishly is short, but she's on it (with Samantha and Jessica.) I read this book twice. Then bought the audio AND the Kindle version. I just keep reading it. Every time, I find something else to love.
I feel like Lindy and I are almost friends.
In the YA department:
by John Green
Our protagonist is a girl with OCD okay? Need I say more?
And for short stories:

by Carmen Maria Machado
Short stories that are just SO good. Devoured it.
What to watch for in 2018:
Oh man there are some GOOD things coming.
Jes Baker's SECOND book, Landwhale hits shelves May 8. Pre-order it now and Amazon will drop it in your mailbox on release day!
Sonya Renee Taylor's debut The Body Is Not An Apology is coming SOON. February 18th! I've got the early reader copy and you're gonna love it!
Ijeoma Oluo's anticipated book, So You Want To Talk About Race is hitting shelves in a couple of weeks!! (January 16th.) This is one I can't wait to read. Ijeoma is a brilliant lady and an incredible writer.
Look for Red Clocks: A Novel by Leni Zumas (also January 16th!)
And we can't forget Ravishly's own, Virgie Tovar and You Have The Right To Remain Fat. Coming in August!

What were your favorites? What are you looking forward to?