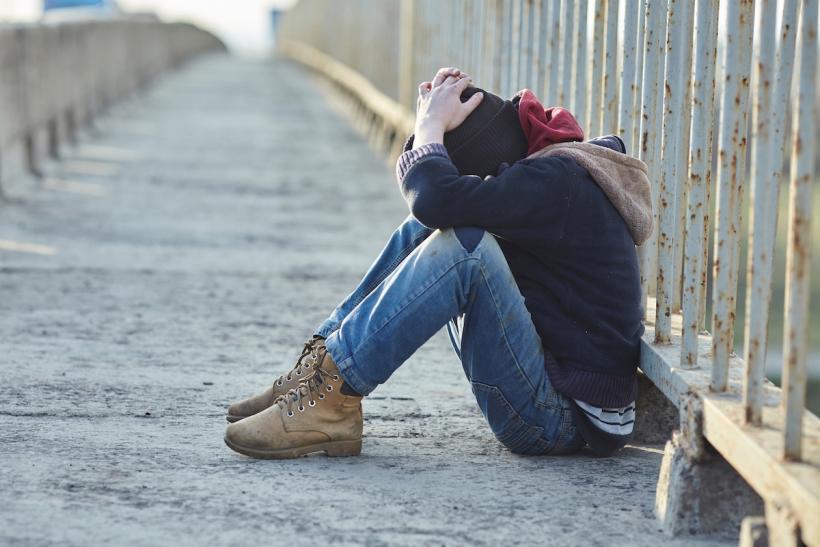 Verbal and physical assaults on LGBTQ students happen in the halls, gyms, playgrounds, and classrooms of high schools across America.
This article first appeared on Role Reboot and has been republished with permission. 
---
In the halls of New Jersey's East Side High School on a recent Friday, 14 year-old Kylie Perez was walking toward her locker when a fellow student yelled, "There's the tranny."
A moment later, another student hit her in the head. Students kicked and punched Perez while she was on the ground. Seven students have been suspended related to this incident.
This is not rare.
Verbal and physical assaults on LGBTQ students happen in the halls, gyms, playgrounds, and classrooms of high schools across America.
It was in 8th grade when I was first called "faggot." Then, "dick sucker," "homo," and "fairy" soon followed. By the time my classmates started the name-calling, I already knew I was gay.
As a teenager, being gay terrified me. It was the late 1980s and the only gay people I saw on TV were men dying of AIDS. Growing up Catholic, being gay also meant my soul was in jeopardy. So at 13, gay meant death by AIDs, a soul condemned to hell, ridicule, and isolation. It was the loneliest time of my life.
#MeToo has become a movement in recent weeks, bringing to light the magnitude of sexual harassment women face.
#MeToo gives me hope that LGBTQ individuals can speak out about their harassment and bullying.
Anti-bullying programs and movements have been in existence for decades, and #bullied is one example of how social media is tackling this issue.
According to the 2015 Youth Risk Behavior Survey, 34 percent of LGB youth were bullied at school and 28 percent bullied electronically. LGB students were also 140 percent more likely to skip school due to safety concerns. LGB students were three times more likely to have feelings of sadness or hopelessness and over four times more likely to attempt suicide when compared to their straight counterparts.
For transgender students, their school situation is just as dire as it is for LGB students. The 2015 National School Climate Survey found 75 percent of transgender students feel unsafe at school because of the way they express their gender and 66 percent were verbally harassed, and 1 in 10 were physically assaulted.
Unfortunately, many LGBT students are left unsupported by those their parents entrusted them to protect at school: teachers and school administration. Nearly two-thirds of LGBTQ students who reported harassment and personal safety concerns said school officials did nothing or told them to ignore it. More troubling, 1 in 10 LGBTQ students reported that school staff was part of the harassment or assault they experienced.
A national survey released this month found that high resilience in youth could both prevent and lessen the effects of bullying. However, how you teach and build up individual resilience is tougher to figure out. October is National Bullying Prevention Month and there are practical things anyone can do to support all students, including LGBTQ, from not being bullied at school and perhaps build up the resilience factor for these bullied teens.
The Gay, Lesbian, Straight Education Network offers a Jump-Start Guide for Gay-Straight Alliances and Safe Space Kits. PACER'S National Bullying Prevention Center and Stop Bullying website sponsored by the U.S. Government offer information, ideas, resources, and newsletters to address and stop bullying in schools.
It is possible for someone who is not a teacher or on school staff, to become a facilitator to teach school staffs how to address bullying through the Human Rights Campaign Foundation's Welcoming Schools program. Elementary schools and school districts can indeed make all students feel safe, included, and treated with respect.
Unfortunately the slurs I heard in high school continue today, although not by classmates, but by people on the street, religious and political leaders, and some of my patients. The threat of physical harm toward LGBTQ members have most recently come from our White House when the President joked that Vice President Pence "wants to hang them all," meaning members of the LGBTQ community.
As a Nurse Practitioner, I volunteer my time at a community health center talking with teenagers about my experience as am LGBTQ middle and high school student, the diversity of families other students have, and how to treat everyone with respect even if we disagree with them.
The bullying can stop here.
Erik McIntosh, DNP, RN is an Acute Care Nurse Practitioner for general medicine at Rush University Medical Center and serves on faculty for the Rush University College of Nursing. He is a Public Voices Fellow through the Op-Ed Project.
---