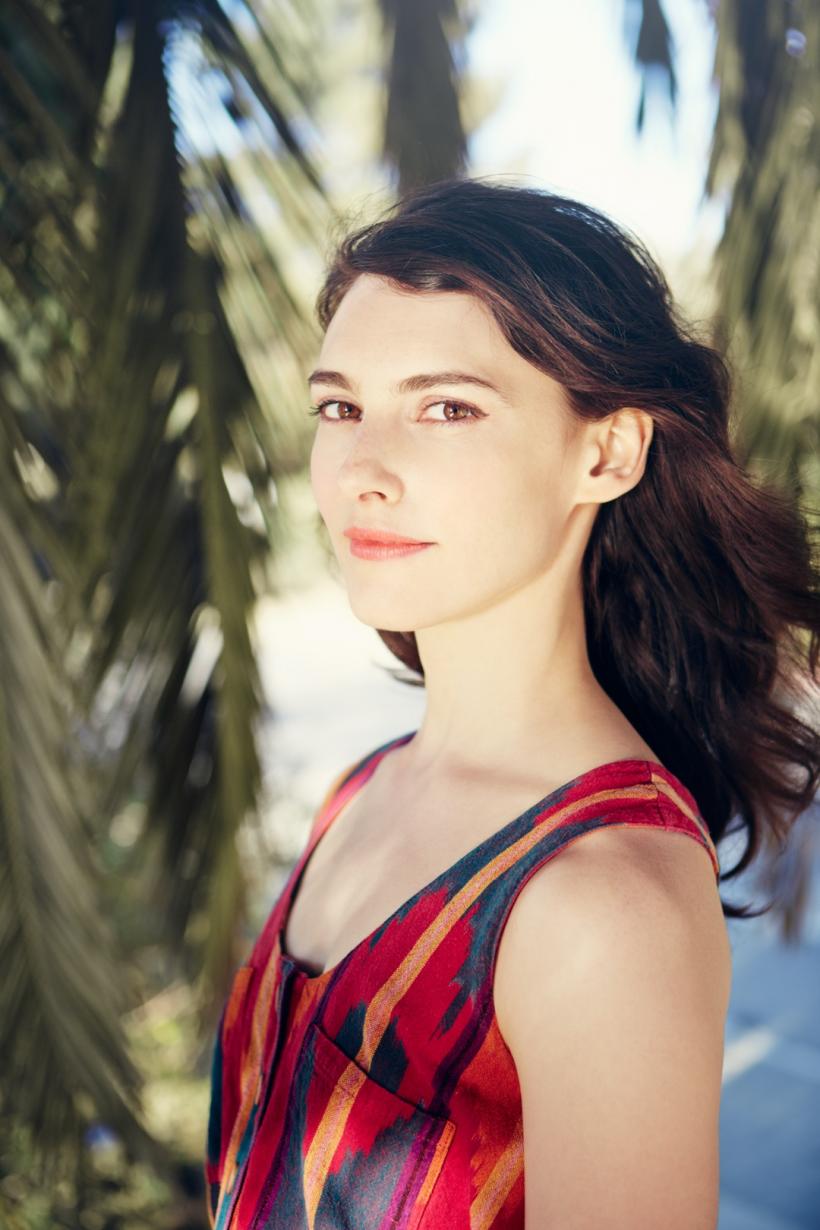 Liane Balaban is a Canadian actress who never really planned to be an actress.
With absolutely no previous acting experience or professional training (other than high school drama classes), Balaban landed the lead role in the 1999 critically-acclaimed flick New Waterford Girl—at just 18 years old. Since then, she's appeared in a mix of Hollywood movies (Definitely Maybe, Last Chance Harvey) and smaller, Canadian indie flicks (The Grand Seduction, One Week). You might have also caught her recurring role as troubled veterinarian Amelia Richardson on the CW's Supernatural, or as Russian hacker Natasha Petrova on Covert Affairs
The lady's got range (and, yes, looks strikingly similar to Natalie Portman).
When Liane's not acting, she's tending to her favorite causes, including the awesome website Crankytown, which she co-founded with actresses Vanessa Matsui and Jenna Wright. The online community teaches young women about their periods. It's a site that I definitely could have used when my Aunt Flo visited me for the first time, leaving me to wonder, "Does every girl go through this" and "Is this color…normal?"
I chatted with Liane, who splits her time between Toronto and L.A., about what role she's dying to play next, her passion about periods, and what she would tell her teenage self.
You once said in an interview that you're surprised that you're an actor because you never planned to pursue it as a career. What caused you to ultimately pursue it?
Just believing in myself. It was such a fluke, how I started, being cast in a leading role out of high school in a hit movie. I struggled for years to accept that I am actually good at this, that it was okay to chose this vocation and lifestyle.
What aspects of it were you struggling with specifically?
Deciding to become an artist. The lack of security. The absence of guarantees. Not that you have security in all fields, but there's certainly a bit more in more traditional ones.
You've juggled roles in a variety of genres, from the fantasy world of Supernatural to the heartwarming, artsy The Grand Seduction. What's most important to you: character or story? Or both?
Character is story and story is character. Everything informs everything else. What I'm drawn to in projects are voices that break the mold and blow apart clichés, and female characters who are active and integral to the central plot, not just a device to reveal the hero's nature.
What role are you dying to play?
I'm dying to play a villain! It always looks like so much fun to be bad. Especially for a nice lady like me, it would be exciting to do away with all that and just break the rules.
Switching gears a bit . . . you studied journalism for a year and you're interviewed frequently as an actress. What questions would you like to hear more often?
This is such a great question. Well, I'd love to be asked about the accomplishments in my life that I'm most proud of. And then of course I would talk about my Genie-nominated project Crankytown.com, and its spin-off, the film festival Crankyfest.com, for short films about periods.
Can you tell us the impetus behind Crankytown? What is its mission statement?
Well, when Crankytown started in 2010, there was very little on the Internet about menstruation that wasn't from a sheer medical perspective. We wanted to create an atmosphere of positivity and celebration about women's bodies, break taboos about menstruation as something negative or embarrassing, and also, via Crankyfest, encourage young women to tell their own stories and make films.
Why are you so passionate about periods?
I think that when I started Crankytown with Jenna Wright and Vanessa Matsui, we were struck by how there wasn't a forum on the Internet to share stories about menstruation—it's the perfect platform for voices to come together and share these anecdotes. Every woman—and many men—have stories about periods that have never been told, because, again, they aren't deemed appropriate conversation. I'm passionate more about coming-of-age stories than periods, per se, but first periods are the ultimate moment of passage to adulthood, with all the glory and trauma of that. My dream project is to get a feature film off the ground that we're working on with director Sarah St. Onge, a sort-of musical about a young girl whose mother died. She goes to Crankytown to "get a period" not really knowing what that means . .  .and discovers a magical sinister universe a la Labyrinth. With puppets!

I read that you were told not to utter the word "period" during a televised interview because "all these people will be eating their breakfast" and you'd be turning them off from their Cheerios. Do you regularly encounter awkward situations like that when promoting Crankytown?
These experiences are the exception rather than the rule. But it happens. We were recently denied entry to a major online film festival platform and no explanation was given to us, except that we heard through the grapevine that the founders are notoriously chauvinistic.
Why do you think we're still wigged out when we talk about periods? Is it because we don't talk about it enough?
I think that's changing! Look at Rookie, Hello Flow, #likeagirl . . . The Internet is allowing for so much more positive conversation, beyond what we could have ever imagined when we started Crankytown.com in 2010.
On Crankytown's YouTube channel, you chat with actors Jay Baruchel and Ryan Cartwright about their first period stories. Do you feel it's important to include men more in the conversation?
Yes! Men need to be a part of every feminist movement. We can't do it on our own.
You created Crankyfest, an online film fest for short films about periods that's open to both females and males. What was the motivation behind launching that? Will there be a Crankyfest this year?
We wanted to get women to share their stories and make films. (Though we are open to all genders of filmmaker.) The festival is still collecting submissions. There is currently no deadline. Filmmakers can get in touch via crankytown@gmail.com.
In Canada, there's been a petition circulating since January protesting taxes on tampons. As of Sunday, there are 58,000 signatures and counting (mine included). What are your thoughts on the government collecting money on our uteruses simply because they're doing what they're built to do?
I signed it!
In an ideal world, what's your hope for women and their periods?
Periods are just one aspect of a woman's experience. But if they aren't central to the public policy conversation, women certainly suffer. Look at the often prohibitive price of tampons and pads in the West, and the completely debilitating lack of access to sanitary products for many women in the developing world.
But my ideal hope for women is my ideal hope for humanity—equal access to quality education, health care, justice, job opportunities, and freedom from violence or the threat of violence. Men don't realize how the threat of violence is constantly top of mind for women, from planning their routes to getting a ride from someone you don't know that well.
In addition to Crankytown and Crankyfest, you've also co-founded In Bloom: A Celebration of Teen Spirit and the Arts. Can you tell us a little bit about that?
That was a mentorship program and benefit concert in support of Delisle Youth, an event I co-organized with Nicola Spunt (she did all the heavy lifting!) and Kathleen Munroe. We were using the legacy of Kurt Cobain (his politics, activism, feminism) as a touchstone to explore the theme of "identity" and raise awareness about youth mental health issues. We had amazing collaborators, from choir choir choir to members of Sloan to Biblical. It was epic. Like, how beautiful is this?
You seem very passionate about teenagers. Where does that come from?
I feel like I still AM a teenager. Still getting acne and trying to find my place in the world. Am I normal? Underneath my veneer of impenetrable fucking coolness, it can be really scary.
If you could tell your teenage self anything, what would you tell her?
Sports are fun!
What are you currently working on? What are some upcoming projects?
I've co-written a feature with Ed Gas Donnelly called F&J, about a creatively competitive couple that go away to the country to reconnect and end up having an affair with their neighbor. It's been "sent out." I'm writing short fiction, auditioning, and shooting a movie in Newfoundland next month. I've just finished the film The People Garden by Nadia Litz, with Pamela Anderson and Dree Hemingway. Look for it later this year!
Photo credit: Kourosh Keshiri