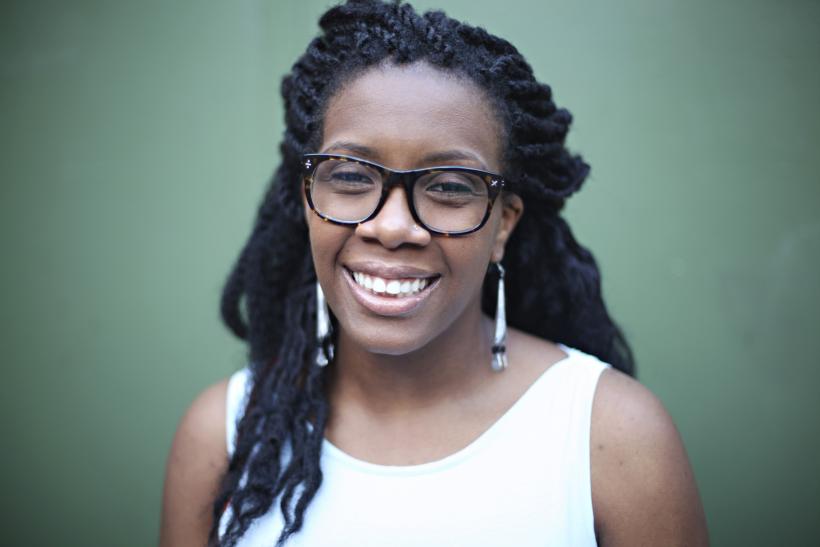 If you're a victim of sexual assault, how do you share what happened to you? Who can you really tell? What will they think of you? These are the questions that Wagatwe Wanjuki had to ask herself when she decided to come forward about the sexual assault she faced at Tuft's University in 2009. The school met her courage with animosity and kicked her out of the International Relations program just before she finished, leaving her deep in debt and without a degree.
Wagatwe was the pioneering force behind the 2014 viral twitter hastag, #survivorprivilege and has been waging war on campus rape and sexual assault through her association with Know Your IX? and as a freelance writer and speaker for hire through soapboxinc.com. 
We caught up with Wagatwe to ask her about her experience at Tufts, her viral hashtag and how stepping forward about sexual assault has changed her life.
Your name, "Wagatwe" is so beautiful, what does it mean and where does it originate from?
Thank you! It means "leader" and it is from Kenya, where my father was born and raised. I am the firstborn daughter so I was named after my grandmother on my father's side, which is a Kikuyu (my father's tribe) tradition.
Your website, wagatwe.com, lets us know that you're an activist, feminist and writer. What issues do you feel most passionate about in your personal and professional activism?
I personally feel most passionate about campus sexual violence. I'm a survivor of campus sexual violence and its impact is something I feel every single day, even though my last assault as a student was almost seven years ago. I am particularly interested in highlighting how injustice on campuses after being assaulted can lead to injustice off-campus as survivors move on in their lives and into the broader world. I am also passionate about media justice in a variety of ways—whether it is in regards to media literacy, the use of new media for social change, or the fight for an open internet. The internet is where I got the confidence to become a writer and to share my story; for a long time the media did not care about what happened to me. It is totally thanks to the internet that I was able to put my story out there in my own words. It gave me space to really speak up and say that my body does matter and people should know that my story is just one out of millions.
I read that you're also a public speaker on issues of social justice and feminism. Do you have any upcoming events? Where can we go to read your work?
I have a few pending events this fall, but nothing yet set in stone. If people do want to bring me to their school or event such as a conference, they can book me here. I also post about upcoming events on my social media channels if folks want to find out if/when I'll be in their area. I am taking a small hiatus from writing right now, but you can find my writing on my Tumblr fuckyeahfeminists or Feministing. I also have an archive of my work on my personal website.
After your decision to speak out about the sexual assault that you faced, you received some surprising responses. What was the deciding factor in speaking out against your aggressor and how were you portrayed in the media after?
Tufts seemed to be helpful at first, but in the end decided not to take any action in regards to my assailant or providing any academic help. In fact, when I started speaking up about the school's inaction and organizing for a better policy I was expelled. The turning point for me in speaking out was that I was tired of living silently in fear. I wanted to speak up and hopefully show my assailant that it is not OK to abuse individuals. Interestingly enough, it took a long time for the media to be interested in my story— years, in fact. By then there had been so much progress in the coverage of campus sexual assault that the media framed my story exactly the way it is—an act of injustice at the hands of Tufts' administration. I am fortunate that I have gotten overwhelmingly positive responses from folks who have read my story. I really do believe having been an established activist in the campus sexual violence spaces really had a positive influence in how the mainstream media portrayed my story. I had been telling my story for years, which provided a foundation to my story that the media could reference. One of the bigger confidence builders was having my story told in a documentary directed by feminist Jennifer Baumgardner. I knew that I could trust her as a feminist to tell my story in the way that I wanted it to be told. And she really just listened and believed me, which helped me in a way I cannot even fully describe.
How has your removal from Tufts affected your educational goals? Do you think that things would have turned out differently if you had kept quiet about your attack?
My removal from Tufts has affected my educational goals in almost every way. Before I was expelled from Tufts I majored in international relations and I wanted to go to law school right after graduating from college. Now, I am studying sociology and will be graduating at the age of 27 instead of 21 and I probably will not pursue another degree. One thing I don't often mention is that getting expelled really ruined my confidence in my academic ability. I thought that if I were smart enough, I would be able to excel academically even if I'd been raped and abused. I also have a large amount of student loans I am not sure I will ever be able to pay off and I don't want to take out more loans for grad school. I think the combination of the loss of confidence and financial impact really has made me completely change my relationship with academia.
I definitely think things would have turned out a lot differently if I had kept quiet. I think I would have been able to graduate from Tufts, but I doubt I would have become such a public advocate for campus sexual violence survivors. One of the biggest factors that contributed to becoming an activist around these issues is that when I was expelled I had to move back home and I had a lot of free time. I did a lot of writing about the issue and joined the board of directors of Students Active For Ending Rape. I really do think that if Tufts didn't retaliate against me for speaking out that my academic career and thus my professional career would look completely different from how it is today. 
You created the viral hashtag #survivorprivilege in response to George Will's column in the Washington Post about the absence of a sexual assault epidemic on campuses. Where has the #survivorprivilege campaign has lead you? How has it helped shape or change the way that you approach your daily life and your professional goals?
Honestly, the hashtag has not changed much in my life. I made the hashtag as a way to personally vent and express my frustration; I am so floored that it ended up trending nationally! At the end of all of this, the hashtag really showed me just how much the response resonated with survivors and allies. I would say the most significant shift is that I am more open to ranting about harmful media on Twitter now.
Through this struggle, you experienced a lot of support and also a lot of grief. What were the best and worst of the reactions to your forwardness about the issues of sexual assault and social justice?
It's kind of sad, but the most shocking parts are when people (complete strangers) reached out to help me financially. I am very close to finally graduating college and I had created a GoFundMe to bridge the gap between the financial aid I received and my summer tuition bill. I was able to surpass my original goal and had multiple people reach out to pay my tuition personally. I am so familiar with the horror stories that survivors have when they come forward with their stories, so it really floors me when complete strangers are so generous. 
I would say the worst reactions are when strangers make harmful assumptions about me and say them to me. I've had people tell me that I need to stop "playing the victim" or that I deserved to be raped or that I am a liar. I think the "award" of worst reaction still goes to the Tufts administration. Their lack of support, their disbelief and their complete lack of understanding of the dynamics of gender-based violence was so blatant and the subsequent impact on my life is something I will never forget. 
Can you tell us a little bit about the It was Rape Documentary? What part did you have in the making of the film?
The It Was Rape documentary is a film by Jennifer Baumgardner telling the stories of eight survivors of sexual violence. It is a very straightforward and unique documentary; the reality of sexual violence is told through the stories of the women interviewed rather than an external narrator. I am one of the eight survivors interviewed and I talk about my experience at Tufts. It was the first time ever really talking about my experience publicly in media and I am happy that my first experience was with a feminist filmmaker. It was the first—and last—time I really got to sit down and talk for hours about my assault and its impact on my life. It's truly an experience I will never forget.
What would you say to someone who has been dealing with sexual assault and is feeling afraid and unsure about coming forward?
Recently someone messaged me about their own apprehension about coming forward about their status as a survivor. What I said to them is essentially what I say to every survivor with the same concerns: I am so sorry to hear about what happened to you and I know how hard it is to make a decision about whether to come forward. Just how each of us has our own unique story, we each have our own special needs and boundaries. This is why I understand that not everyone wants to come forward and I really respect the decision not to. However, what I can share is that I am so glad that I came forward with my experience. Coming forward wasn't easy and it never will be, but I know it has helped me in my journey of healing. One of the saddest yet most comforting parts of being a survivor is that we are never alone. Oftentimes coming forward doesn't just help the survivor, but others as well. It's important to remember that it is totally up to you in regards to how public you are with your story. You don't have to give any more information than you feel comfortable sharing. You have control over what to share.
If you could distill your message down into a hard-hitting sentence or two, what would you say?
Trust and believe survivors. Supporting us is a radical act against rape culture.