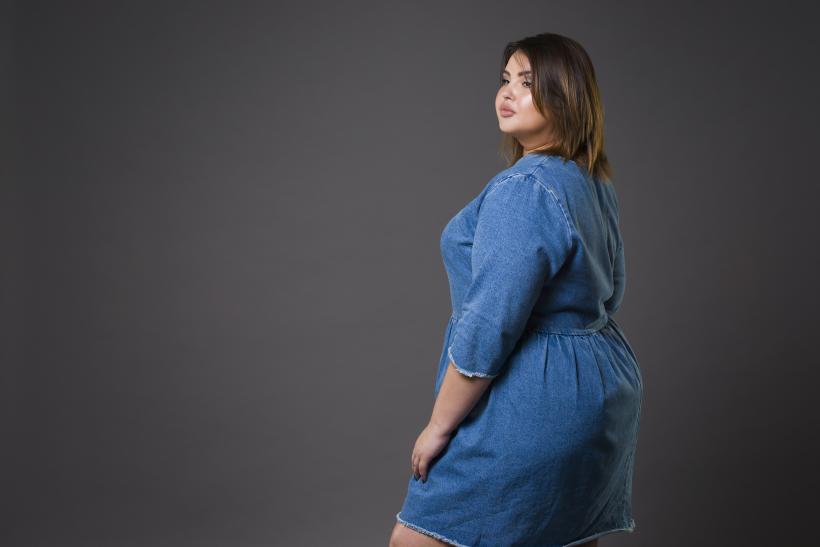 Latinx plus-size fashionistas!
The US is in the middle of Latinx Heritage Month and we're celebrating in part by focusing on Latinx plus-size bloggers and influencers for this week's fatshion roundup.
In the days of Trump's Wall plan, nearly non-existent efforts to help American citizens in Puerto Rico, and the repeal of DACA, we celebrate Latinx fashionistas from all over the globe and within our own US borders. We support the Dreamers, the citizens who have played integral parts in the building and expansion of the United States.
True style knows no limits. Diversity within the fashion industry and media is important, and representation is one of several keys to break down barriers. With this in mind, we asked a couple of our favorite Latinx bloggers about how their culture influences their style choices.
"Being Latina, being curvy and plus size was more accepting in our community because we are all so different yet joined together by our homeland. We celebrate our differences. Latinos are proud people, no matter which country or area you hail from. We feel it in our blood and we wave our flags with such pride of where we came from," Marcy Cruz tells Ravishly. "Personally, I think that is part of what inspires me to be authentically me and expressing that through my style. Many Latinos have struggled in their lives but we are also resilient and live life to its fullest with a smile on our faces always. We come in so many colors, shades and flavors. That to me is the epitome of diversity and being proud of being different and standing out. So when I dress my body, I do so proudly because I think of where I came from and remember that being different is a beautiful thing."
"Loud. Ass. Colors," responds contributor Briana Hernandez of Mama Fierce. "I also love styles with volume and movement. Quince-style pageantry gives me life. But I also love some edgy chola style with some sharp winged eyeliner and blood red lips."
"The influence of growing up in Miami in a Nicaraguan household is all over the clothes I wear. It's in my blood to run one degree hotter than average, so comfort and natural fibers are key. My wardrobe is exclusively cotton, linen, rayon jersey, and filled to the brim with skirts and prints. In that respect, one facet of my style is straight-up hippie Earth mother, the kind of breezy shit you would lounge around in on a hot day, or dance salsa in at Poneloya Beach," Yesenia Guadalupe of MyXXFly says in an interview with Wear Your Voice Magazine. "On the other side of the equation was the influence of my grandparents' Miami home. I grew up with three uncles who were very different, distinctively stylish, and all came of age in the '90s. The heavy hip-hop influence from one, the grunge alternative sensibilities from the other, and the Miami freestyle dance scene that permeated every corner of the city shaped not only my political views but invariably my style. At 5'9″ I don't own any heels, but love a good sneaker, boot or Birkenstock. My style arises where Earth mother, goth kid and hip-hop meet. In short: mad eclectic, super Miami."
Want more? Check out these 15 Plus-Size Latinx Fashionistas who you simply MUST follow:
Briana Hernandez is a funny, upbeat beacon of light in the plus-size fashion world. When you scratch the surface of that cool stylish exterior, you quickly find that Briana is a deeply empathetic person whose compassion and mind for intersectional issues is visible in all of her writing.
Fashionistas for a cause, bloggers Sandra and Darlene recently used their platform to sell clothes as a fundraiser to help Puerto Rico and Mexico, two places deeply impacted by the recent hurricanes in the Caribbean.
Jennifer Barreto-Leyva is one of the first major plus-size models in Latin America. A television and radio personality, Jennifer is also the head of plus-size magazine BellezaXL.
Jessica Torres is a plus-size stylist, writer, and vlogger best known for her work at The Revelist. A frequent punching bag for internet trolls who like to hang out in comment sections, Jessica constantly puts herself in front of the camera for other plus-size people, creating media reflective of our bodies and identities.
Writer Virgie Tovar has been a prolific voice in the fat and body positive movements, teaching many folks how to love their bodies while fighting for access and basic human rights for all large bodies. Virgie also has incredible style, with an eye for vintage kitsch and bold prints.
Biker, yoga-enthusiast, matriarch, and all-around badass Kristina Rodriguez-Fowle shows her life as a mother and plus-size athlete on her Instagram and blog. Follow #fatgirlsdobike for more photos of plus-size bikers doing what they love.
7. Ursula The Sea Bitch (

@frutamala)
What part of this isn't fabulous? Latinx queer Instagrammer Ursula creates great body-positive content centering fat, queer, and brown bodies.
Afro-Latinx blogger Dionne shows off some seriously chic plus-size fashions on her Insta and her blog by the same name, Supersize My Fashion.
A Boricua with a big heart, Marcy Cruz fearlessly shows off her playful fashion sense: a dash '90s, a love of music, and a treasure trove of style.
Forever bespectacled KathyMX rocks a combination of boho style with nods to her heritage. This look is a celebration of Mexico's Independence Day.
This Utah-based stunner is one to watch! The fresh-faced petite beauty shows off two traditional plus-size fashion "no's" in one defiant and extremely chic outfit.
Marlena Matute of Big City, Curvy Girl, Thin Wallet is exactly what the blog's title suggests: a curvy girl in a big city with a love for fashion that's also easy on the wallet. Follow Marlena for great looks, especially for petite plus bodies with a mind for budget-friendly pieces.
13. Yesenia Guadalupe (

@myxxfly)
Bold and fearless, Miami-based Nico-American blogger Yesenia embraces political discourse and fights for social change through her art and work. She embraces sustainable fashion while supporting other bloggers, artists, and fashionistas who are making a difference. Check out her blog for beautiful photography and writing, as well as super fly looks.
Sheila Lopez is a beautiful plus-size model with an eye for incredibly chic minimalist fashions. A proponent of body-positivity, Sheila encourages everyone to love the skin they are in.
---

Related: