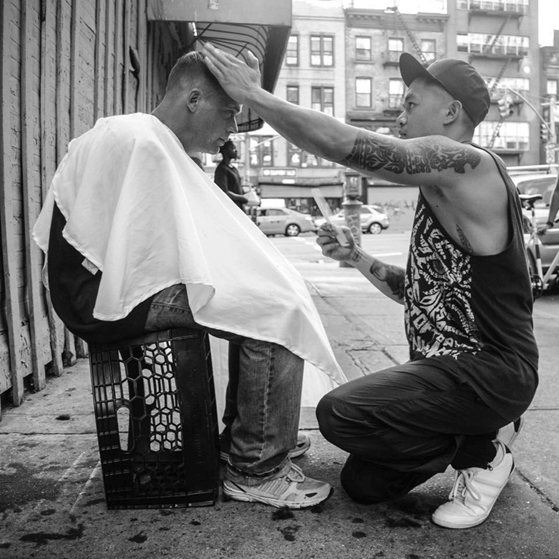 For the past five years, "Humanit-HAIR-ian" Mark Bustos has been giving free haircuts to homeless people in NYC. PhotoCredit: @MarkBustos Instagram
'The Lovers & Fighters of America' is a weekly column here at Ravishly featuring behind-the-scenes stories of inspirational people taking a stance against hate. 
Talented NYC hairstylist, Mark Bustos, is a man who values human connection. He is also a man who puts kindness in motion.
Bustos spends his work week styling the tresses of well-to-do New Yorkers and celebrities at
Three Squares Studio
, in Chelsea. But on his days off, and for the past five years, Bustos has been extending his warmth and generosity to people who cannot afford a haircut, in particular those living on the streets of NYC.
This kind-hearted father of one gives homeless men and women something to feel good about. He walks around the streets looking for those in need. He then approaches and says: "I want to do something nice for you today."
Bustos gives each person a haircut and a hot meal. He talks to them, listens to their stories, and sees them for the worthy human beings they are. Bustos tries to be visible to passersby while he gives haircuts. He also shares photos (followed with the hashtag #BeAwesomeToSomebody) along with written reflections on his 
Instagram
 page, which currently has 284K followers.
Bustos hopes that by being visible and open with his acts of kindness, he will inspire others to follow suit. He told the 
New York Times
: "I do it on the streets, on the sidewalks, in the parks," he said, "so people who walk by can find some inspiration in what I do."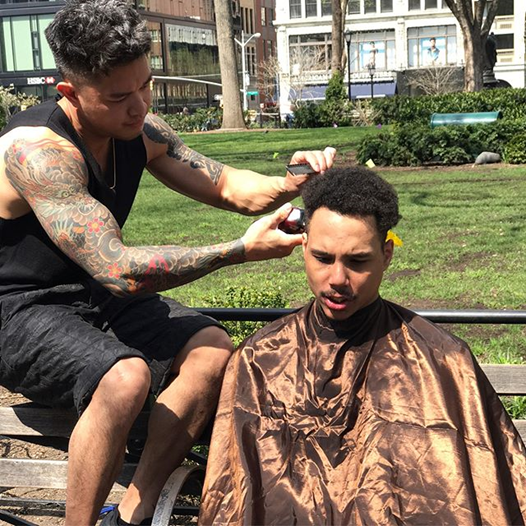 An April 16 Instagram post shares some of Bustos' reflections and observations after chatting while cutting the hair of a homeless man named Gabe.
Bustos wrote: "Gabe, 27, is a man of faith that spoke a lot about the positive influence that 
@hillsong
 church has on him. His extensive vocabulary quickly proved his intelligence where he chooses writing poetic verses as his weapon of choice to ease his mind as he fights to get back on his feet. A local fitness center provides him a place to look after his basic hygienic needs that many of us take for granted, including myself. Physically, at first glance, Gabe lacks the usual stereotypes of what you may think a homeless man should look like. He also happens to lack a place to live. To be honest, he's got as much heart, dignity, and self respect as anyone that inspires us- he just happens to be at a place in life where the only place to go is up. Gabe's love for animals is giving him motivation to apply for a job at the 
@AnimalHaven
 in downtown NYC- maybe this haircut will put the cherry on top."
Bustos first got the notion to offer haircuts to those in need in May of 2012 during a trip to his family's home country, the Philippines. At that time he was overwhelmed by the impact of the poverty there.
He rented a chair at a local barber shop for the day and offered free haircuts to children in the neighborhood. When he got back home to New York, Bustos felt compelled to carry on with giving back, and so began his work with the homeless.
Bustos was back in the Philippines last month and shared this photo (below) on his Instagram page with the following caption: "If you ever feel like life is bringing you down, count your blessings. I've got 19 in this photo alone- in a cemetery on top of tombstones. A place that these children call home."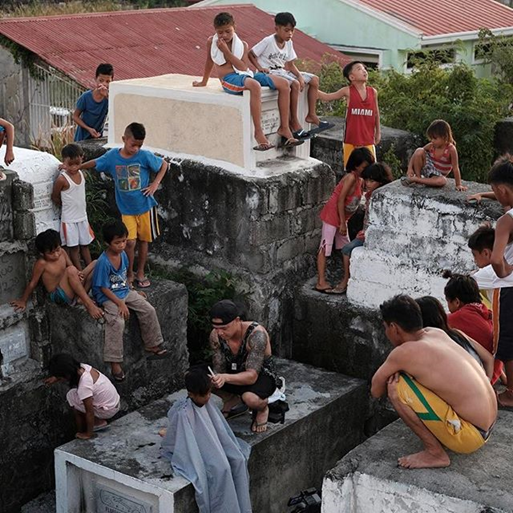 Bustos reminds us to be grateful for what we have in life and his ongoing work to spread kindness to the homeless and impoverished is truly inspirational. By sharing his gift with others, Bustos reminds us that we all have the power to contribute in our own way. We are honored to feature Mark Bustos as this week's Lover & Fighter and we wish him all the best. 
If you know an inspirational Lover & Fighter whom you'd like to see featured on Ravishly, send a message to Shannon Day, via Facebook.
***
Lovers & Fighters say "hell no" to racism, sexism, bigotry, and xenophobia. These men, women, and children are saying "heck yes" to equality, human decency, and love. From bold acts of advocacy to simple moments of goodness, these everyday people remind us of what it truly means to be American.
These lovers and fighters are resistant in the face of intolerance. They are bold in the presence of judgment. They are determined to join forces (or to stand proudly alone) to ensure their message is heard: #LoveTrumpsHate