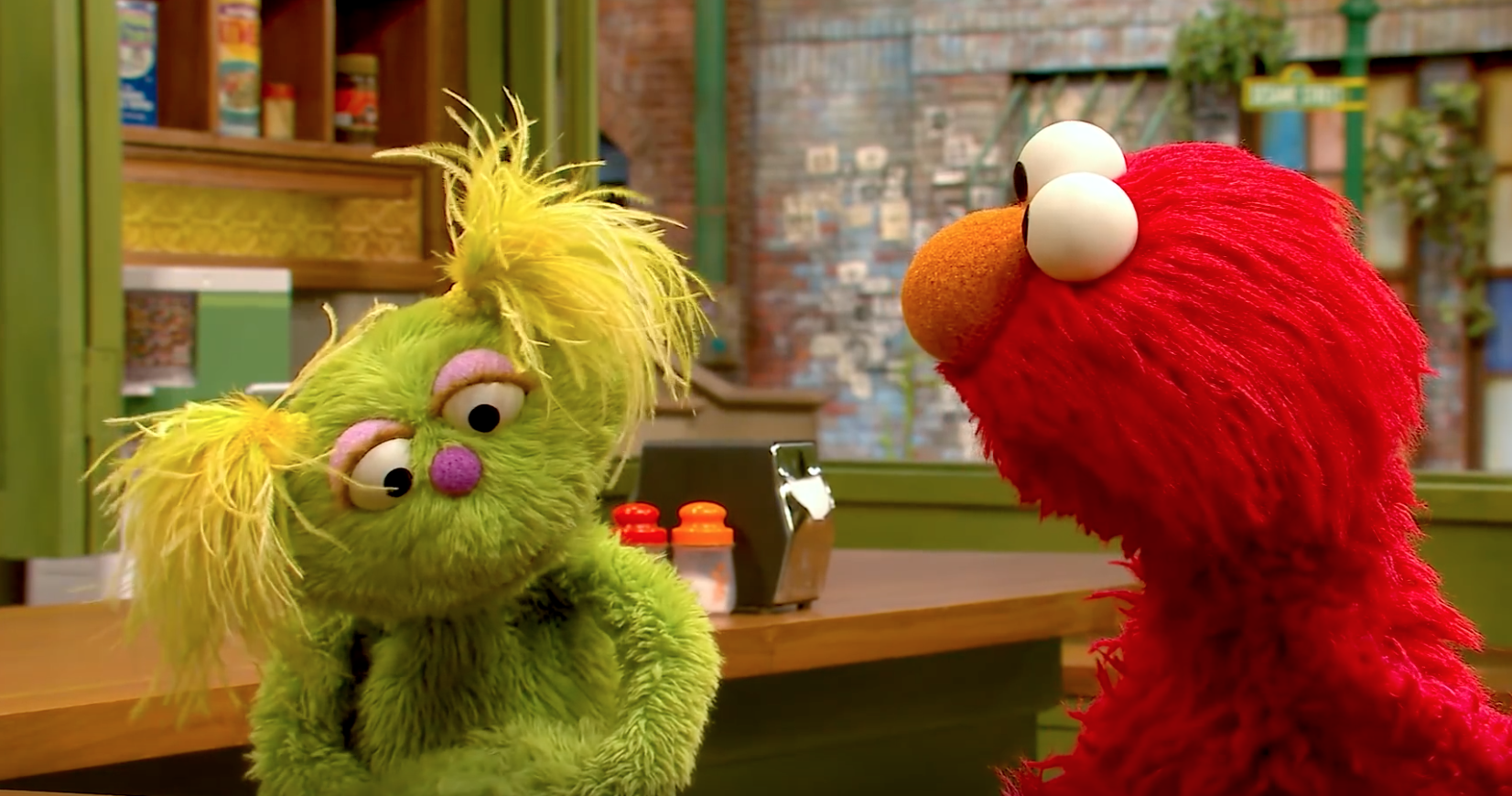 Karli and Elmo (via YouTube)
"Mom, did you ever do drugs?"
When my twelve-year-old son asked me this question, I froze. How could I explain addiction to him? Would he look at me differently? Would he understand? 
Even though I'd been in recovery since I became pregnant with him, I wasn't sure what I wanted to say. Answering that question was a huge part of why I wrote Strung Out: One Last Hit and Other Lies that Nearly Killed Me, forthcoming from Park Row Books, February 2020. I wanted to be able to answer that question for him, and others, in a way that might make a difference. 
It was through getting honest about it that I was able to begin the recovery process. It was through accepting that this was not a moral failing but a sickness. Drug addiction is a public health issue, not a criminal one. 
It is estimated that there are close to six million American children under the age of 11 living with a parent struggling with substance abuse. And yet, collectively, we grapple with how and when to talk to kids about it, especially when we are the ones who have struggled. 
"Sesame Street" has long been a resource for tackling the subjects that are difficult to talk about — divorce, incarceration, autism, poverty, foster care, and food insecurity. When it was announced last week that "Sesame Street" had created a new character, Karli, whose mom is struggling with addiction, I couldn't hold back my tears.
It is another step forward in reducing the shame and stigma around addiction. 
I was only a child myself when I started using drugs. It began with an expired opioid I found in our medicine cabinet. I was eight years old, struggling with suicidal thoughts, and in desperate need of a way out of my feelings. From there, I began using heroin at age 13 and struggled with addiction for 15 years. The shame I felt kept me stuck in a cycle of relapse that I feared I would never escape. It was through getting honest about it that I was able to begin the recovery process. It was through accepting that this was not a moral failing but a sickness. Drug addiction is a public health issue, not a criminal one. 
Sesame Workshop's philanthropy is another step in helping to alleviate the trauma that children of the opioid crisis are facing, as well. Karli, the newest character on "Sesame Street," is being introduced through their new online parental addiction initiative, which provides families with a way to talk about addiction through games and videos, along with free resources in English and Spanish. 
In a video clip on the "Sesame Street" in Communities site, Karli talks to Chris and Elmo about her mom's support group meetings for "grownup problems." Karli tells Chris and Elmo, "My mom needs help learning to take better care of herself. She talks to people with the same problem." 
We need more of this. More of this representation on TV and mainstream media. And more language that's accessible to old and young. The way out of this epidemic is not incarceration and shaming people into "just saying no." The way out is providing a pathway for people to learn how to take care of themselves, and this includes making mental health services free and available to all people, regardless of their socioeconomic status.
In another video, Karli introduces Salia, a little girl whose parents are both in recovery from opioid addiction. Ten-year-old Salia explains, "When I was little, my mom and dad had to leave, and I had to stay with Grandma and Grandpa. My parents were struggling through a bad time with addiction. They had to go to a place to help them feel better. Addiction is a sickness. Addiction is getting too attracted to something, so you have to keep doing it over and over again. It makes people feel like they need drugs and alcohol to feel okay." 
Through the words of this ten-year-old, the concept of addiction is presented in language that a child can understand.
Addiction is a sickness. People can and should have opportunities to get help. And most importantly, we shouldn't be ashamed to talk about it. 
Kama Einhorn, a senior content manager with Sesame Workshop, said, "There's nothing else out there that addresses substance abuse for young, young kids from their perspective. Even a parent at their most vulnerable — at the worst of their struggle — can take one thing away when they watch it with their kids, then that serves the purpose."
The loneliness of addiction can be excruciating, both for those struggling with addictions and their families. I know for me, my main impetus for writing my memoir was to help open up the conversation around opioid addiction, give a human face to the crisis in our daily news cycle, help reduce the shame and stigma, and, most importantly, to give people hope and make them feel less alone.
In looking through the videos, games, and resources created by "Sesame Street," one thing is abundantly clear — the discussion is designed to make kids feel less alone. And that's a powerful and beautiful message. 
---
Related: