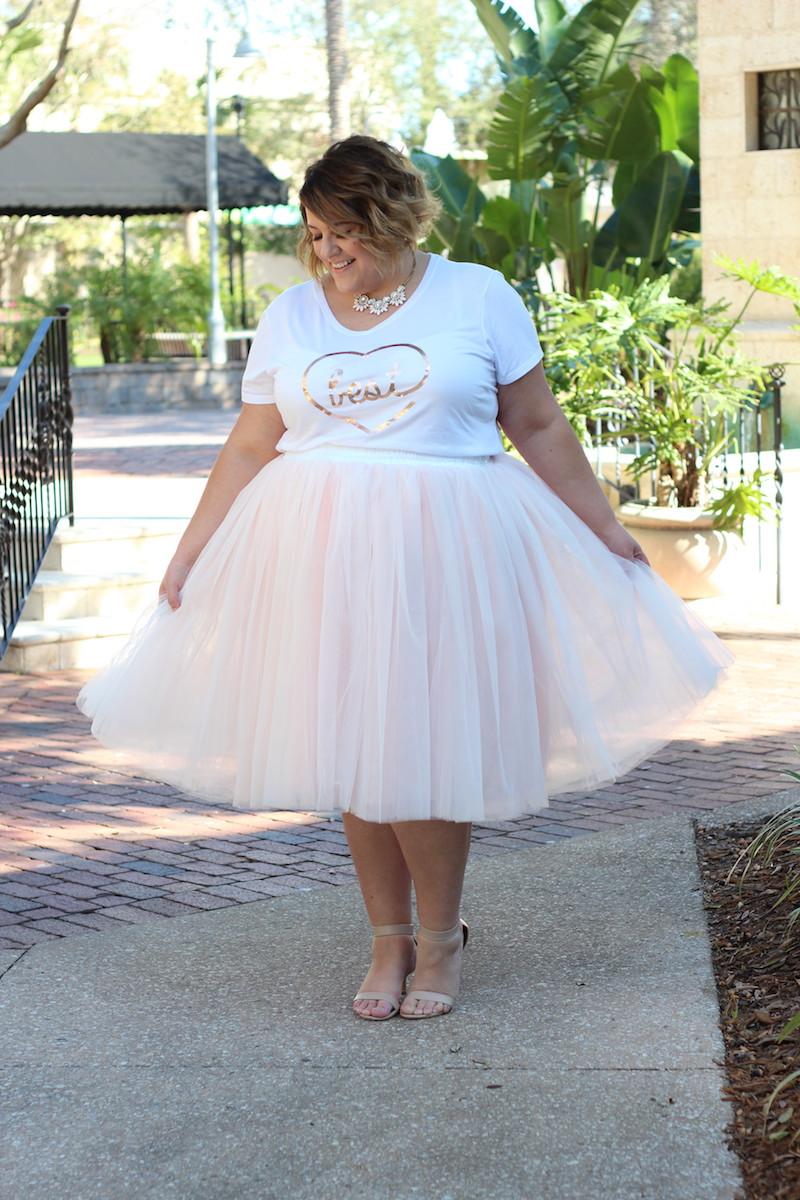 The plus-size fashion industry has been changing shape rapidly over the last ten to fifteen years. No longer are we relegated to shapeless rectangular tunics and stretch cotton pants or billowing tent dresses.
Big name brands like Torrid, Lane Bryant, and Avenue have dominated the plus-size clothing industry, but the big brands are also seeing internet-based competitors and small designers carve out niches for themselves. Businesses like eShakti, Re/Dress, and SWAK Designs have begun to become staples in the plus size fashionista's closet, along with couture designers like Zelie For She, Copper Union, and Jibri.
Society+ is one of the big name producers of affordable clothing. The relatively young brand is curated by Jessica Kane, the Chief Creative Officer and co-founder, who is also the founder and executive editor of plus-size fashion magazine SKORCH.
Why do we love Jessica Kane so much? Simply put, she's a badass.
A mother to a 9-year-old boy, entrepreneur, and digital pioneer with her blog Life and Style of Jessica Kane, Kane has been creating spaces for plus-size bodies and perspectives for many years. She is the epitome of bootstrapping, having grown up in extreme poverty in rural Oregon and taking her first job at the age of fifteen, never stopping since. She literally went from pumping gas at nineteen to being Director of Operations at the same travel center (with over $200M in annual revenue) by the time she was 24!
We love Kane because she takes the position of kindness and generosity above all else, creating safe spaces online for plus sizes, especially those above a US size 24. She backs that up by creating clothing for those bodies, as well. But don't let us tell you why we love her.
Fall in love Jessica Kane as she talks about her experience with Society+ and the plus-size fashion industry.
What drew you to plus-size fashion?
I moved to Portland, Oregon at the age of 24 after a failed first marriage in hopes of starting my life over. Shortly after, I stumbled upon a Torrid in the mall, which was totally new at the time… I had never heard of it, especially after spending my whole life relegated to the back of Walmart or Bon Marche at the time. Walking in that store literally changed the trajectory of my life. The feeling I had knowing that I could choose ANYTHING in that store in my size was profoundly powerful.
I left that store wanting to give that feeling to more women — it was too good not to share, and I knew there must be more out there I didn't know about. Taking my experience in website development, sales, ops etc., I knew I could build a digital magazine — one like Glamour but on your computer where you could click on clothing and buy it instantly! So SKORCH was born, and at the time it was a groundbreaking idea. The market went crazy for it and we had over a million viewers in the first year. Shortly after, I was able to quit my full time job... and haven't looked back since.
Tell us a bit about Society+. How would you describe the aesthetic? Who is your customer?
Society+ is the Kate Spade of plus-size grounded with an authentic plus-size woman's point of view. The room of decision makers are not size 2 fashionistas. Unlike almost every other fashion brand, I am the final creative decision maker at a size 26/28.
Our customer is the woman who is over being oppressed by retailers shoving her to the back [of the store] by mattresses and blenders. She votes with her dollar and supports those who support her. She embraces her body and owns her curves by showing them off in fashion that makes her feel like the damn general of her own universe!
Being an entrepreneur is clearly not an easy lifestyle. What are some tricky situations that you have had to navigate in this role? What have you learned about yourself in this process?
That's the truth! It is definitely not for everyone and in the beginning I wondered if it was even for me. I have worked my ass off for over a decade for so little, [even though] deep down I knew I was building my portfolio of who I am and what I could do.
Financial success alluded me the entire time, and it wasn't until I met Michelle Crawford, my current business partner and CEO of Society+, that I realized why I've been poor this entire time! She is a CEO, through and through. I know how to make money, but I didn't know how to build wealth, and that is entirely different. Looking back, I realize I just didn't have any good CEO role models that lead me to thinking that was what I was. She is one of the most fucking incredible humans I've ever met and I thank the Gods above for putting us together because she is what was missing.
As a self proclaimed bad ass Type-A, saying that I am not a CEO was a humbling yet liberating moment, an AH-HA! moment for sure. I have never felt more self-actualized as I do in this moment in my life and that is what it is all about. Not being what you think you should be, but being who you are.
What do you hope to achieve with Society+ as your platform?
My hope is to build a brand that empowers women on a large scale while also being a healthy and profitable business for those who have invested in us. We have so much planned in the realm of content, which is where I believe we can do the most good and still connect women to the fashion that will bring joy to their lives.
Can plus-size brands be body-positive?
If they have to subscribe to the old rules of fashion, no. The big brands can't be authentically body positive because they are built on the bricks of old thinking, the traditions of retailing. The traditions that dictate that women don't want to look at themselves (because they hate what they see) and only "aspirational" models can be used (code for thin, white, hourglass, cisgender, ablebodied, etc). And whenever said big company hires for that decision maker role, they fill it with the same type of fashion industry "insider" who brings with them all those years of bias engrained in them from working in the industry.
The only way to be truly body-positive is to completely disrupt the status quo and build a company where the DNA and the decision makers of the company have to come from the community they want to serve.
I like to say it's like trying to sell fishing rods to hard core fisherman, you can't just buy some fishing rod from a wholesale market and mark it up and dish it out. They won't buy it or buy into your company. You have to BE ONE of and KNOW the people you want to support you. We literally have so many execs giving us shit fishing rods and being mad we aren't buying the hype...
Who are three celebrities or influencers who you would like to dress? What draws you to each of them?
I'm obssessed with Chrissy Metz and would love to dress her in a Showstopper Sequin Maxi Skirt for any red carpet event! The dark blue one is my favorite and I designed it for apples like her and me!
Who doesn't want to dress Ashley Graham? I think the Chicest of them All Vest would be perfect styled with her signature lace up belt over a bodycon dress and strappy heels!
And I've been following Louise Pentland's work for so long and her style constantly inspires me with Society+. I would love to see her in our signature Premium Plus Size Tutu because it screams elegance and fun and that is what I love most about Louise!
If there is one thing that you want people to take away from their experience with you or your brand, what is it?
That wow moment, beyond the need for clothes to be functional, [when] they can also bring out pieces of ourselves we didn't know existed!
As plus size women, we have been oppressed for so long that we are only just now realizing we are allowed to take up space, be seen in that space and embrace that space. That can take courage and I hope our clothing inspires women to take those chances. Life is too short to not wear something you've always dreamed of. Every day is an occasion to celebrate and Society+ is here to live it with you!
Like what you have read? Follow Jessica Kane on Instagram and check out Society+ as well as her blog The Life and Style of Jessica.