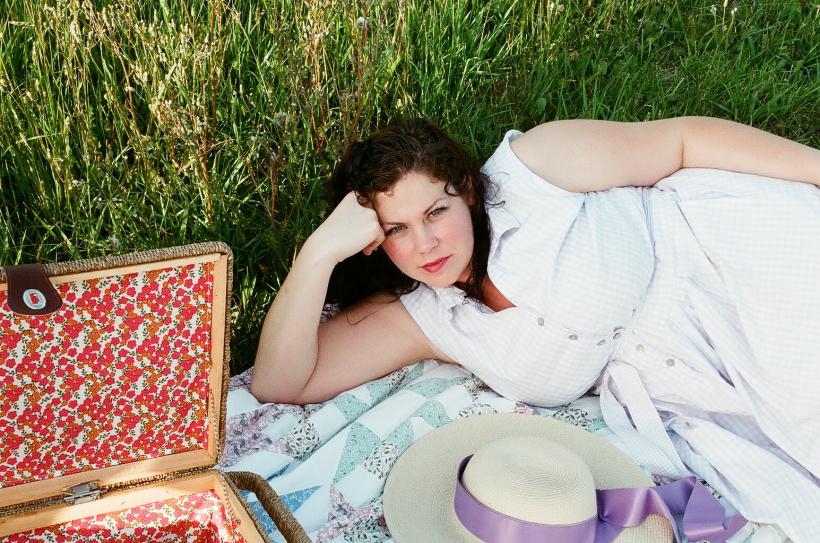 Barbara German by photographer Joella Duncan
As we roll into summer months, we are gifted with picnic weather. No more forcing ourselves indoors for heat - although, we may soon be doing that to be the air conditioning. We now flock outdoors to revel in the sun, blooms, and smiling faces. While urban green spaces like San Francisco's Dolores Park or Brooklyn's Sunset Park can be competitive land grabs, there are many alternatives sprinkled throughout our cities and even better options are often a short drive or day-trip away.
While we recommend remaining in very public places on your first date, level up your romance by packing up a lovely picnic and taking your babe (or potential partner) to your favorite green space or get dinner to-go if the restaurant is near a park and eat outside on a bench. Dating is expensive and getting dolled up to sit at the same tables or booths looking at the same menus over and over loses its excitement with every swipe of new romance or date with your current partner. Keep things fresh and keep them intrigued by switching things up. Have dinner plans but not feeling it? Just switch the locale. Sometimes keeping things interesting requires a little more flexibility and spontaneity. 
Like the idea but have no idea what to wear? Keep it cute, but also keep it comfortable. Switch out the mini-skirt for a cute pair of shorts. Skip the stilettos and opt for a pair of flats or sandals that you can comfortably walk in. Can't skip the lift of a good pair of heels? Opt for low block heels so that you do not sink into the grass. Remember your SPF, don't shy away from bringing a hat to protect your face and shoulders, and break out the cute sunglasses. 
Make sure you remember the less sexy and boring stuff, too. Be a hero and bring extra sunblock in case your date forgets. Fight chub rub by gliding on a bit of anti-chafing stick and pack it in your bag for backup. Don't forget your antihistamines and insect repellant if you're in a pollen-thick area or a spot where mosquitoes are an issue. Pack a comfy blanket that you don't mind putting on the ground and a throw pillow if you need some extra padding. A little extra packing can save a lot of discomfort if you have a sensitive body. It may seem like a lot of forethought, but once you have your "go bag" or list of things to toss in there, it's a breeze the second time around. 
Keep fabrics breezy and breathable. Skip the polys and rayons and trade them for natural fabrics like cotton, modal, and linen especially during hotter picnic days. Toss a cute bathing suit top on instead of a blouse and enjoy the sunshine and seize any swim opportunities. The possibilities are only as limited by your imagination. 
These seven plus-size fashionistas rock the perfect picnic-ready outfits for a bit of inspiration for your next date. 
1. Georgette Niles (@grownandcurvywoman)
Why not play with the idea of the traditional wicker basket and use it for your clutch? The look is simultaneously modern and boho while being on trend and a fun nod to the day's festivities. 40-plus blogger Georgette Niles kicks it up a notch with a beautiful off-the-shoulder dress and colorful accessories. 
2. Katana Fatale (@katanafatale)
Want the "togetherness" of a dress but the ease and chubrub protection of pants? Look no further than your trusty jumpsuit. Portland model Katana Fatale rocks one in black-and-beige pinstripes. 
3. Toni Furmanski (@anneandkathleen)
Let's face it: nothing says picnic more than gingham. Nebraska-based blogger Toni Furmanski rocks gingham in a less expected way by wearing the print as a pair of shorts with the can-do-no-wrong chambray shirt — a necessity for any well-rounded wardrobe. 
4. Sandra Negron (@lapecosapreciosa)
Find a concert in the park and pack a picnic basket for you and your honey. Stay stylish and covered up with a gorgeous maxi skirt to protect your legs from bug bites and stave off any cool breeze as the evening hours roll in. In this picture, NYC blogger Sandra Negron parties at Curly Girl Collective's Curlfest last year. 
5. Anita M (@foreign_curves)
Who says you can't make pants every bit as sexy and feminine as a dress? Anita M shows a playful look with a pink cropped patchwork top and bell sleeves paired with white pants. If you're sitting down on a picnic blanket, white might not the be the best option but if you're sharing a snack on a park bench or at a restaurant dining al fresco, try this look on for size.
6. Jamie Hamilton (@jamie_jetaime)
Sometimes the best picnics are beach picnics. Tall fashion blogger Jamie Hamilton rocks an adorable retro two-piece while showing off her collection of vintage Tupperware. Just keep the sand out of your sandwiches, and you're all set!
7. Hayley Angell (@hayleyangell)
Australian curve blogger Hayley Angell wears quite possibly the cutest playsuit that has ever existed. Too short for you? Find a longer hemline but keep the polka dots for all of the retro whimsy with a little more coverage.
---
Related: