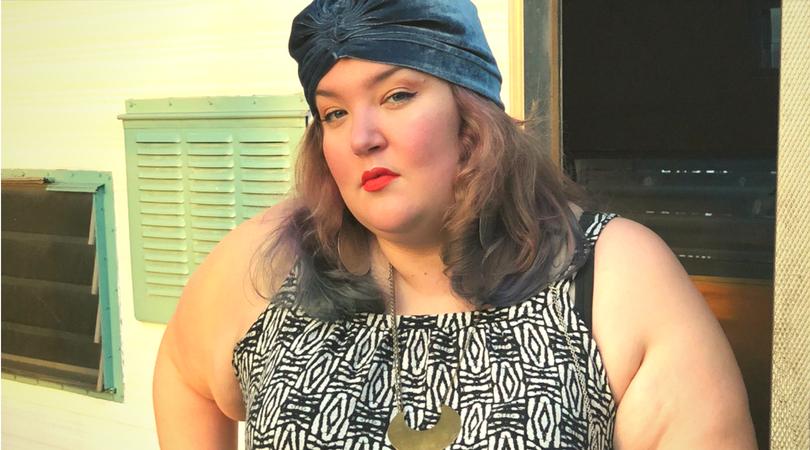 Laurel Dickman by Margalit Carolinensis
Summer and carefree, breezy boho style go hand in hand. Flowing fabrics and silhouettes allow breezes to cool down warm bodies and compliment mellow #summervibez on the weekends and vacations, taking us into the long summer nights with style.
Still, sometimes getting dressed in the summer can be stressful. As a big-bodied writer, I know the difficulty of being on display during the summer when you're not in the mood to deal with the public —  but you HAVE to stay cool. Even the most body-positive babe and strongest fat libber can fall victim to the nasty stares and comments or just perceived hostility from others. When you're constantly battling negativity, it's hard not to be hypervigilant in the fight against it. 
I feel most in control when I am wearing something that I love. When I'm in a piece that makes me feel powerful, it helps me regain a bit of the feeling of control which is lost when I have to wear less clothing to stay cool, all while knowing eyes which I do not want on me will be gawking. While I am 100% here for everyone embracing their bodies and showing them off as they choose, I also have developed a surprising streak of modesty over the last few years. Flowy boho fabrics and silhouettes let me feel beautiful and powerful while keeping it breezy and comfortable and allowing me to layer up or down as I choose. 
No matter where you are in your body journey, Summer can be a bitch. It's especially hard to be stylish when you're sweating like crazy and uncomfortable. Need some ideas? Give the haters a well-manicured middle finger along with a toss of their hair or flick of the shawl with these gorgeous boho looks. 
1. MyXXFly
Rock your summer VBO with a cute crop or bralette and comfy skirt. Toss on a flowy layer to add a little extra style or coverage if you're not feeling being that bare. 
2. Isabella Rosee (@IAmIsabellaRosee)
Have a swim coverup that you love? Don't be afraid to use it as a dress! If you're nervous about it being too sheer, toss it on over a sports bra and leggings or over a slip or tank dress for extra coverage. 
3. Astra Varnado (@funkychunkyy)
Astra models her own branded "I'm A Motherfuccin' Fat Girl" shirt which has been sliced and diced into an adorable tunic or mini-dress by a friend and fan. D.I.Y. your way to cuteness — experiment with your own shirts if you're tired of the fit and want to freshen up your wardrobe.
4. Claudia Miguel (@aborboletaverde)
Portugese blogger Claudia Noel wears the perfect boho maxi in gold as she sits upon the stairs of yesteryear's explorers. Trek in style with comfortable but ornate sandals like her own. Make sure to invest in supportive pieces, as bigger bodies and their hard-working feet need a little extra TLC. 
5. Tallulah Moon (@tallulah_moon)
Play with proportions while keeping it playfully feminine with ruffled crops and a cropped wrap top. You can wear long sleeves during summer months, too, if you choose loose sleeves and thin fabrics. 
6. Nzinga Imani Noel (@nzingaimani)
Few things shout boho like a gorgeous jewel-toned maxi. Nzinga Imani looks like a queen in this vibrant blue flowing maxi and golden head wrap perfect for locking in moisture and helping protect hair from sun damage during the summer months. 
7. Bianca Karina
Find the perfect wide-brim hat for stylish protection from the sun. Up the protection by either investing in a foundation or facial moisturizer with UV protection or mixing your favorite sunscreen into your fave facial products. 
8. Tyyonna Grady (@aushia_grady)
Jumpsuits give the togetherness of a suit or dress with the comfort of your favorite pair of pajamas. Add a bit of fun boho detailing with this ruffled onesie. Add more with a shawl or "kimono," denim jacket, or other details like a hat or jewelry. 
9. Cassie C
Makeup artist Cassie C shows how a little bit of detail can elevate a casual tank top and shorts look. Seek classic pieces with added whimsy like well-placed ruffles which won't soon go out of style. Pair with well-constructed mules and boho accessories to complete a look which can be used again and again. 
---
Related: