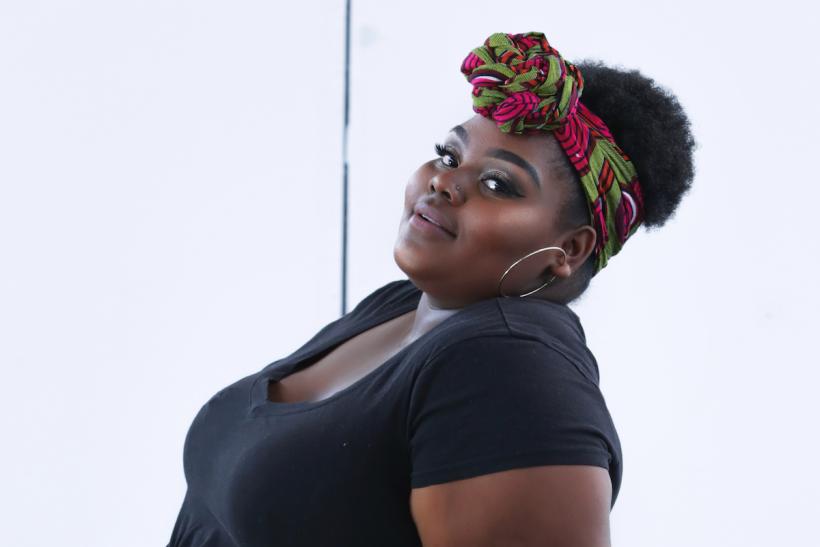 Jade Herbert by Suma Jane Dark Photography
Unless you count Maury, Jenny, and Sally Jessie episodes about fat camp, if you grew up a plus-size teen, it's likely that you didn't see much representation other than your real-life friends and family members. Heroes like Carnie Wilson and Ricki Lake shrank down their bodies to society's expectations and faded into obscurity when the media could no longer poke fun at them and highlight them as cautionary tales. 
Without any role models of fat people thriving and the trials and tribulations of puberty and learning to exist, it sometimes seemed as though the worst thing that you could be was a plus-size teenager. Adults didn't want to acknowledge your existence, often dismissing the larger size as "just a phase" or hiding their "fat" kid away in favor of flaunting their thinner children. Fat kids are still often not treated as permanent, with the idea that the existence of such could be exercised away or shamed into disordered eating. For many parents, it didn't matter how you got there — it just mattered what the results were. 
Long since the troubled teen years of Gen-X and even older millennials like myself, Instagram has changed the game for teenagers everywhere. While the pressure to curate and appear perfect is real, it has also opened up a whole new space of community and acceptance for many. 
Plus-size teens can finally see people that look like them and build relationships with peers across the world. Less and less focus is on film and television stars and more to YouTube personalities who range in size and specialties. Teens get to choose who they want to see instead of being told by television. While it's not perfect, it certainly beats the intense isolation of yesteryear. 
To celebrate the proliferation of awesome plus-size teen Instagrams, we're highlighting ten plus-size teen fashionistas who are changing the way we look at Junior Plus.
1. Thick Bubblez (@thick.bubblez)
Thick Bubblez is the Instagram of an anonymous plus-size teen fashion blogger and her amazing looks. Follow for carefree #blackgirlmagic as she experiments with her own beautiful styles. 
2. Daja Myia (@dajamyia)
Plus-size queen Maui Bigelow's teen daughter, Daja, is no stranger to fashion, either. Daja rocks a Biggie t-shirt with great skinny jeans in this simple cool look. 
3. Corina (@c.orina)
Corina's carefree style and makeup can be found on her feed as she experiments with looks while staying true to herself. 
4. Anaais (@anaaisofficial)
Teen makeup blogger and YouTuber Anais shows off her gorgeous on-trend wardrobe and makeup looks via IG and YT. 
5. Felicitie (@wakandashoesarethose)
Seventeen year old Instagrammer Felicitie rocks fun styles while working and going to school full-time. 
6. Denise (@dendenee)
Pacific Northwestern Instagram fashionista Denise nails a fun alt 90s look with this great plain skirt combo. 
7. Zaccaia (@blackhipsterqueen)
Sixteen-year-old self-proclaimed "black hipster queen" rocks a head to toe denim/blue look, including a bold lip. 
8. Ari (@plussizeari)
Be your own damn goals. Ari rocks the best t-shirt with this floral crown and pink skater skirt. 
9. Arkeema (@http_kc)
Prom beauty Arkeema poses with her uncle as she dazzles in a beautiful rhinestone prom dress fit for a queen. 
10. Simon (@big.beautiful.teens.fashion)
Simon shows off their Hufflepuff team spirit in this rad yellow plaid skirt. 
---
Related: