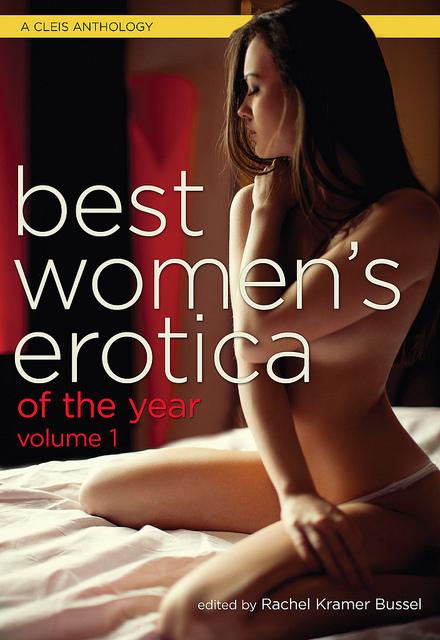 And in today's Read This When You're Alone news, Best Women's Erotica of the Year, Volume 1, edited by Rachel Kramer Bussel, published by Cleis Press. And below, an excerpt.
If you don't have a Hitachi, you're going to want one. I mean, it's just a muscle massager. Everyone needs to massage their muscles now and then.
And now:
Starstruck
by Lazuli Jones
Oh God, he's as gorgeous as he ever was.
The banner hanging above the table was displaying a half-body shot of Tecton, the ebony-skinned superhero who made frequent visits to my young-adult fantasies. In the shot, Tecton wore his muscle-hugging gold costume, the spandex riddled with rocky patterns. His hair was styled into small dreads. From the center of a thin gold mask, Tecton's sharp black eyes stared down. His gaze was stern, but gentle. Sharp, but soothing.
The shot was from 1993; I recognized it because I'd had the same picture cut out from a magazine and taped to my bedroom mirror. I'd stare at it until I got hot and weak in the knees and carefully took the picture down to bring to bed with me. How else was a nerdy black girl going to get her sexy kicks in the 'nineties?
Tecton was all muscle and deep rumbling voice but god, the whole premise of his character was that he was a gentle giant. By day, he was Tyrell Jackson, a construction worker with a secret identity. By night, he was part of the titular Elemental Heroes, a six-person superhero team. And, in real life, he was Desmond Kyle, the well-built and deep-voiced hunk who hadn't acted much since the nineties. Being typecast was a stroke of bad luck.
Beneath the banner, twenty years older but still radiating sex, Desmond Kyle sat in a muted scarlet dress shirt and smiled and shook hands and signed autographs. The dreads of his youth had been replaced with a short cut, streaked with silver. I stood four people away, holding a glossy eight-by-ten of Desmond and trying to look chill, though my heart was pounding like Tyrell Jackson's jackhammer. I was surprised to see how short the line was; the only people ahead of me were chunky, nerdy boys. I was the only woman in line. I was the only black person in line.
I was the only person above age forty in line.
Did I care? Oh hell no. This was the first time in years Desmond Kyle was making a Comic Con appearance, and I was going to meet him. I was going to talk to him, shake his hand, get him to remember me.
The line moved and the guy in front of me, a tall, skinny twenty-something, handed the smiling Desmond a magazine and asked for a dedication. I watched Desmond's large hand and supple fingers glide his signature across the magazine cover.
I'd dreamt about those hands. I used to imagine Tecton crushing my ass in those huge hands, lifting me up and pressing me against a wall. He'd be just back from a rescue mission, still in his costume and mask, sweaty, blood pumping. He'd kiss me, and it would taste like salt and earth.  
I'd imagined those huge hands cupping my pussy, ripping my panties off, finger-fucking me deep inside while I screamed his name. I would come so hard that I'd rip the spandex from his shoulders. "You're a goddess," he'd tell me, while I tore the rest of his costume off, stroking his bobbing cock and holding on to his shoulders while I impaled myself.
He'd hold me by the hips with his huge hands—he was just that strong—and bring me down hard, making me scream and thrash and come again and again. And then he would lift me up using his strong hands, bend me over the bed, and plunge his big, rock-solid cock inside me until I came another half-dozen times.
I was nineteen and still a virgin, with a tenuous grasp of how sex actually worked. But it was still a hell of a fantasy.  
Back in the real world, I was still standing a few feet away when Desmond looked me straight in the eye and beckoned me to come to him. The moment he smiled at me, I forgot my carefully rehearsed spiel and stumbled forward, holding out the glossy photo of him like a giddy pre-teen.
"Well hello," Desmond said. His voice was like velvet smoke. "What's your name?"
I used to masturbate to pictures of you.
"Angela," I blurted. I'd practiced looking poised and sexy—I'd even worn a classy little black dress with my vintage Elemental Heroes necklace—but now I felt like a babbling fool. "I love you! In the show, I mean. I loved Tecton."
"Thank you, Angela," he said. The way he said my name made me flush from head to belly. I was a funny combination of nervous and aroused. I was nervroused. "It's great to meet a real fan from back in the day. What was your favorite episode?"
I spent my early adulthood thinking about your cock.
"Oh, you know!" I said dumbly. I could smell his cologne from across the table; it was earthy and spicy, exactly how I'd imagined him smelling. The frantic hammering in my chest turned into a pulsing want deep between my legs. "I loved everything you did. Just…everything!"
His large fingers wrapped around the Sharpie as he signed the photo I'd handed him. I imagined what those hands would feel like wrapped around my arms, my legs. One of Tecton's powers was super strength; Desmond looked like pure muscle poured into a gentle, relaxed frame. Like he could break you, but he'd rather cuddle.
"It was very nice meeting you, Angela," Desmond said. He handed me back the signed photo; I'd planned all along to shake his hand, but I only smiled when our fingertips brushed.
You gave me the best imaginary orgasms of my life.
I walked away from the table. And just like that, the liquid heat pulsing in my veins and between my legs grew cold. I hugged the photo to my chest, shivering as I squeezed my breasts together, feeling like a fool now in my sad little black dress and my sad little pendant with the multicolored iris. I'd spent an awfully long time picking out an outfit for my drooling-moron act in front of Desmond. Suddenly, I wasn't a grown-ass, sexy, confident woman anymore. I was the dorky little thing I was back in the nineties, with my stupid box braids I never knew how to style, not like the other stylish girls, and my clothes that always fit weird on my awkward teenage body.
I needed a fucking drink.
Bio: Lazuli Jones's particular brand of erotica has previously appeared in Torquere Press's They Do anthology and the Mythologically Torqued anthology. Her first novel, Abyssal Zone, is available from eXtasy Books. As a local performer and queer activist, Lazuli can be found haunting the stage in Ontario, Canada with an odd play or a bit of slam poetry.