Fall is in the air. The sun sets a little bit earlier and the air cools down a little bit faster. If you're in a cooler weather state, the rain is starting and the leaves are changing. Bare skin feels vulnerable and instinctively needs covering.
And now come the comfort food cravings. Warming spices, a hot bowl full of seasonal goodness to bring you out of summer's blazing heat and into the cool comfort of autumn.
One of my favorite ways to welcome a new season is with food. I know that this idea is not revolutionary. But this bowl full of goodness most definitely is.
Curry is one of those things that you tend to either love or hate. I tend to love it. Curries will literally warm you from the inside and you can choose your level of heat. This makes curry an ideal dish to eat during the cold seasons.
This simple curried squash dish uses ingredients that are in season, full of great nutrition, and are colorful AF, honestly. Martha Stewart might actually be a little jealous of this color palate.
Ingredients:
2 cups quinoa, rinsed and cooked (seriously, rinse the quinoa before cooking)
2 small delicata squash, scraped and cut into bite-sized chunks
1 standard sized bag baby spinach
1 small red onion, diced
3 Tbsp dried cranberries
3 Tbsp pecans, roughly chopped (I prefer glazed pecans for this, but that's optional.)
2 Tbsp coconut oil, melted
Curry powder
Salt and pepper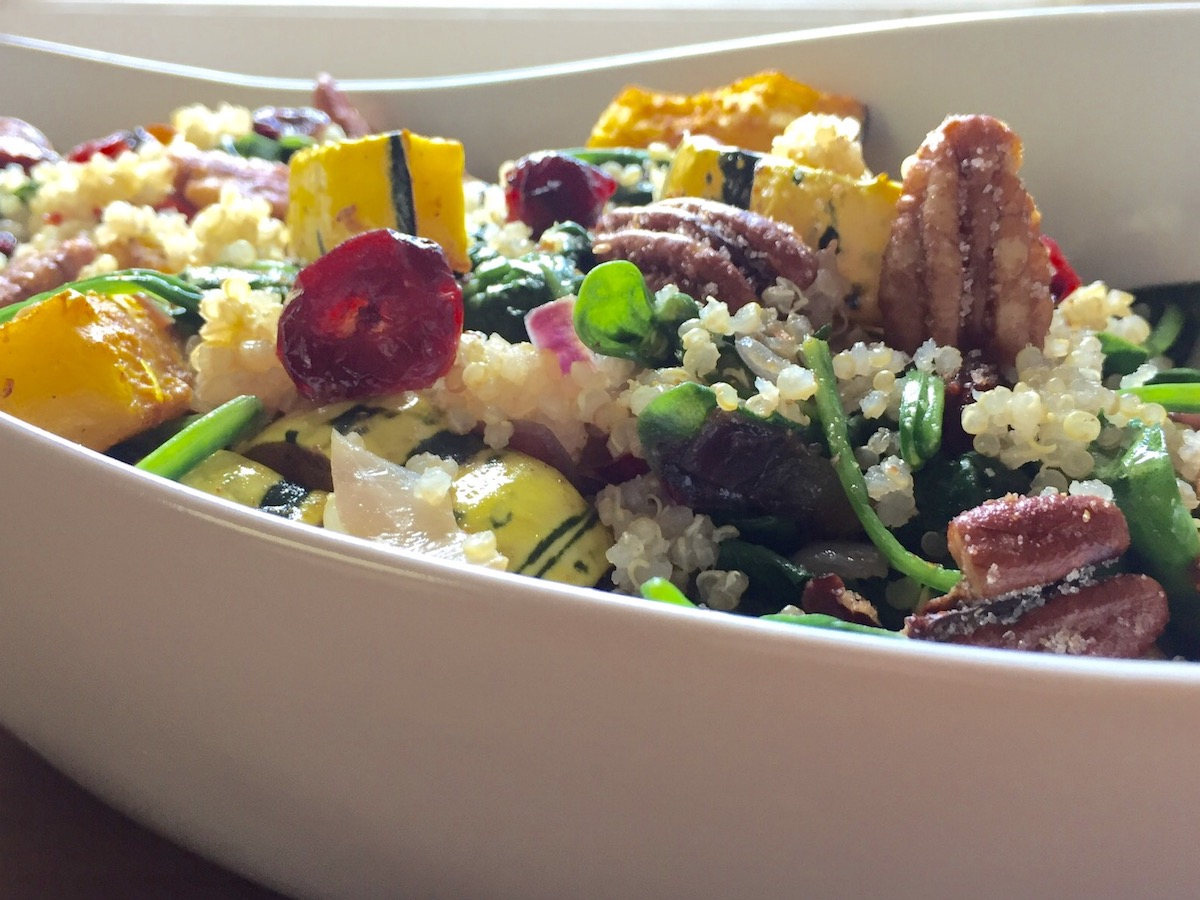 Directions:
Okay, this is mostly assembly and minimal cooking. And to save on brain space, I use a salad-in-a-bag mix from Trader Joe's for the spinach, pecans, and cranberries. Because I'm a minimalist, or something.
In a medium sized mixing bowl, drizzle coconut oil over squash. Stir to distribute evenly. Next, sprinkle some curry powder over the squash. I like a bit of heat in mine, so I go a little heavy on it. Also add a little salt. Keep in mind that cooking the squash reduces the water, which will concentrate the seasonings.
Dump squash on a lightly greased cookie sheet and roast at 425 degrees for 20-ish minutes, or until tender.
While squash is cooking, saute red onion in a little bit of coconut or olive oil and salt. If you haven't made your quinoa, now is also the time to do it. And for the love of autumn, don't forget to rinse it first. You can add your cranberries in while it cooks if you remember or want to, but if not, no worries. You can garnish your dish with them after.
Once the onion is translucent and soft, add your bag o' spinach. Then dump a few tablespoons of water over it and let it steam down while stirring continuously for about a minute. The idea here is for it to be just wilted and not slimy. Because spinach gets slimy when it's overcooked.
Combine all of your cooked ingredients in one bowl and stir. Garnish with pecans and cranberries. Devour.
Just in case you were wondering, this makes excellent leftovers that don't even require reheating. I pretty much have been eating this cold for the last three days because it's so freaking tasty, and it's a lunch I don't have to prepare. It's also perfect for Meatless Mondays.
---
Related