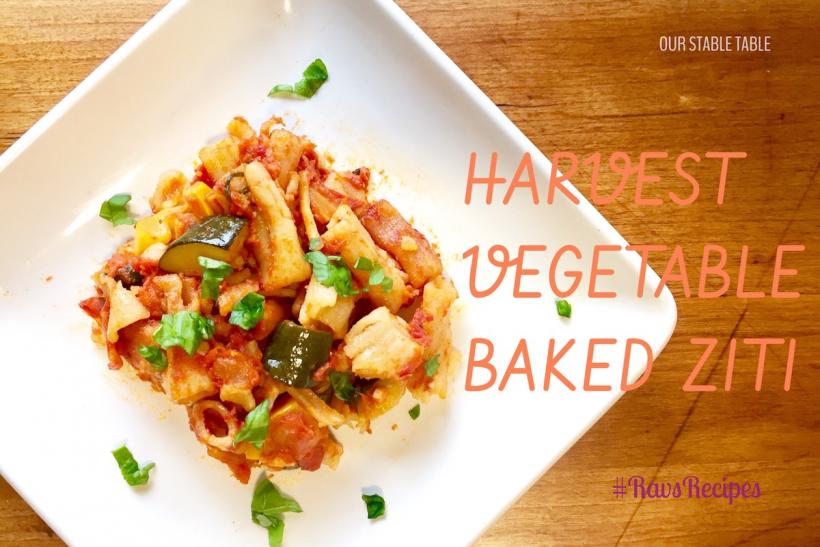 Harvest Vegetable Baked Ziti Recipe
I have this amazing friend, Jake. We've known each other for the better part of two decades. Despite living states and even hemispheres apart, we've always been able to stay connected. He is an avid music aficionado, guitar enthusiast, handyman, gardner, and friend. He has helped us with our kitchen renovation, cooked us meals, and is prone to dropping off bags of homegrown produce on our front stoop. In exchange, I cook for him and bless his generous, hardworking spirit. Seriously. He's a gem of a friend and handy AF.
So when he dropped off one of the season's final bags of homegrown goodness last week, I knew I needed to make something that would do those garden treasures justice. Because growing vegetables takes a lot of freaking work, and holy garden hoe, I appreciate his effort. I also wanted to pass on some leftovers to him.
My go-to with plump, ripe tomatoes is sauce. Tomato sauce was always one of those things that made me super nervous to even think about attempting. Tomatoes, if they aren't painstakingly grown in the summer sun, are expensive. Creating sauce requires a commitment. But once I realized it was just chopped up tomato with garlic, onion, a little butter or EVOO, herbs, salt, and pepper, it felt doable. Easy, even. And it was.
This sauce was no different, simple and quick, and the added squash gave that lovely late summer/early autumn harvest flair I crave. And believe me, I love me some flair.
Ingredients:
5 lbs tomatoes, diced
2 lbs summer and zucchini squash
1 bulb garlic, peeled and minced
1 large onion, diced
3 Tbs butter or EVOO
Fresh thyme
Fresh basil
Salt and pepper
12 oz dry penne pasta
Directions:
Pour yourself some wine. This is a must (unless you don't drink) if you are making sauce. Connect with your inner Italian grandma. In my case, I am lucky enough to have known a real, authentic, Italian grandma, thanks to my husband's family. Grandma DeFatta was a fireball in the best way — RIP (Rest In Pasta).
Once you've channeled the spirit of all Italian grandmothers, sauté your onion and garlic in a large stock pot over medium heat. You want your onions to be translucent and your garlic to be soft. I like to add my garlic a little later, mostly because I prefer a strong garlic flavor.
Add your tomatoes and bring the sauce to a boil. Allow the sauce to cook down for about 30-40 minutes on low heat, stirring frequently. Add your thyme and basil while your sauce cooks down. I prefer strong flavors here, so I use about 3 (ish) tablespoons of each. It's up to you. Sip your wine, maybe light a candle to the patron saint of cooking. Or to Jake.
Get the largest casserole dish you have and grease it. Put your dry penne noodles in and make sure they're evenly distributed. Pour your sauce over dry noodles. You might need to shift your noodles a bit with the spoon, depending on the thickness of your ragu. You want to make certain that the sauce reaches the bottom. Pay special attention to the corners.
Bake covered at 350 for 30 minutes. Uncover and bake an additional 15 minutes. If you are a cheese fan, this would be the time to sprinkle it with whatever cheese sounds good. I would choose parmesan or manchego. So would my husband's late great-grandmother. And honestly, so would Jake.
Pour yourself another glass of wine and enjoy!