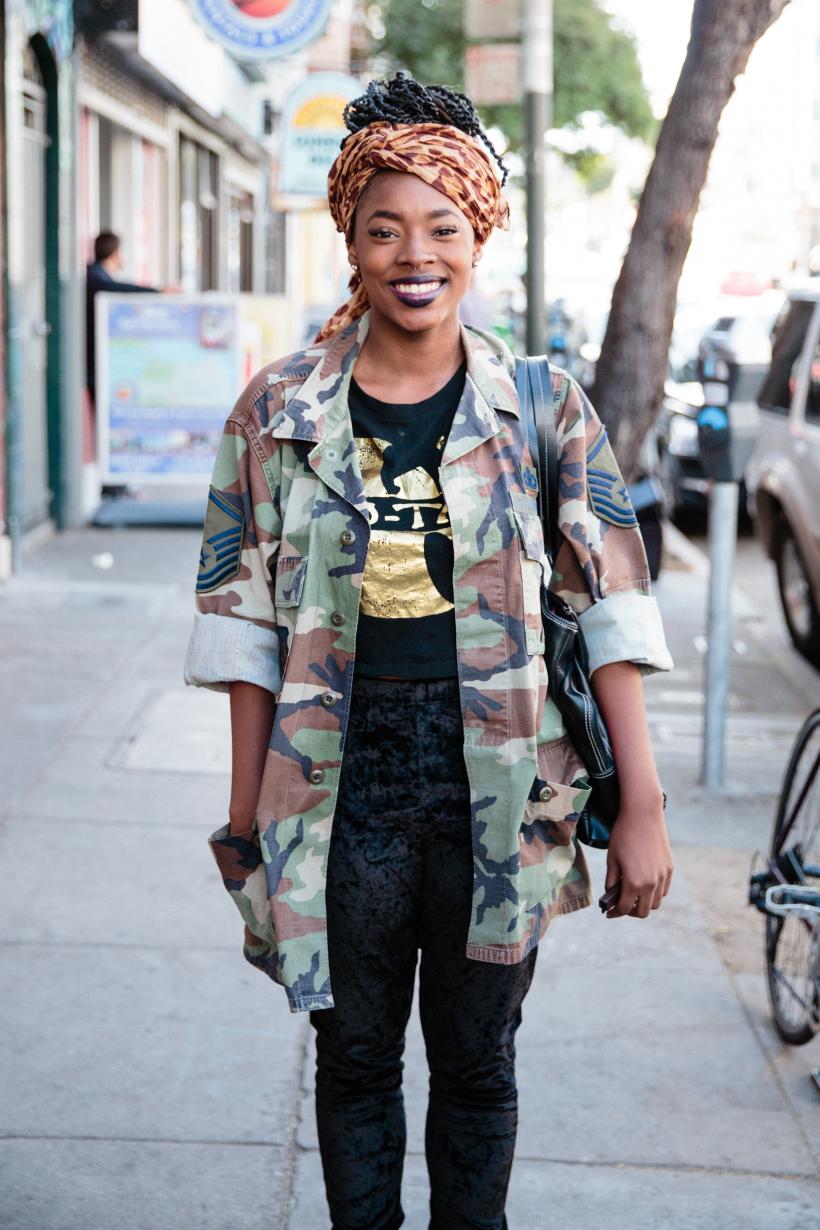 Spotted in: The Haight, SF
Occupation: Student, Sales Associate at Torrid
What are you up to today?
I'm going shopping on Haight. Probably going to go to Wasteland because they have a lot of dope stuff, and Buffalo Exchange. American Apparel is too expensive for me, but I might just have to go over there and spend my paycheck. [laughs] I like shopping alone because I take forever. I'm too picky.
What's your occupation?
I'm a sales associate at Torrid. It's a plus size women's store. This is my first job, so I've been working there about five months.
What drew you to that job?
I kind of needed a job because I go to SF State, and I need extra money. You know, I'm a student. And I just love clothes.
What are you studying?
I'm going to be a fashion major and minor in business. I want to own an urban-wear clothing store one day.
Who are your inspirations in terms of styles you admire?
I love Rihanna—she's edgy. I just think of art when I think of clothes. I'm more of an artist, and whatever I wear depicts how I feel. I dress down, I dress up, dress edgy, dress elegant.
So how did your love of clothing come about?
I've loved clothes since I was little. I wanted to be a fashion designer when I was like five! [laughs]. I used to watch Project Runway [sighs]—I just love clothes and fashion.
Where are some of your favorite places to hang out in the area?
When I do get time to hang out, because usually I just work and go to school, or I have photo shoots and stuff because I'm trying to get into modeling. I don't know, I like going to the lake and the beach. Outdoorsy stuff.
Are you from the Bay Area?
No, I'm actually from Stockton. So that's not too far.
How recently did you move out to the city?
This is my first year, so for the fall semester. I love it here—it's amazing. It's just the perfect place for me right now. There's a lot of opportunities.
What's a recent challenge you've overcome?
I don't know, maybe it could be stereotypes?
In what way?
I think it would just be like the diversity of some people versus the diversity of others. Because some people aren't open to many ideas. But here in San Francisco you have so many different personalities. And with me living in the dorms, there's people I wouldn't be able to deal with.
Ah so you're getting all kinds of cultures mixed together in the dorm?
Yeah, people from SoCal, people from across the country, it's crazy! It's not really a challenge, but it's something to get used to.
How would you describe your own personal style?
I don't know honestly, I'm so diverse with what I wear. Right now, it's pretty edgy because of the black lipstick, but if I didn't have lipstick on it'd probably just look like kind of urban. But the shoes make it seem kind of like, I don't know, freakin' Japanese streetwear! [laughs]
Yeah, those are nice, I just noticed the gold insoles on those. Nice touch!
Thanks! I have a golden toe today.
What inspired today's look?
Well this shirt is Wu-Tang Clan, I love Wu-Tang. I listen to a lot of hip hop, so basically hip hop inspires my style. Underground hip-hop mostly.
Who are some of your favorite artists?
Right now, one of them would be Doja Cat. She's amazing—really underrated. Not sure where she's from, but she's pretty dope. Chris Travis from Water Boyz.
What do you like about their sound?
They're really different, and they're totally different from each other! Oh, another one is Wild Child. I just went to their concert and it was really great. It was here in San Francisco. So yeah, those are three of my favorites—along with Kanye West.