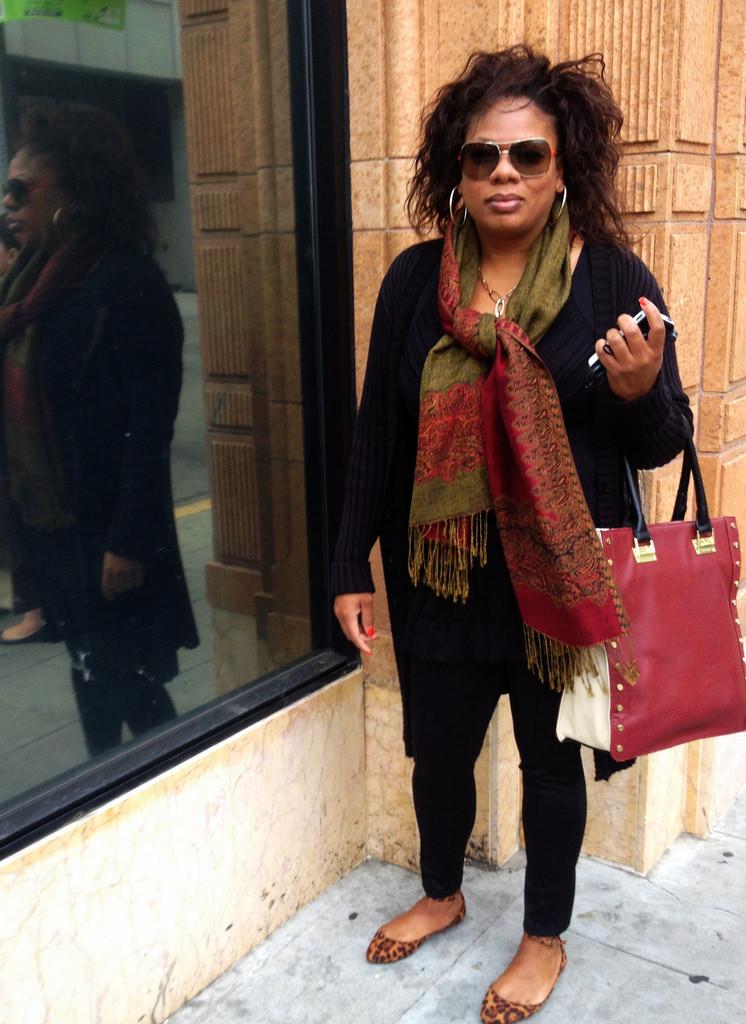 Spotted on: Her way to work in Oakland, CA
Occupation: Event Planner and Program Manager
I approached Chaunette early in the morning. I was on my way to a yoga class (not my most professional look) but I just had to stop her—she was looking fierce and projecting major confidence! Once I convinced her of my professional motives—my business card helped—she eventually agreed to walk and talk with me. 
Part of my job is to stop striking women on the street to chat with them about their day and their style. Would you mind talking with me for a couple of minutes?
You can chat with me on my way to BART.
Where are you headed today—you look like you're on your way to work!
Yes! [Where do you work?] I work at Genentech. 
What do you do at Genentech?
I do events. You know, corporate, seminars, workshops—all of the above.
You seem like you really enjoy it!
I love doing events, yes. It's stressful, but it's fun.
Do you only do events for Genentech?
I do events independently as well! You know, I'm from New York and my clientele is often in New York. But I was also the project manager for the Bay Lights!
The Bay Lights Project—that's really cool. So, you work in the city everyday?
Yes, Monday through Friday and sometimes Saturday [Oh man! You're working weekends?]. Well, it depends, you know. When I was with the Bay Lights I worked everyday, there was really no day that we had off!
And you're from New York. Do you go back often? Do you have family there?
I go back very often—all my family is there, I'm the only one here.
How would you describe your style in a few words?
Unique. Inspiring. Different. Sassy. 
Where did you get your shoes?
They may have come from Nordstrom or something. They're from last year, so it's been a minute.
[And your sunglasses?] New York!
Where is your favorite place to shop?
You know honestly, I haven't really found a niche here yet. I can't really say where I go in Oakland because I don't know too much of where to shop here. But in San Francisco I go to Haight Street and stuff like that.
How long have you been in Oakland?
Next month will make three years.
Do you like it in the Bay Area?
I do! I love it! It's warm and it's friendly and the air is better.
What do you do for fun outside of working?
I write and I like going on adventures to different places. I work five days out of the week and only have the evenings and Saturday to adventure, so I'm still discovering the Bay.
What do you like to write about?
Oh gosh, music, mostly. And there's a website that I usually write for—a blog called Progressive Pulse!