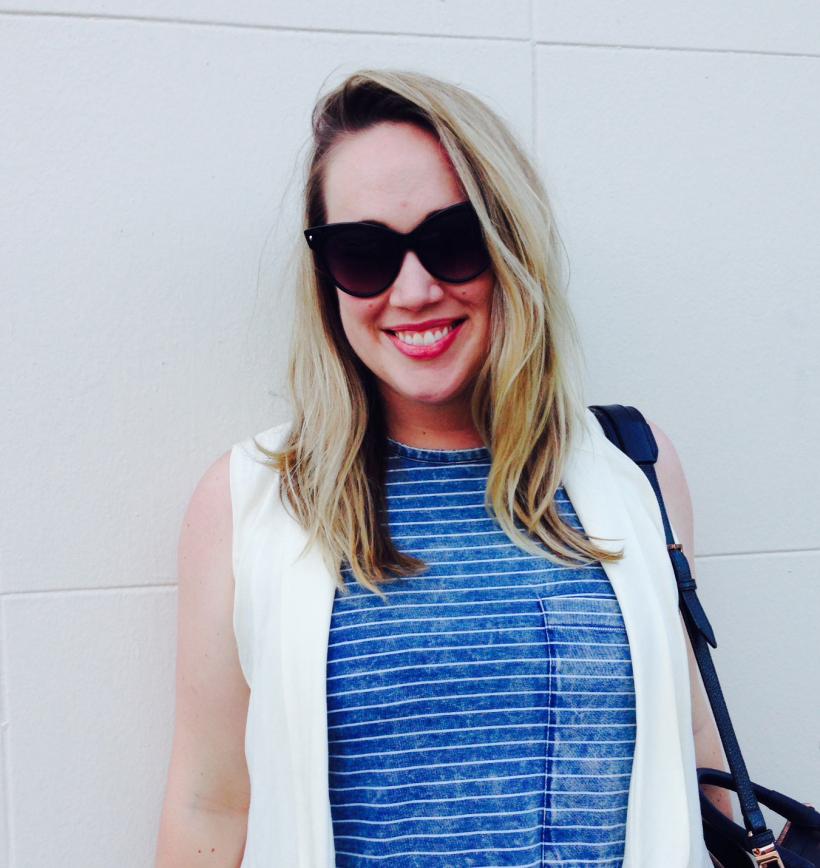 Spotted: on the street in Downtown LA
Occupation: inside sales manager for a trend forecasting company 
What are you up to tonight?
I'm here for work this week and I'm just out with a couple coworkers in downtown LA. We're having some cocktails and catching up, because I'm based in our New York office. 
What do you do for work?
I work for a trend forecasting company, we're based in the UK, but we have offices in New York and LA. I'm in town for a few days for some internal meetings and enjoying the sunny California weather. 
How do you forecast trends?
It's complicated. We look at consumer trends and big picture ideas. We do our forecasting about two years out and we show how trends will develop into swimwear, menswear, intimates, etc. It's a really complicated, scientific process where we try to understand what consumers really want. 
Let's talk about your awesome vest. 
Thanks! It's Madewell. Jeans are J.Brand. 
How do you keep your white jeans clean in NYC?
It's a challenge. I have a policy where I don't sit down. No sitting in public transportation, no benches. No sitting unless I'm in a restaurant or my office. 
When you're not trend forecasting, what do you do?
I like to travel. Pretty much my life runs from vacation to vacation and the rest of my life is just buffering. 
What was your last trip?
I was just in London for work and before that, I went to Pennsylvania. My next trip is Costa Rica. 
What are you doing there?
I'm going with my family. We're just going to have two weeks of sitting by the beach and exploring the rainforest and I've heard there is a sloth sanctuary, so that's top of my list.