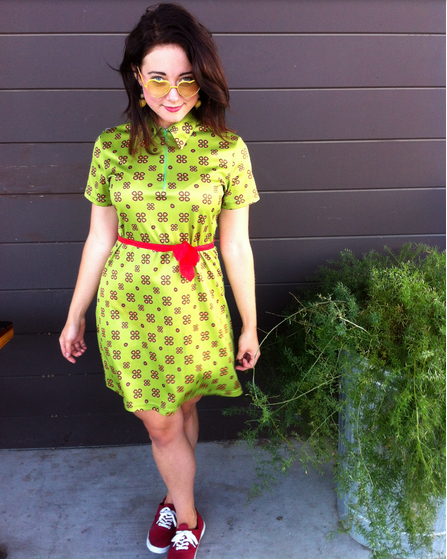 Spotted: at Taylor Maid Farms Sebastopol, CA
Your dress caught my eye! Where did you get it?
At Goodwill, actually. I really like the Mod feeling of it. I play dress-up all the time.
And the heart-shaped sunglasses?
A present from a friend, for my birthday.
What are you doing here today?
I came here to write some lyrics. I'm doing a lot of indie pop recordings right now. I'm also trying to write a travel journal.
Where did you go?  
Me and a friend went backpacking around London, Amsterdam and Brussels. 
What did you like most about those places?
Camden Town in London, where all the punks are, is a must! Brussels is incredible—one of those cities you can wander around and watch it change from modern to historic. And of course, the red light district in Amsterdam.
Who inspires your music?
Always the Beatles, the sixties, Lana del Ray. I'm listening Sarah Maclachlan at the moment, too.
And the lyrics? 
My lyrics are influenced by any kind of powerful emotion. I like when the writing style is personal and people have to guess what I mean.
Do you think songs are better written with a broken heart?
Even if you write with a happy heart, the songs are not as good if your heart never got broken. It just makes you a deeper person.