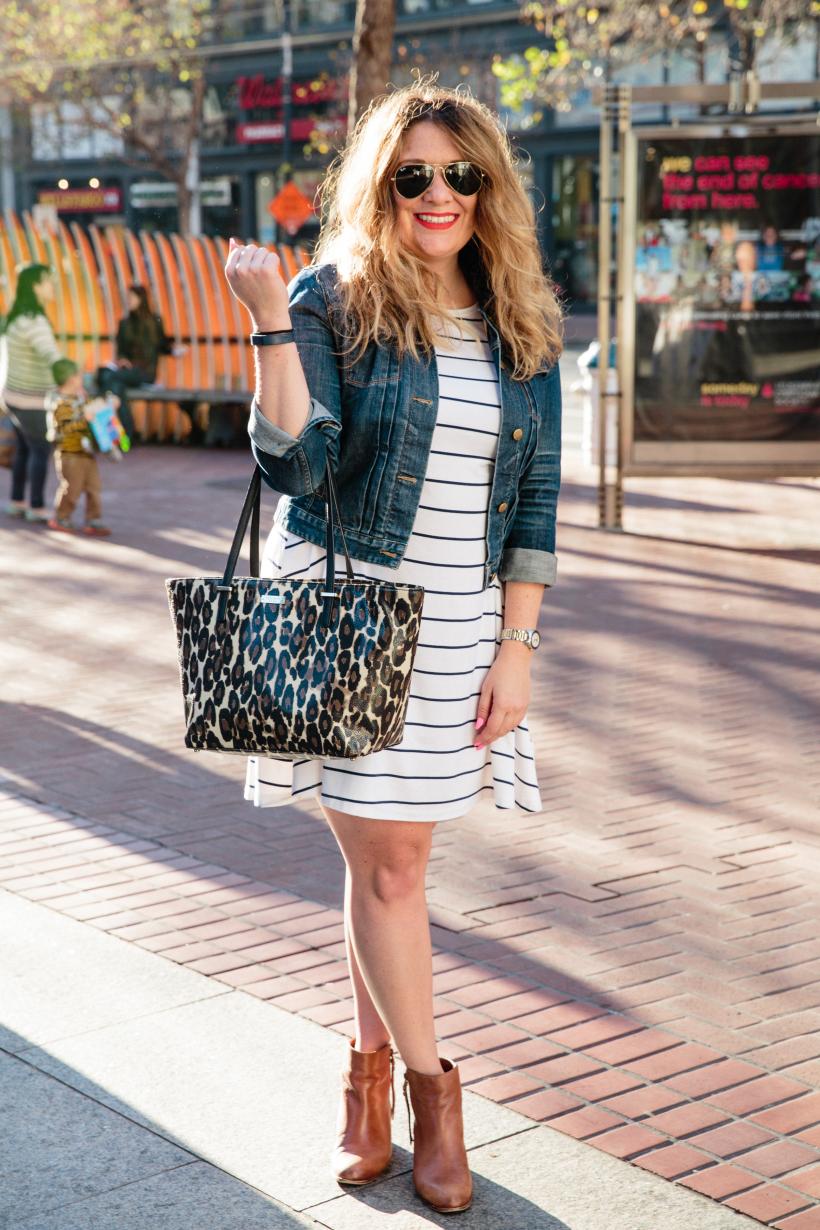 Spotted at: Market Street, SF
Occupation: Executive Assistant
What are you up to today?
I'm just shopping and hanging out with my friend Candace. We went to brunch, ran some errands, and I'm going to see a concert later tonight.
Who are you seeing tonight?
I'm planning to see Sam Smith at the Bill Graham Civic Auditorium. He's kind of pop-soul. He's like the new "it" guy from Britain.
Did you guys find anything while you were out shopping?
We did! I was looking for a black cross-body bag to replace one that I love that broke. I've bought and returned two different ones and I finally found the one that I wanted today—so mission accomplished!
Any ideas on where you're heading for happy hour?
Yeah, we're going to Bluestem Brasserie because they have a really good happy hour and they have a patio on the roof so we're going to sit outside.
What's your occupation?
I'm an executive assistant—I work for a CEO of a tech company.
What drew you to working in the tech field?
I've always been interested in tech. After I graduated from art school, I had the opportunity to work at my first startup, Zynga. I spent five years in gaming and then I transitioned to health and fitness trackers. 
How did you two become friends?
I went to college with her mutual friend, and that's how I met her. She grew up in Sacramento, I grew up in Southern California. I ended up leaving that school and moving to San Francisco 10 years ago, and then she ended up moving her too and we became closer friends!
What's some good advice you've gotten lately?
I think it would probably be to just trust your instinct and be content with where you're at in life. I recently went through a breakup and I am coming out of that really confident in who I am. Everyone keeps saying trust your instinct and you'll figure things out. You'll know what you should be doing.
What's been a recent challenge and a recent triumph?
The breakup was pretty challenging—it happened about a month before I turned 30, and I would say that the triumph from that was just re-evaluating and discovering who I am as a woman. Thirty has been the best year of my life, it's been so great to be surrounded by my friends and family and people who have really shown up and been present for me. I've also started to really look at things that seem like they could be negative, in a really positive way. Because you never know what the future holds. It's so important to be content and grateful for what you have.
What do you like most about being 30?
The biggest thing I've noticed is that I just don't care any more! [laughs] I don't care about the little things that you worry about as a woman in your twenties. I don't care that I have big messy hair, I embrace it. I don't care that maybe I didn't say the right thing or I didn't look a certain way, or I went out in my sweats. You just kind of embrace who you are, and those things that used to bother you when you were younger, when it came to guys or relationships or work—it's just really freeing to be able to say this is who I am, I'm here. My new year's resolution is to show up and show out. So I'm here, I'm going to make the most of it, and that's just what 30 is all about!
How would you describe your personal style?
Tells friend: You might have to help me on this one.
Friend: I feel like it's channeling the spirit of Beyoncé—always fierce, a little bohemian.
It's always "I like a lot of bling, I like things that are flashy, and I always try to dress to impress. And dress for my body."
Tell me about what you're wearing today!
I felt like my dress was questionable, but I'm glad it's well-received! If it's warm out I like to try to wear dresses. I like to mix patterns, so that's why I wore this bag along with the stripes. I'm very much into a bold lip lately, so I do a pop of color lipstick.
And your bold nails too!
Yeah! I'm into the bold nails, bold lips and you always have to wear boots that you can walk in in San Francisco so I have these booties.
And it looks like you have a bracelet here, is it a Fitbit?
Yeah, it's a Fitbit fitness tracker—that's actually who I work for. I like to make them match my outfits, but this is the Flex which tracks your steps and your sleep. We walked to brunch and we walked here, and my goal is 15,000 steps a day. It's pretty cool—it helps me stay active and fit.
What's the most interesting piece of data you've learned from it?
The most interesting thing I've learned so far is the need to customize my workout. It's suggested that the average person walk 10,000 steps per day, but since I live in downtown San Francisco and don't have a car, I average 10,000 steps a day without burning any additional calories. So I customized my workout goal to 20,000 steps a day so that I can burn calories above and beyond what an average person would do. I also really like tracking my sleep, especially when I don't feel rested but went to bed early. I can use my Fitbit to see if I was restless or awake during the night. I can also see if exercise or alcohol affects how I sleep. It's super interesting!