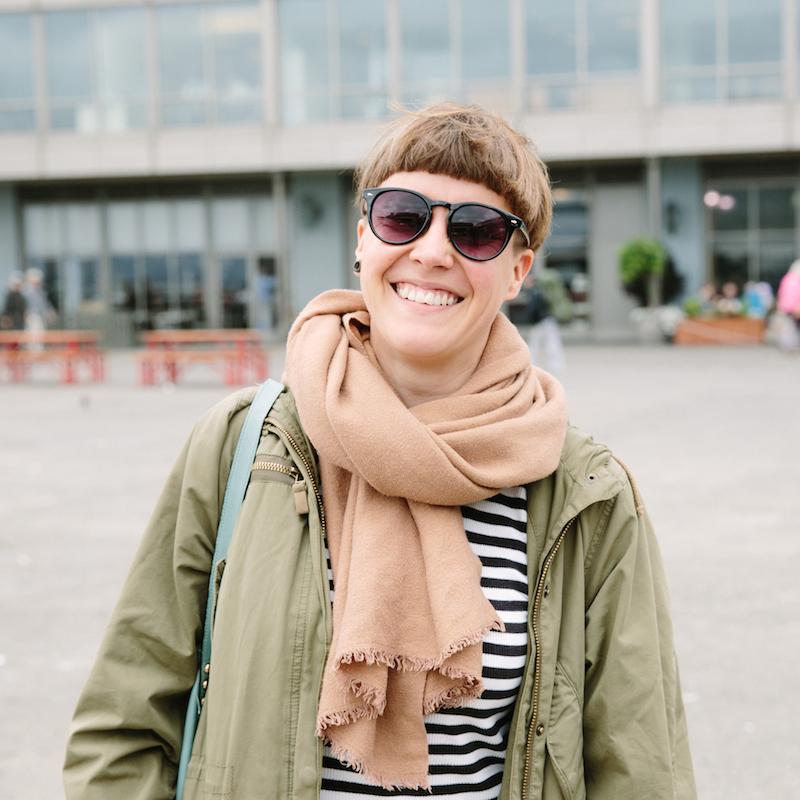 Spotted: Ferry Building, SF
What are you up to today?
I think we wanted to take the ferry to . . . a place called something with an "S"?

Sausalito?
Yeah! [laughs]

That'll be a great ferry ride!
I've switched my brain off since I'm in San Francisco, so I'm not planning. My friend is just looking for tickets, so, yeah!

Oh nice! So how long have you been in San Francisco?
One day now.

So are you here just for fun?
Yes, visiting friends.

Where are you from?
Berlin.

What are some of the things that you're planning to see while you're visiting?
I think, since I'm flying back on Saturday, we're planning to go on the ferry. I want to do some nice shopping . . . suggestions? I'm having a good talk with my friend, doing a bit of exercise, walking my friend's funny dog.
[Her friend walks up]
This is Mel from Australia. We both work for a film school in Myanmar. She's an editor, I'm a project coordinator, and we're visiting a friend who's a tutor here in San Francisco. The school in Myanmar is called the Yangon Film School and we educate young documentary filmmakers. The school was funded by Lindsey Merrison, who still runs it, and there are two locations — an office in Berlin, and the school in Yangon. I go between these two locations. 

What has been one of your favorite documentary projects so far?
I don't have a favorite. Every single project is so special and complex. Documentaries are needed, and should be admired and respected more. It's still a really tough business. I am all in for all of them.
I've worked for many years in the festival area, and [have gotten] to know hundreds of documentaries and worked on quite a lot . . . it's hard to choose a particular one. 


What is something that has caught your interest lately?
I just finished my own photo project, which took up all my free time in the last months. I took pictures of people who are sneezing. It was and is a fun project, but a lot of work. For a couple months now I've also been following the photographs of Vivian Maier. They help me get back my perspective on things.

If you were to give a local tour of Berlin, where would you go?
Every part of Berlin is contributes something in its own way. I would recommend hanging around Kreuzberg and Friedrichshain, [they are] good for food, clubbing, and street art. I prefer the eastern parts of Berlin. There are nice boutiques. I am, really, a nature person, so I do need to live close to parks, water, etc. For chilling, I recommend Treptower Park. There is coffee, cake, and dance (old-fashioned way) every Sunday afternoon, which takes you back in decades, but calms you down at the same time.

I love your style – how did everything come about?
Thanks a lot . . . really kind. I just choose what is comfortable, and what I feel good in. It has to be practical in daily life. I don't like complicated clothes or a huge amount of accessories. My choice of clothes just comes with my taste. I can't stand corporate styles, but I don't want to make a statement with my 'style.' I simply like go with my daily mood. I don't invest all my energy in my style or for my outfits — that would take too much time, which I don't have — but I am blessed with the skill of effective shopping, a good eye (for my needs) and I mostly find something I am comfortable with (in the funniest places). Same with the body art. One of my mottos is: shop abroad when you travel, and avoid huge mainstream labels. My outfit: pants are from my mum from the 1970s, shirt is secondhand (about 13 years ago), shoes are from Oslo, and the jacket is secondhand.