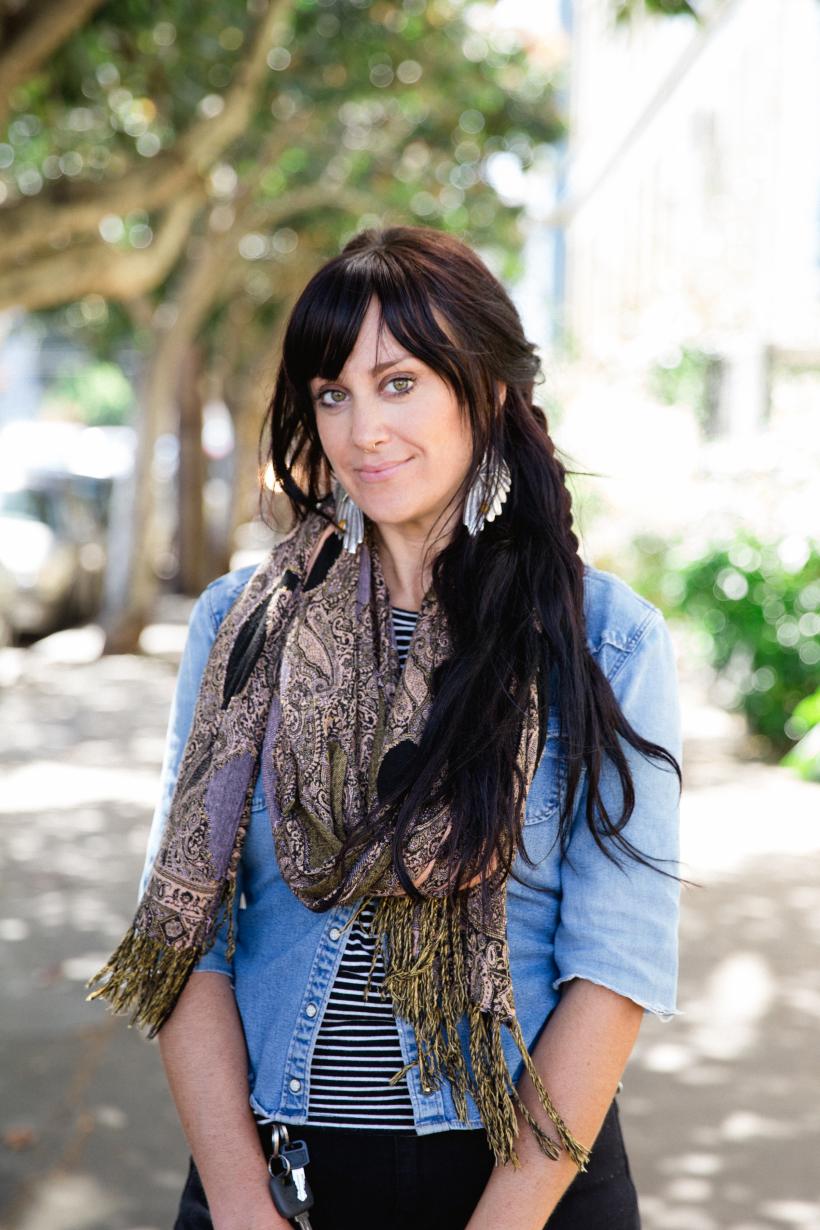 Spotted in: The Mission, SF
Occupation: VJ, Video Documentarian, Still Photographer
What are you up to today?
I'm taking a little break from video editing.
What kind of project are you working on?
I'm editing together a reel of my VJ content. One of the things I've done is live visuals for clubs, various art events as well as providing video projections for musicians and sound artists. I had a meeting with somebody a few days ago who's opening a massive nightlife venue down in the Dogpatch, and he's interested in seeing some examples of my work. It's almost finished—it has an array of the types of footage and styles that I've worked with.
How did you get involved in doing that?
It started after I finished undergrad at CCA. I was collaborating with a sound artist named Guillermo Galindo who is still my collaborator today, and he needed some live video projections during some of his performances. I started working with software and live cameras to create images in real time that were projected. And from there, it just sort of happened that I started to do visuals for parties, art openings, and clubs.
So what is your occupation and what other things do you do? You mentioned you have your hands in a lot of projects.
My art practice is pretty schizophrenic! [laughs] I mean that in the best of all possible ways. But another thing I do is I work on documentaries. I've done a lot of freelance work, working for other production companies—Al Jazeera America for example, I worked with them for a year. I just was in Bosnia working on a documentary in Sarajevo.
What kind of documentary was it?
That was for an awesome hip-hop diplomacy program called Next Level, which was funded by the U.S. State Department of Cultural Affairs and the University of Chapel Hill, North Carolina—they're sending teams of hip hop educators from the U.S. to countries who've had recent experiences with war and socio-political unrest. I was there following a group of hip-hop educators doing video documentation, still photography, uploading to Facebook, and then I editing a couple of short video excerpts from that footage.
That sounds like an amazing project.
Yes, it was. And then I traveled for a couple of months after that, taking photographs. I have two documentaries I'm working on—one that I started actually nine years ago with the same collaborator, Guillermo Galindo—that's going to screen at the De Young Museum at the end of July. And then I started a project on the Big Island of Hawaii a couple months ago where I'm following a female hunter. She hunts pig and wild boar! [laughs] And is a former bikini model and an acupuncturist.
How did you meet this person?
I met her after yoga. She was the same age as me and when I first met her she had a 38 special and a machete stuck in her pants.
As she rolls up to yoga?
No, she was on the property—the yoga studio was out in the jungle in Hawaii. So my yoga teacher introduces us and I'm like, who are you?! What are you doing? She said, "I hunt pig—there's pigs on this property and I'm trapping them." I was a vegetarian for many years but not one anymore. I was fascinated by what she was doing so I asked her if she would be open to having me follow her. I went out with her three times. It was definitely the most exciting and dangerous shoot I've ever done. Some of the photos are finished, and now I'm starting to work on putting together a trailer using the video footage. Then I will apply for funding in order to go back and finish the project.
Over the last couple of years I've also rekindled my love of still photography. And last year, I started taking—I guess what's commonly referred to as "boudoir photography."  I have friends of mine who are going to get married, or they just wanted to explore their own bodies and sexualities and hired me because they liked my aesthetic as a visual artist. So that's something that's starting to grow as well. I'm really enjoying that work.
You have so much going on!
It's fun though. You know, it's like living in San Francisco as an artist, you really have to be creative with how you actually live and sustain your life work.
How do you make it work?
That's a good question—I'm lucky in that I've been in the Bay Area 15 years, and I've been in San Francisco since 2011, so I have a pretty large network of people and contacts that I've known for many years. Most of the work I've received has been through referral. Like I was saying, I've got my hands in many different projects.
That's got to be a challenge. 
Yeah, every month is different, and somehow it's worked this far. I think it's just going between the production/client work, which gives me more time to work on these other projects where there's not a lot of funding involved. I kind of piece it all together. And I've been doing that for a while, it's just how I've come to live. Sometimes it is stressful but just when I think I'm going to crack, I get three phone calls. I also like going out to different events around the city so I meet a lot of people that way. I'm always interested in hearing about what others are doing and I often meet new people to collaborate with that way.
Who or what have been some recent inspirations?
I would say in the last few years my visual art, which is primarily video and then some performance and still photography, has been made from a more consciously feminist perspective. Most recently, I've come to be more interested in gender and sexuality as a larger topic and also interested in learning more about gender-queer issues. Many of my collaborators identify as queer, or are gender fluid. I'm curating a video program for this month in Oakland that centers around this theme. I have different artists from around the country in the show and a couple of artists from here in the Bay Area. And just sort of seeing that there are certain topics within the feminist conversation and the queer conversation that should be had together; the two are interconnected. That's the work that I'm looking at—how we're using technology to create images of ourselves, our identities, and our bodies.
Where are your favorite places to hang out in your neighborhood?
Because I live a couple blocks away, I walk here fairly often. I usually do a Valencia stroll once a week to see whatever new fancy boutique has gone in, because there's pretty much a new one that opens in that time! [laughs] There's one that just opened up a block away in some old print shop, and I had been eyeing the tilework outside and thinking that'd be such a nice storefront. Sure enough!
At least once or twice a week, I come down to Arizmendi, and then come over to this wall nearby which is one of my favorite spots in the Mission [points to wall with layers of wheatpasted art]. That building is owned by a man who allows this sort of thing to take place. He sees it as this evolving art installation that as more and more artwork is pasted and peels away, multiple different layers become revealed and concealed. It's almost like all of these people are collaborating with each other on this massive mural. I've been seeing some really amazing pieces here recently, many of which convey political messages that address topics of gentrification, police brutality as well as the global economic and environmental crises.
I like your style, too. What are you wearing today?
This jean jacket I've had since high school. This is crazy. It's a Levi's jacket—I love the buttons!
Those are so great!
I recently cut off the bottom part of the arms because the elbows were completely exposed! [laughs] This scarf my dear friend Lizzy gave to me before I left for my trip. I wore it all over Bosnia and Turkey and covered my head in all the mosques—I love it.
The shirt, pants, and shoes I all got in Istanbul. Istanbul hands down had the most amazing shopping of any city I've ever been to. The shopping was super affordable.
That ring is really cool too.
This ring is moonstone. I love jewelry very much. These earrings are my aunt's from the 70s—she saw some picture of me on Facebook and she said, I have something to give you! And they just showed up in the mail one day. I didn't wear them for a while because I was like oh, those are a little too Stevie Nicks you know? But I like wearing big earrings and recently, I've been wearing these a lot.