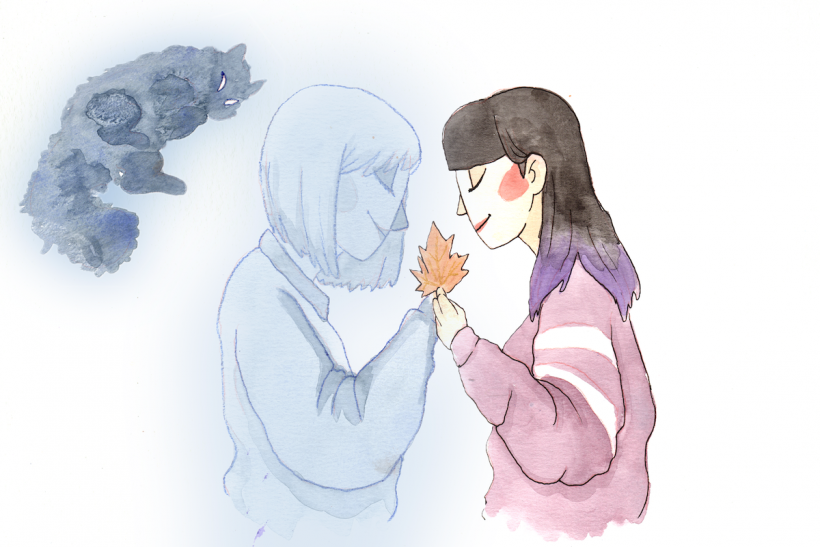 Every time I tell a story about her, I'm keeping our memories alive, one leaf at a time.
We often think of holidays and big moments first when we think about death. One afternoon, I was riding in the car with my best friend's mom. She was telling us a story about a local teenager who had died weeks before starting his freshman year at Harvard University.
"I just thought about how his family will feel at Christmas," she said, her voice tight and sad. "This is too upsetting. I can't believe it." She was thinking ahead to the next big moment when his family might reflect upon the fact that he isn't around.
What we don't talk about, other than those of us who have survived the loss of someone close to us when we're around other survivors, are the little moments in between.
How you might think of your best friend when a My Chemical Romance song comes on at the mall because the two of you used to wander other stores for hours after practically buying out Hot Topic. Or the way you'll feel when you're painting your new bedroom purple because it was your mom's favorite color. The pinch of sadness when you go to call your sister to tell her that Tom Petty died, but you realize you can't because your sister's gone too.
The sound of shopping cart wheels on the sidewalk accented by a small thump at every contraction line in the concrete still reminds me of her, and so does the crunch of crisp leaves underfoot.
We have a lifetime of smaller, more nuanced moments of grief in between all the ones that we expect to hit us hard — like when I crossed the stage for all three of my graduations and looked out into the crowd at the spot where my mom should have been. I didn't know how often I'd think of my mom after I became a rape survivor — because she was also one. She wasn't around to offer words on how I could manage to get out of my tiny twin XL dorm room bed every morning and drag myself across campus to class, but there were days when I surrounded myself with coffee, cats, and the color purple just to feel like she was there. There are times when I see a pair of brown clogs or a '90s jean jacket in a vintage thrift store and think of her laughing as we did impromptu fashion shows and took photos of ourselves outside our apartment.
Many of the little moments that remind me of my mom happen every autumn. I do think about her more than usual on her birthday (October 5) and the days surrounding it. The other day I was walking home from the train station, and I saw a shopping cart parked outside someone's house — just like the carts my mom and I would walk home from Stop and Shop with after grocery shopping. In the fall, we'd go around the neighborhood collecting leftover shopping carts filling them with red and gold leaves, building a huge leaf pile in our yard that could fit not only us but also several of my friends. The sound of shopping cart wheels on the sidewalk accented by a small thump at every contraction line in the concrete still reminds me of her, and so does the crunch of crisp leaves underfoot.
When I was a kid, fall was our haven.
Our apartment home in the projects was small, and we shared the porch outside — with its dingy porch light and concrete set of stairs — with our next door neighbors. They were an older Vietnamese couple who often lent us household appliances my mom had never bothered to buy, like a blender. But we still found ways to decorate that porch for Halloween: A witch and her broomstick on the door, a banner with a black cat on it. Halloween was one of my favorite holidays because it meant creating a costume with my mom's help and walking around the neighborhood with her and our friends. People in the projects went all out for the holiday, probably because it was one time of year that poor parents felt they needed to give their children everything they could. One of our neighbors had a terrifying set-up that was almost like a miniature haunted house, with skeleton and zombie statues that cackled and screamed when you walked by and a fake web filled with dangling plastic spiders that you could pull off and use as rings.
 
There was one year when I was around 7 or 8 that I was sick on Halloween night, and my mom promised to stay in with me and watch movies like Hocus Pocus and The Little Vampire until I felt better. Midway through my friends' trick-or-treating around the block, I started to feel better and begged her to take me to them. "I can still make it if we hurry!" I said, forgoing the complicated outfit I'd planned for that year in favor of a metallic shirt and some cat ears for a half-assed futuristic cat costume. My mom took my hand, and we ran past houses and patient toddlers waiting for candy on porch steps until we got to my friends, who all screamed and hugged me when they saw us.
The most painful thing about fall is that my mom and I can't make any new memories together. Every year, her favorite season makes me think of the year that we spent Halloween trick-or-treating and eating candy apples in Salem, Massachusetts. Or the time she took me to the YMCA's scary October sleepover and I came home crying in the morning because the other girls had shown me how to summon Bloody Mary for the first time and I swore up and down she'd actually appeared.
These are the only memories I'll ever have with my mom. 
I still remember the first year that I realized I'd been alive more years without her than I was alive while she was here. I have weird baggage around taking too many photos with friends and family because there are a limited number of photos of my mom and I together, and most are from the 90s and early 2000s when you actually brought your film to CVS and got prints. Even though we made a leaf pile a few times every fall, I don't have any pictures of us throwing orange leaves in each others' faces or standing in front of our proud accomplishment. I remember what it felt like to practice the spells from Hocus Pocus and Harry Potter with my mom—I really wanted to be a witch when I was a kid (and I still do)—but I can't sit down and re-watch the movies with her every October. I watch them alone, and I think of her, lilting her voice to sound magical and witchy to make my stories more authentic.
Most years, I write my mom a letter and dedicate the day to her memory, dressing in purple with cat prints and taking an autumn walk.
A couple of weeks ago, I was talking to my lifelong best friend about how we don't know what to write on the momentous days when we're supposed to be mourning our loved ones, like Mother's Day or their birthday. Every October 5 feels like just another year that I won't make any memories with my mom walking through the Boston Common under a cloak of brightly colored trees, or taking her to see the new adaptation of Stephen King's It because he was her favorite author. I can't even ask her which of his books was her favorite and whether she read his short stories in addition to his novels, and a small part of me is still afraid to pick up his books because it would be like uncovering another mystery layer of my mom. It's like those stories where the person's parent knows they're going to die, so they wrap up presents and letters for their kid to open when they turn eighteen, graduate from college, get married, and have kids.
My mom's death was a surprise to everyone, so she didn't have time to make those for me, but there are small facts about her favorite books and movies that I still save like wrapped presents, waiting to reconnect me with her.
Most years, I write my mom a letter and dedicate the day to her memory, dressing in purple with cat prints and taking an autumn walk. This year I was feeling a little lost, not for any monumental occasion because it's not the year my mom would have turned fifty or sixty — just a normal fifty-three. It was more about the small moments, like when I look at the photo of my mom and her sister in their matching red-and-white Melrose cheerleading uniforms and just wish that I could sit down next to her and ask her to tell me her favorite childhood fall memories. What Halloween movies did she watch growing up? How many times did she go to Salem when she was a kid, and did she ever go when she was older because it's a new experience when you're over twenty-one? Did she agree with me that it's weird that spiders are such a hot Halloween decoration and centipedes aren't, even though the latter are clearly creatures directly from the depths of hell?
I was walking in between shelves at one of my favorite Boston area independent bookstores, thinking about all the books I wanted to talk to my mom about when I got an idea. I couldn't create any new memories with my mom, but I could recreate them through stories and art. As Adam Silvera wrote in They Both Die At the End, "Stories can make someone immortal as long as someone else is willing to listen."
I commissioned my friend and artist Damian Alexander to make a watercolor-style illustration of my mom and me in a leaf pile with our tabby cat Sabrina, for all the Saturday afternoons we spent wheeling carts full of crunchy leaves around the oak trees in our neighborhood. In the painting, we're surrounded by bold hues of red, orange, gold, and brown, and my mom is wearing a sweater with a cat on it as she grins at me. It's not quite a new memory because I can't make those no matter how hard I try, but it's a reimagining of the feeling I get when I think about her in autumn. When it came in the mail, I hung it up on the lavender painted wall next to my writing desk, thinking of how my mom passed on her love of purple to me. Every time I tell a story about her, I'm keeping our memories alive, one leaf at a time.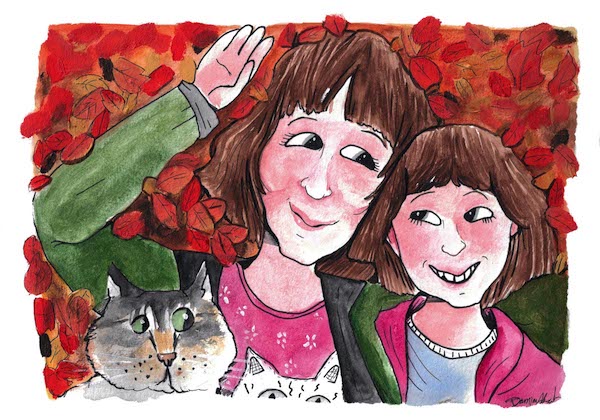 ---
Related