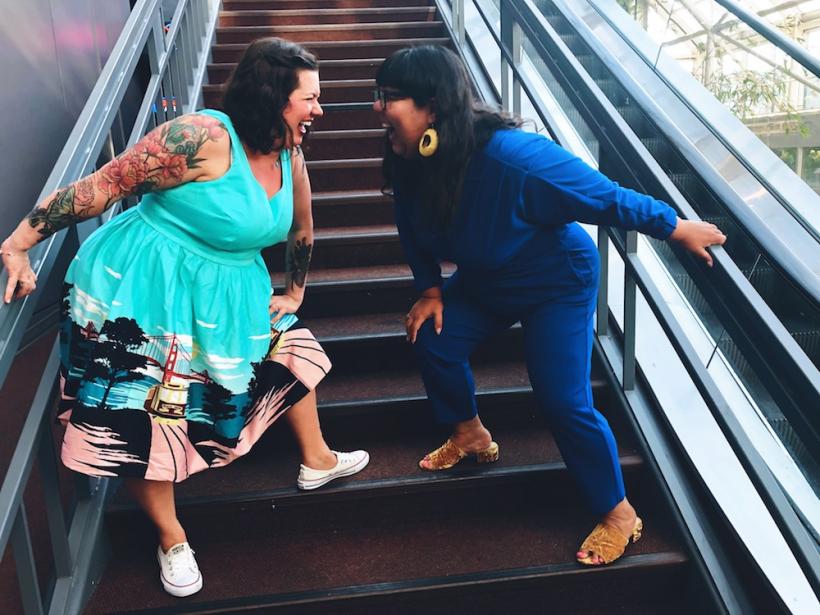 Joni Edelman and Virgie Tovar
I kind of hate when people call things "small but mighty," but dang it if that isn't the most apt description of Virgie Tovar's new book You Have The Right To Remain Fat. I challenge you to find another book of its social, emotional, even political magnitude, that fits in your clutch (okay, We Should All Be Feminists, but you get what I'm saying).
My early reader edition arrived in my mailbox on a Friday afternoon a few weeks ago. I burned through the 128 pages in a couple of hours — bookmarking,  underlining, dog-earring every other passage along the way. There is so much in this little book; it's a Fat Manifesto with all the most necessary mind-blowing info and very little fluff. 
I am a person who is often guilty of feeling like all of the important things have already been said. This is a specialized skill that is unique to some (though certainly not all) writers, I think, to feel like everything that needs to be written has been written, and thus there is no reason for any of us to continue to get up and work. And yet, every other page of Virgie's book contained some wisdom, some A-HA moment, presented in some new way that only further cements what I know to be true: Thinness is about control. Being happily fat is really the ultimate patriarchal up yours.
A few of my favorite tidbits.
Stop being terrified of fatness. Stop marginalizing fat people. To recognize that nobody is superior or inferior to another. My core belief is both painfully obvious and wholly subversive: every person, regardless of weight or health status, deserves to live a life completely free from bigotry and discrimination.
What we must realize is that it's not thinness that's being eroticized. What is being eroticized is the submission then this represents in our culture. Thinness is a secondary characteristic. The true commodity is the willingness of women to acquiesce to cultural control.
Controlling women's body size is about controlling women's lives. This claim to control is based on fantasies of masculine superiority bolstered by the culture. This control does not apply just to thinness.
You cannot earn freedom through conformity. You cannot buy your way in. And we can only claim it when we recognize it is already ours.
This is not a book you want; it's a book you need.
In anticipation of my Instagram live with Virgie on the official book birthday (August 14th), I read it again over the weekend while I was camping, by the light of a candle. At the end, I cried.
In part because it was over, in part because it's only just begun.
---
Related: