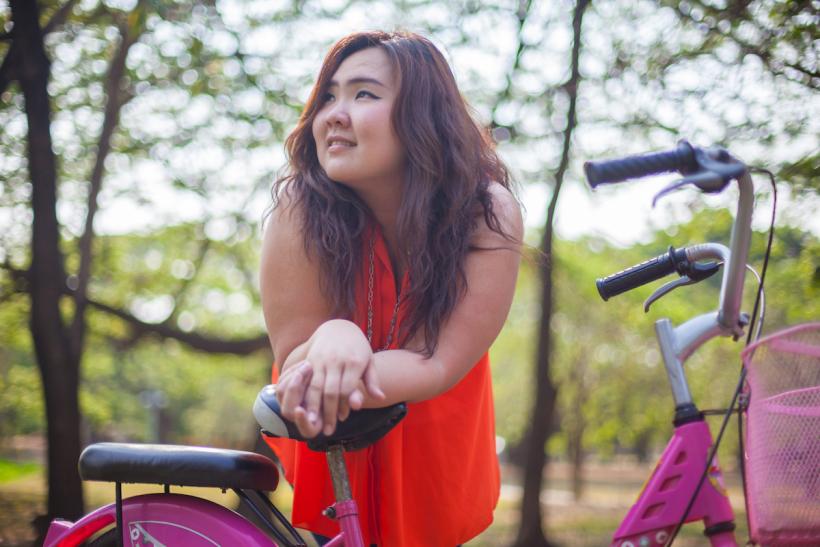 While "body positivity" and "plus-size" seem to be buzzwords nowadays, there is still a shocking lack of well-tailored, cool, fashionable clothing options for women like myself.
In honor of Fashion Week, Vogue's September Issue, and all the fun the comes with fall fashion, we'll be talking about plus-size fashion — otherwise known as "fatshion" — throughout this next week! Plus-size style boasts its own beautiful, unapologetic brand of contemporary fashion, and we've curated a range of writing that aims to capture both its political roots and unique aesthetic. Find the rest of the stories featured in The Fatshion Conversation here.
---
In an age where fat acceptance, fat and body positivity, and being plus-size have entered a more nuanced conversation extending beyond the realm of academia, I am constantly questioning where I "fit" in amongst it all.
As a self-identified queer, plus-size woman, issues of taking up space and "fitting into" clothes from a limited wardrobe are things I contend with daily. From picking out my outfit for the day, to walking down the street, to getting on the subway and being in public spaces, I am constantly negotiating the size of my body in relation to others in addition to my own feelings about myself and the clothes I wear.  
In the last 5 years, the discussion surrounding being plus-size has shifted. Cue plus-size darlings like Jessamyn, Tess Holiday, Ashley Graham, and others who have made waves mainstream and walked the runways in commercial shows and beyond. Even Project Runway judge Tim Gunn has been outspoken in regards to designers making clothing for women of all sizes.  
However, the conversation surrounding fatness and body positivity has existed in feminist and queer circles for decades. The body positive movement, which has its origins in second-wave feminism, can first be traced to 1967. This is all to say that, while the conversation may be new to you, it has actually been occurring for decades — The National Association to Advance Fat Acceptance was founded in 1969, for example! The way that fatness is discussed in cis- and heteronormative spaces is not the same as it is within queer spaces and other marginalized communities.
There is a larger history of fatness and body politics that seems to often be left out of this ongoing discussion. Conversations surrounding body issues, fat activism, and body positivity are larger cultural trends rooted in academia and feminism. 
In recent years, scholar and activist Charlotte Cooper has helped frame conversations around fat acceptance inside and outside of the LGBTQ community. Her 2016 book, Fat Activism: A Radical Social Movement, has helped to further parse this ongoing debate. Additionally, fat activist and researcher Amanda Levitt has helped to do similar work. 
Public rhetoric surrounding this hot-button issue has fallen out of and back into fashion, quite literally. While "body positivity" and "plus-size" seem to be buzzwords nowadays, there is still a shocking lack of well-tailored, cool, fashionable clothing options for women like myself. With fat and body positivity becoming more of an evergreen topic, you would think this would mean more places to shop for plus-size women. Think again.
When it comes to shopping in person at the store, I am shit out of luck in finding things that fit my 5'7" size 16-18 frame.
Also, depending on the sizing and the clothing company, I can sometimes fit into a size 20! One store I have been able to both physically and virtually shop from is Rainbow. They seem to be positioning themselves as the Forever 21 of the fat girl community, if you will, with a large plus-size section and any number of trendy items with a bit of an edge. Rainbow has made it possible to find affordable, somewhat cool clothing; however, it doesn't suit all of my fashion needs. I have been able to find things there in a pinch for say, a last minute interview or needing a pair of underwear, but their items are a little cheaply made. 
My tried and true place to get a range of clothing over the last five years has been eShakti. This website has been amazing in that the styles of dresses, pants, shirts, skirts, and so on can be customized to your specifications at a nominal additional fee on top of the clothing price. They are affordable, beautifully tailored, and the order typically comes to your home within two weeks of ordering. I wish more sites like this existed. While I love their overall styles and how they have positioned themselves in the marketplace as a site that really can accommodate women of all sizes, this is only one in a handful of places I feel comfortable shopping at.
This past month at New York's famous Fashion Week, plus-size clothing company Torrid became the first company ever to premiere a collection of clothing for larger women at NYFW. While plus-size models have walked the runways in previous shows, this is the first time during fashion week's history that a plus-size clothing line had been featured. While events such as this are moving the conversation forward in putting plus-size women at fashion more toward the forefront, there is still a lot of work to be done. 
 
Fashion should be a realm where everyone can express themselves and feel sexy and confident in what they are wearing.

In Roxanne Gay's latest beautifully written and heartbreaking memoir Hunger, she recounts her struggles with being fat. The book has an entire chapter dedicated to the difficulties of finding clothes. In a June 2017 interview with Vogue, Gay said this about plus size clothing and fashion: "The part I don't understand is, in a capitalist society, how has one of these hot shit designers not seen the financial opportunity that is available here? It's infuriating. We all deserve to look cute and feel attractive. What's so wonderful about fashion is that a good outfit makes you feel bold and sexy and beautiful, but we have to work so hard to find outfits that allow us to do that."
Gay is right. We all deserve to feel sexy, attractive and wanted. No one can dictate the terms of our bodies, and it is unfair to police the size and looks of others. Fashion should be a realm where everyone can express themselves and feel sexy and confident in what they are wearing. And all body types should be easily able to find these clothes — not just certain clothes deemed appropriate according to their size. Torrid's clothing line debut shouldn't be a topic to make the news; it should be an everyday occurrence. And my struggle to find clothing and to feel the way I want to feel shouldn't be dictated by anyone's terms but my own.
---
Related: