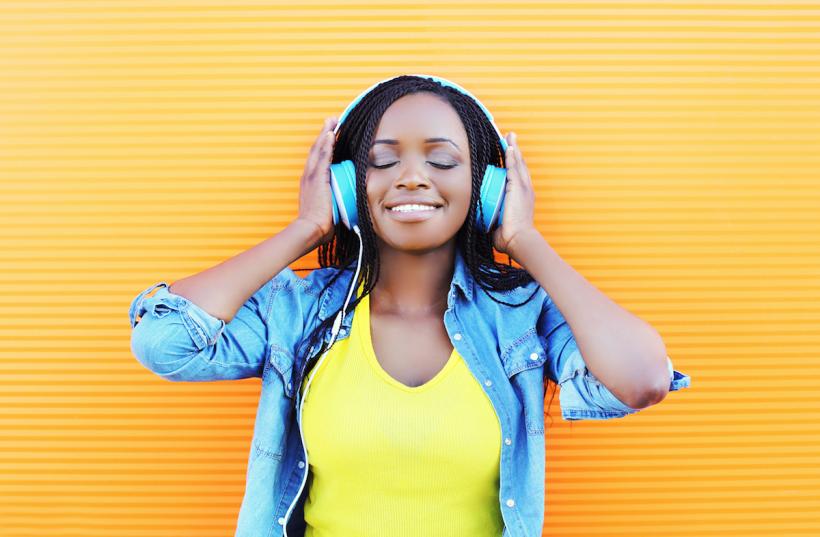 Summertime may mean sunshine and beaches and fun for some, but for others who are at different points in their journey to self-love it can be kind of depressing…
If you don't like your body, you probably don't like showing it off or being exposed.
If you don't like being exposed, then you probably dislike summer clothing that can keep you cool.
If you don't like clothing that is meant to keep you cool, you're probably in a pretty shitty mood for a good stretch of the summer.
Ugh… between fatphobes and our own internalized fatphobia, summer can be really rough. Even if you love your body through and through, you get to deal with sexist catcalling and slut-shaming.
It isn't easy happily existing in any body.
Sometimes the only solution is to block it out. Blast the music that makes you feel like the coolest, most in-charge person that you know. Put on a song that makes you sashay down the hallway, even if it's just to put new batteries in your vibrator and stay in for the night. Self-care looks different for all of us.
With incredible women, femmes, and other folks having more access to creating music, we're literally at the height of woman-, femme-, and body-positive music so far. The internet allows these babes and their art to be seen and heard. Why not continue to celebrate that with these awesome body positive tracks? Some you definitely have heard from — big names like Beyonce, Salt-n-Pepa, J.Lo and Kelis, but other artists like Junglepussy, Lizzo, Miss Eaves, or Karol Conka might be new to you.
Check out these 12 body-positive tracks by 12 amazing artists to build you confidence this summer.
1. Flawless by Beyonce featuring Chimamanda Ngozi Adiche
Featuring feminist author Chimamanda Ngozi Adiche, Beyonce announced her position in the world with this powerful song and album.
2. Scuse Me by Lizzo
There is absolutely NOTHING to not love about Lizzo and this super sexy uplifting song as she celebrates herself and the women around her. You may find yourself fantasizing about being one of her badass backup dancers, too.
3. Me by Junglepussy
"I just want to be me… lotion my titties and lotion my feet…" Junglepussy is unapologetic and as real as it gets.
4. Video by India.Arie
A classic by India.Arie, this song is everything. "I'm not the average girl from your video, and I ain't built like a supermodel. But I learned to love myself unconditionally, because I am a queen."
5. Q. U. E. E. N. by Janelle Monae ft. Erykah Badu
Two of the most important voices to grace modern music who both came up in the Atlanta area, "Q.U.E.E.N." is a song of empowerment and celebration.
6. Milkshake by Kelis
Folks still argue as to whether or not the song is literal or figurative, as this musical queen is also a brilliant restauranteur. It certainly makes us shake our asses regardless.
7. Feelin' Myself by Nicki Minaj ft Beyonce
Two BFF's feelin' themselves in the sun while chowing down on junkfood? Sounds like a perfect pairing.
8. Tomboy by Princess Nokia
Princess Nokia raps about her "little titties and fat belly" with love and power. This is one of many incredible songs from Princess Nokia -- add her to your playlist for heavy doses of empowerment.
9. Thunder Thighs by Miss Eaves
This year's body-positive summer banger, "Thunder Thighs" is a classic that should be on everyone's playlist.
10. Lalá by Karol Conka
You don't have to speak Portuguese to appreciate this gorgeous pussy-positive video by Brazilian artist Karol Conka.
11. Booty by Jennifer Lopez with Iggy Azalea
When J.Lo was first starting out, record labels would tell her that she needed to lose weight (even though she was a professional dancer) because her butt was too big and people wouldn't buy her records because of it. Can you imagine being that guy today?
12. None Of Your Business by Salt n Pepa
Salt n Pepa were always pro-sex and pro-independence, an important feminist voice against all of the garbage on mainstream radio at the time. So glad that songs like this are still relevant and empowering.