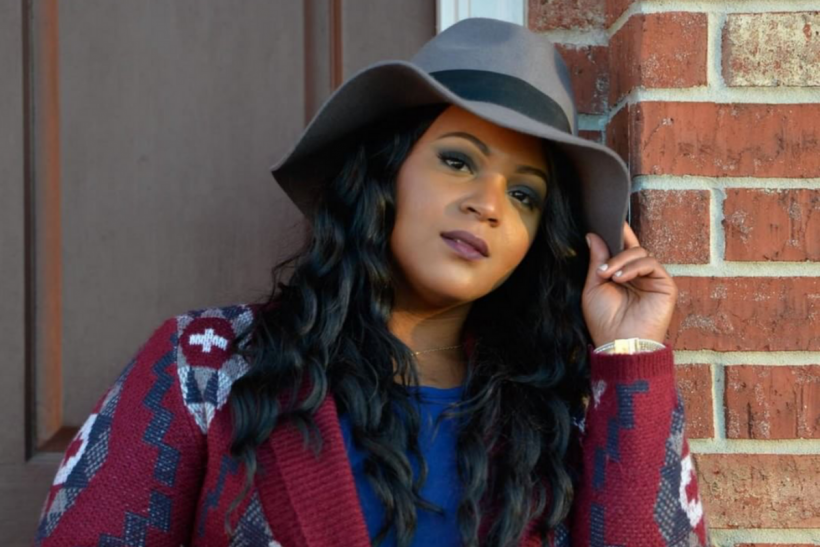 @msbeyoudoyou photo by: Charis Solutions Photography
Fall fashion is all about three things: staying warm, layering on textures, and rich colors. Reflective of the beautiful leaves of the season, these rich colors work well as we move past the crisp chill of fall and into the cold grey embrace of winter. While the weather may be getting colder and darker, there is always a bright side: it's perfect cuddle weather! Whether your cuddles are from a romantic partner, a platonic loved one, or a fur baby, invite them closer to you by wearing lovely touchable fabrics like soft chunky knit sweaters, chenille, velvet, and cashmere.
If touchy-feely isn't your thing, fall and winter are chilly but still a great time to enjoy the outdoors with the added benefit of not having to compete for space. Slipping into a warm sweater or big coat can be like a warm hug for loners as you take to the streets or the woods, undeterred by the cold. The snow-covered ground makes for beautifully illuminated walks during clear winter nights, especially those with a full moon. Sparkling ice crystals encasing evergreen needles twinkle in the daylight, with beautiful holiday lights mimicking their twinkle during the night.
No matter your activity preference, you're going to need some great sweaters underneath those coats. Warm, chunky knits can be layered over our year-round favorites, transitioning from light denim jackets to heavy wools and puffers to keep the nip of the winter cold at bay. While the holidays often bring glamorous events, the real treat is the warm, soft fabrics for day-to-day wear. Everyone looks good in layers, and layers give a great opportunity to play with texture, color, and prints all in one outfit. Deep, rich colors take the spotlight when paired with luxe velvets, brocades, and thick wools.
As luxurious as these fabrics are, it's easy to feel a bit frumpy and bogged down by them. Need a bit of cold weather inspiration?
These Instagrammers show us new ways and classic looks for our favorite seasonal knits great for a variety of climates.
Jewelz nails a lighter-weight autumn glamour look with this trench accessorized by a beautiful fur stole. Keep it ethical (and less expensive!) by only purchasing faux fur.
Solid turtlenecks are "classic" for a reason. Simple, elegant, and incredibly easy to mix and match, a great turtleneck is one of those things that should be in everyone's closet.
Shenell plays with texture and light by pairing this gorgeous cropped Premme sweater and shiny micro-pleated skirt. Light-reflective fabrics are great during fall and winter because they easily play off the less intense sunlight, making you glow without being overwhelming. 
You Might Also Like:
Anaïs takes an autumn stroll in a beautiful dramatic suede cape. Capes offer gorgeous movement with warmth when layered over simple jeans, boots, and a sweater. 
SoCal babes like Tess Holliday know the impact of a great sweatshirt, as it doesn't get much cooler than that. A couple of excellent sweatshirts, hoodies, and sweaters will go a long way during the holiday season if you are in warmer climates. Pair it with a classic denim or stylish suede motorcycle jacket and you're set!
In a warmer climate but you still want to enjoy some fall styles? This cropped sweater is a great way to embrace the gorgeous knit fabrics of fall while baring a bit of skin.
7. Zoe Meers (@ikiwn)
What's black and white and red all over? Zoe shows the impact of well-placed color in an otherwise monochromatic scheme. Play with layering of print and texture within a black and white theme for major impact. 
Tanesha graces us with a fantastc look AND great fashion tip. Are over-the-knee boots not a possibility, but you want a little more length or illusion of length? Rock some long tube socks beneath your boots for added warmth and instant length.
Live in a warmer spot? This lightweight denim jacket is about all you need for most of the season. Natalie styles it for a bit of a retro Stranger Things vibe
When in doubt, keep it simple. This beautiful sparkly black-on-black look is great for holiday parties where you want to keep it simple but still embrace a bit of seasonable sparkle.
It's classic for a reason. This gorgeous cranberry sweater is perfect for literally any occasion. Pair it with jeans for a casual day, a pencil or a-line skirt for retro glamor, or just over leggings with boots for laid back fun.
Ashley layers gorgeous colors and textures with this oversized cardigan with incredibly versatile colors perfectly reflective of the fall or winter seasons. Great over jeans, over a maxi, or as office wear — an oversize cardigan is a seasonal must. 
Have a summer dress that you just can't quit because it's fall? Toss on a longline cardigan for instant warmth. As it gets colder, layer it over a pair of leggings and a thin long-sleeve shirt for extra warmth. 
---
Related: