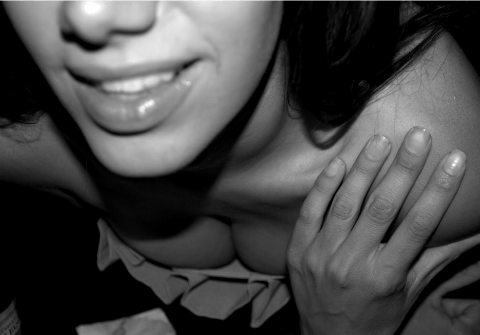 We're bringing boobies back. Boobie sex, that is. But let's start with the name. You can't don a wide brimmed hat, sip a mimosa at brunch and causally drop the phrase "titty f*ck." I literally grimaced just typing that. Back in school, the science-y kids would call it "coitus intramammas" and that's what we're calling it today. But we don't care what you call it—we just want you to try it. 

It's fun. Really! And not difficult—you won't have to assume an awkward position. If you want to lead him into it all sexy-like, incorporate the move into your foreplay. Start by doing whatever feels comfortable for you (like a handie) and gradually guide him to your glorious globes. It's helpful to have lube on hand, but a scented massage oil may be much more pleasing to your nose.

Warning: don't let him sit on your chest. Get him to sit or lie down while you kneel before him. Place him between your goodies and push them together around him. From here, the positions and movement are dependent on personal tastes and sizing. Generally speaking, you want to keep him cushioned between your breasts while you rock back and forth. Easier said than done! There will be slippage and maybe some laughs, but that's okay—awkwardness is part of what makes sex so dang awesome.

Even if you're part of the itty bitty titty brigade, this can be fun for you. You don't need your boobs to swallow him—many guys just like the idea of coitus intramammas. It's generally agreed that this move isn't the "main event," so don't feel pressured to elicit his je ne sais quoi all over your chest and neck. Thin, fat, hourglass, athletic, pimply, scarred, cellulite-y, freckl-y or whatever—your body is beautiful and amazing. Promise. Now bust out those boobies!
Image: Secretly, we love a lot of weird stuff. Courtesy of J. Lightning, Flickr