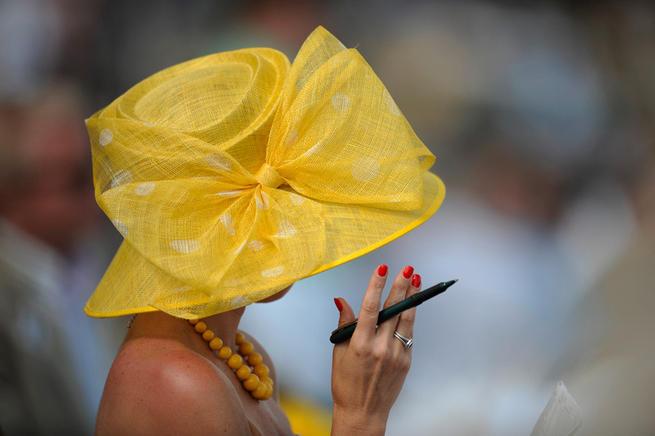 Does your weekend consist of sipping mint juleps at Churchill Downs? No? Us either, but you can at least dress the part for a Kentucky Derby viewing party, or hell, just brunch with girlfriends when the event takes place this Saturday.
Fashion at the Derby has always been a big to-do. For shi-shi Southerners of the late 19th century, it was the perfect occasion to pull out the 1890s equivalent of a freakum dress, don an insanely large/floppy hat and really make the horses jealous. A 1901 article from the Louisville Courier-Journal stated, "The seats in the grandstand were filled with gaily dressed women and men. The mass of green, pink, red, yellow, blue, all the colors of the rainbow, blending into one harmonious whole was as beautiful a sight as His Eminence in the lead."
This year, His Eminence has been replaced by shoo-in California Chrome, but the pastels, florals and over-the-top hats remain. Read on for our dream Derby attire.
The Hat
You are nothing at the Kentucky Derby without a crazy hat. Straw hats are the go-to, and we love this unexpected, colorblocked splurge from Lanvin. For a hat that says, "I'm-a-city-girl-and-kind-of-confused-as-to-why-I'm-here," this wide-brimmed Sensi Studio will get the point across. Looking for something a little more wallet-friendly? This affordable Laundry by Shelli Segal topper has surprise polka dots, which is really all we ask for in a hat. 
The Dress
Be it nipped-at-the-waist, tea-length, floral or pastel, the Kentucky Derby dress has got to be a show-stopper. The hyper-real florals on this J.Crew dress are slightly subversive (take that, old Southern bitties!) and this eyelet shift also has a surprise sexiness. For the ultimate fashion double-take (and our newest closet must-have), this wide-legged jumpsuit only looks like a dress. 
The Wedge
A necessity for strolling around in the grass (without sinking in!), wedges are part of the Kentucky Derby wardrobe survival kit. These nude Steve Madden sandals are simple enough to go with any print, pastel or pattern. For something a little more daring, splurge on Dolce & Gabbana's bright yellow blossom wedges (we are obsessed, but alas, we need to pay our rent this month).
Image: kentuckderby.com