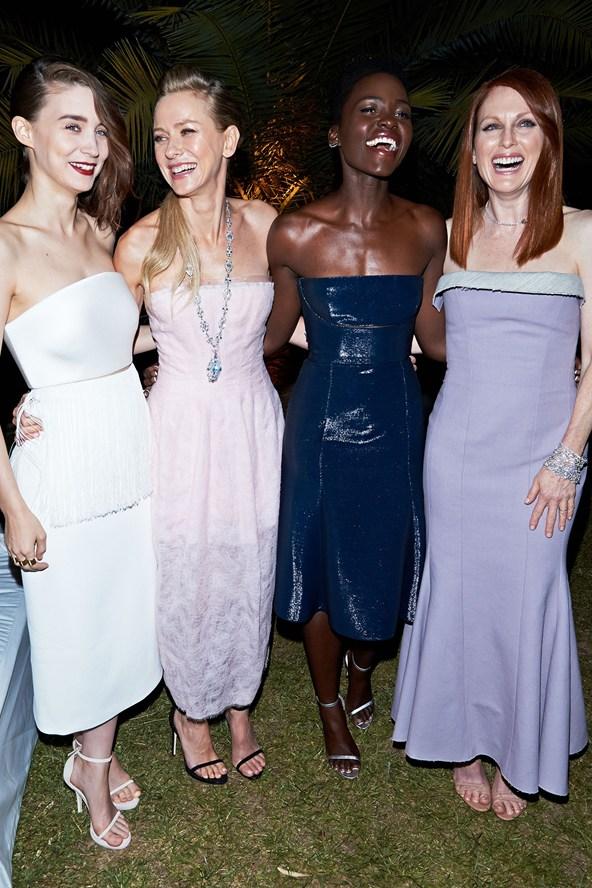 What do the four lovely ladies pictured above all have in common? No, it's not enviable fame, wasp-thin waists or glowing complexions. Nor that they're all dressed in the Calvin Klein Collection or that they're all partying at the Cannes Film Festival. Give up?
They're all wearing a minimal, ankle strap sandal, a.k.a. the must-have heel for summer, a.k.a. your footwear Swiss Army knife.
You can thank Phoebe Philo, Céline's creative director for the simple, go-with-anything style. The designer debuted the shoe for spring 2013 and it was immediately spotted on everyone from Katy Perry to Kim Kardashian. Bloggers loved the versatile shape (it looks just as good with boyfriend jeans as it does with a little black dress) and without fail, the knock-offs (inspired replicas? ) came soon after. And thank God they did, because Céline's version retailed for $595—a little steep for some Ravishers—and they sold out in weeks.
These tricky little shoes literally go with everything, so if you can/want to splurge, we gonna say they're definitely worth the investment. (If you have them for two years—which, chances are you will unless you're a dancing machine—that's about .50 a day. Not too shabby for reliable sexiness.) Think of them as your summer party go-to—for your sister's baby shower, the eleven billion weddings you have marked in your calendar, or your little cousin's graduation. These shoes go the distance, and make your legs look supermodel long.
Shop our picks for the one that best fits all your summertime soirees:
Best Bargain
New Look Barely There Bow Sandals, $38, Asos.com: Yep, you read that correctly. These shoes are $38 dollars. Win.
Best Splurge
Givenchy's Textured Leather Sandals, $620, netaporter.com: You really gotta love these beauties—pebbled leather, touch-of-gold metal trims, Italian craftsmanship—they could all be yours for the totally reasonable, mildly exorbitant price of $620.
Best Nude
Michael Kors's Doris Heeled Sandals, $395, shopbop.com: Oops, he did it again. Michael Kors comes through clutch with these luxe calfskin sandals. The back panel adds a bit of much-needed support, ideal for hours of dancing the Electric Slide, and the gold heels bring a touch of disco glam.
Best Low Heel
Tibi's Ivy Sandals, $375, shopbop.com: Not the best high-heel walker? You're not alone. Stick with a low heel in an artful, laser cut cow-hide suede. The sandy clay color and substantial buckle strap have a worn-in, Wild Wild West vibe.
Happy Summer Ravishers—here's hoping it's a stylish one.