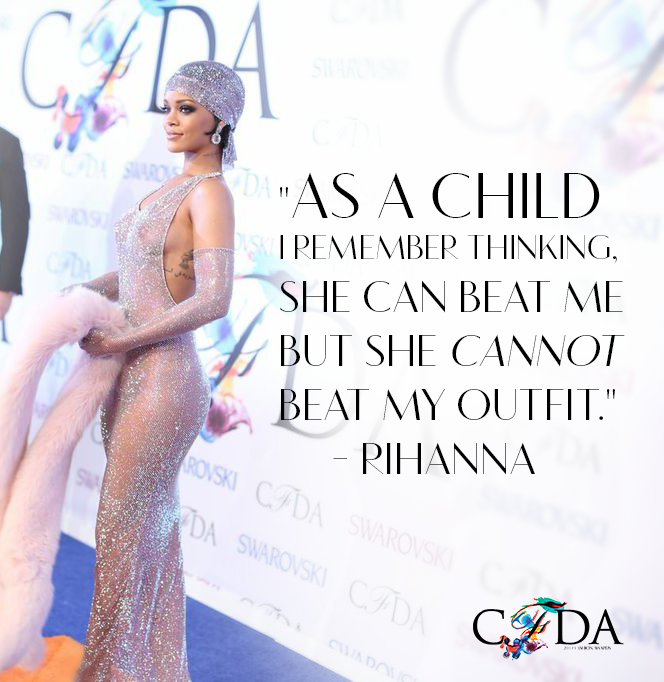 If you haven't seen Rihanna's nothin'-but-pale fink to hide her naughty-bits dress at yesterday's CFDA awards, you haven't seen a publicity stunt at its best. Everyone does cleavage and plunging backs, but nobody does it like Riri, who proved to be the ultimate "bad gal" last night in an Adam Sleman Swarowski-encrusted number. Her areolas were the a la mode of the evening—prompting some to speculate that she was making a statement about her Instagram suspension over (maybe) too many nudie pics.
Flavorwire rightfully called this outing a "clever form of protest" and a "brilliant Instagram prank." Thousands of fast-moving awards attendees and fans regrammed the shit out of Rihanna's naked body, not-so-quietly telling Instagram exactly where to shove their—maybe—puritanical bullshit. Rihanna deleted her account in the wake of the controversy and has clearly moved to a more, shall we say, immediate level of exposure. And boy, did the media have something to say.
The Internet Says!
Flavorwire is a fan: "She took another step in what is bound to be an incredibly long journey towards removing the stigma attached to the female breast."
E! Online acted shocked and bemused: "Oh, please excuse us. We just realized our mouths are still hanging open from when we first laid eyes on Rihanna's look. This truly takes the phrase 'jaw-dropping' to the next level." 
The Fug Girls at Gofugyourself went for the fashion plea: "Have we not reached the OUTER LIMITS OF SHEER? Should not every other sheer dress put down its sheer sword and surrender?  I assume this one will go cheek to cheek with Rose McGowan's Dress o' Strings. Good company indeed."
Vogue US, whose editor Anna Wintour is a major benefactor of the awards (she's the one who handed Rihanna her honorary award), adoringly approved: "Rihanna has become the rare celebrity who does not follow fashion—she affects it," tweeted the magazine yesterday.
We Say!
Well well well, if the intention was to prove a point, Rihanna's nipple ploy more than succeeded. Instagram as owner of female nudity? Rihanna took to the red carpet to holler out a big 'ol hell no. However, the heavy questions remain. The female body and female sexuality are complex topics that demand deeper discussion in the era of social media. Whether you "reclaim" your independence by publicly baring all, or play right into the hands of the leering male gaze . . . this is a debate too tangled and too important to be put to bed in an instant.
The sheer dress might be, as some said, a powerful statement, or just a wonderfully amusing way to intimidate Anna Wintour, but the fact is, everyone's talking about only that. What does CFDA even stand for? Who else was honored by Council of Fashion Designers of America? What do the awards say about the face of American fashion? Who else attended? How does Lupita N'yongo's fashion's do after her awards streak is over (hint—not so well). Nobody cares.
Knowing full well how much noise and buzz her look was going to cause, couldn't Rihaana have waited for her next public appearance? Couldn't she—being awarded for her style—​actually honor a designer's craftsmanship and talent instead of wearing something that yes, has everything to do with important issues, but nothing to do at all with fashion and design? Focusing on your own fight while stealing the spotlight from absolutely everyone else may be "ballsy," but it's not very endearing.
Her nipples could have waited for another night.
Images: Facebook