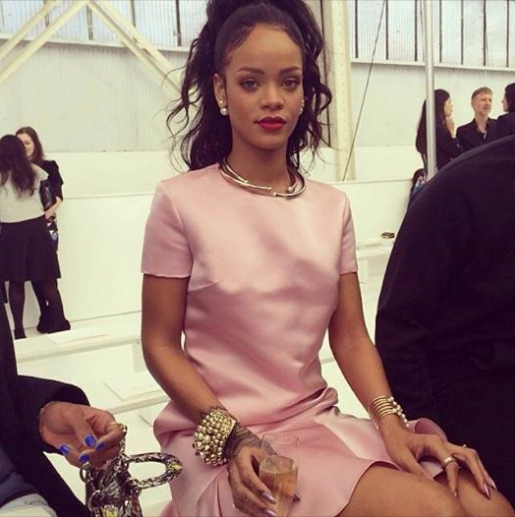 We're not even a third of the way through 2015, but RiRi has possibly already claimed it as the year of Robyn Rihanna Fenty. In between voicing the lead character of a new animated movie—Home—penning a not-so-shabby-song (FourFiveSeconds) alongside Paul McCartney for her upcoming album, the Barbadian powerhouse just landed a deal to represent Dior, which, shall we say, is a big fucking deal. This makes her the first woman of color to star in a campaign for the venerated brand that's historically touted lithe white women as their spokeswomen, including Charlize Theron, Natalie Portman and Grace Kelly. 
While this news is nothing to shrug off or shirk—in fact it's seminal—Dior was founded almost 70 years ago, starkly reminding us just how far we've come and how far we've got to go.
Over the past few years, the chorus of voices calling to diversify the the fashion industry has grown increasingly loud and for good reason; in this year's New York Fashion Week, a mere 3% percent of the models were Black.
So Rihanna understands just how how important this whole "Dior thing" truly is.
"It is such a big deal for me, for my culture, for a lot of young girls of any color. To be acknowledged by Dior means a lot, as a woman."
Not-so-surprisingly, research has shown that a lack of diversity in the media can negatively impact the esteem of just about everybody, but especially young girls, both Black and White:
"If television serves to reinforce gender and racial stereotypes, then social identity theory also predicts that the white girls, black girls, and black boys in the study used messages from the media to evaluate themselves, and that these comparisons can impact self esteem. In addition to messages kids get from family members, peers, community members, and other areas in their lives, if white and black girls and black boys also absorb messages from the media, it could impact their self esteem if they do not see themselves as successful, as main characters, or as heroes."
Never seeing someone who likes like you in a position of power, prestige or value erodes at one's sense of self-worth, of visibility and agency in the world. While it would be better if Rihanna was playing a superhero instead of offering another beautiful face, there's no denying the impact that her presence face will directly subvert the damaging myth that pretty means white, blond and thin.
Here's hoping other media follows suit.