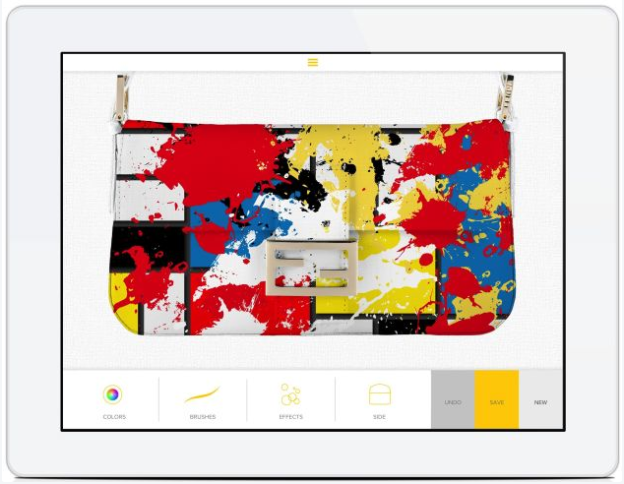 First brought to the attention of non-fashion peeps in an episode of Sex In The City, ("I've been robbed!"), the Fendi Baguette is one of fashion's original It bags. Hell, it even has it's own coffee table book!
The bag reknown for its classic shape (hard to beat a rectangle) that can be made over season after season—it's been recreated in denim, cashmere, fur, straw and sequins—so it's no surprise that Fendi markets the Baguette as the ultimate in personal style. In 2007, at the height of the DIY, customize-your-fashion pandemonium, Fendi even released a white canvas baguette accompanied by a set of Pantone markers. The price tag? A whopping $5,500. That's a lot of money to spend a something that you could royally fuck up during a drunkenly-inspired doodle session.  
What Fendi so desperately needed back in 2007 was a "Design Your Own Baguette" app. Now, in 2014, it finally has one. Available for iPad and Android, the myBaguette app allows users to start with a blank white Baguette and play around with brushes, colors, filters and text. If they mess up, there's no harm no foul, they can just erase it and start over. 
For users that have Fendi-Baguette-decorating-creative-block, they can also browse the apps' artist collaborations for inspiration. Artists include Richard Price, Hiroshi Senju, Jorge Orta and Tom Sachs whipping up one-of-a-kind bags. Once users have finalized their masterpiece, they can upload their Baguette to the Fendi "Community" for display, where it could potentially be selected by designer Silvia Venturini Fendi as "Baguette of the month."
See? Technology ain't all bad. (Oh, and did we mention it's free? Snap it up here and get scrawling!)