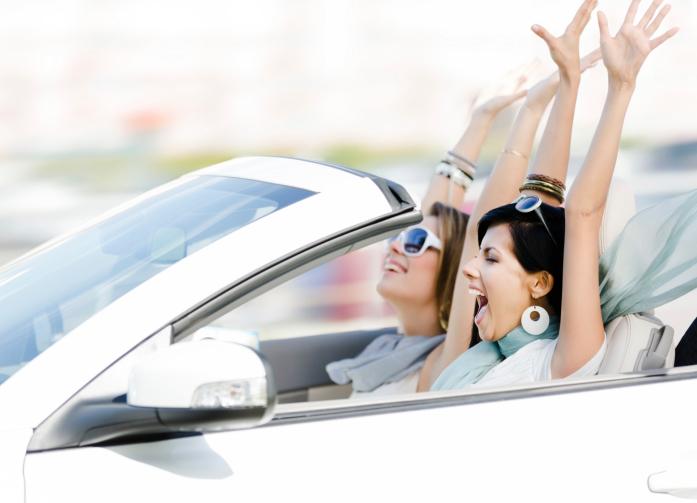 Convertibles are in a class of their own among automobiles. They've been forged in the collective imagination as rebellious and free thanks to the power of media tropes: From hot-rodder teens at 1950s drive-ins, to hot-to-trot celebrity cars like Steve McQueen's Jaguar XKSS, to the big screen with the likes of the Ford Thunderbird in Thelma & Louise.
But nowadays, the glimmer of the convertible is becoming lackluster—losing out to the new high-status car: the sport-utility vehicle. Yes, convertible sales peaked in 2004, during the grand old days before the Great Recession. Since then, sales have plummeted and automakers are ditching their lines of convertibles like yesterday's garbage.  
The Decline of the Top-Down Car
So why the shift away from this long-standing icon of road bad-assery? There are a number of factors thought to be contributing.
That consumer-thief of the 21st century: The SUV
According to an analyst for PricewaterhouseCooper's auto forecasting service, "Most convertibles are not really used for open-top driving but rather for giving the impression of being somewhat wild-at-heart and sporty. This image has now been taken by SUVs. Convertibles will stay around as a high-end niche, but fashionistas will keep moving on." Oh you fickle fashionistas.
The shift in technology
A car historian and University of Dayton professor says, "When it comes to the image of the auto as an object of desire, it's always been the convertible." But young people now no longer see cars as their route to freedom. "Nowadays, electronics more often play that role."
Smog in emerging markets
China and India are the largest new markets for cars—and their air is often atrocious. "When you visualize driving a convertible, you think of open roads and pleasant driving conditions; in India, you have neither," says a New Delhi-based industry director. "In cities you're mostly stuck in traffic, and if you're in a convertible, you'll be inhaling exhaust fumes."
New trends in wealth
Even in long-standing markets in the U.S. and Europe, the increasing emphasis on car efficiency may lead some well-to-do car buyers who would have wanted a flashy convertible in times gone by to instead opt for hybrids. (Think progressive hotspots like Silicon Valley.)
And remember the shitty economy
It's simple but true—the economy still isn't what it used to be, which probably hasn't done wonders for convertible sales, either.
Well the times may be moving past the smooth convertibles of yester-year, but there's always the niche market of vintage car enthusiasts that will no doubt keep the top-down flame burning to some extent. And maybe now we can all take a moment to be honest with ourselves: Having highway wind beat your hair against your face in a maniacal fashion is simply not the preferable way to travel.
Image: ThinkStock