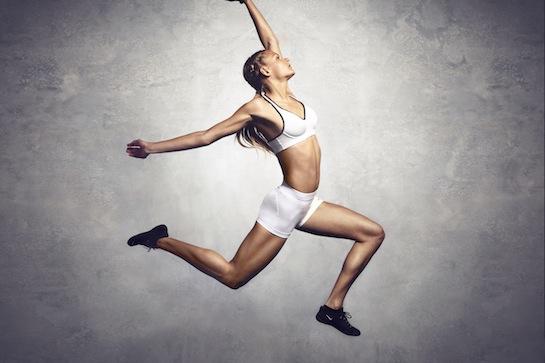 Images courtesy of Nike
If you've been blessed with a C+ cup and love an bounce-inducing workout like running, Zumba or cross-fit, you've been through it—the much-maligned quest for a wired sports bra.
Apparently, big department stores like  Macy's, JC Penney and Target—bless their small-breasted hearts—think you can get away with one of those uni-boob, decidedly un-wired, glorified cropped tops. And sure, the style and colors are damn cute, but try jumping around in those things. It's like jello on springs.
Meanwhile fitness mags flaunt jacked smiling ladies "out and about" in their skimpy, stylish excuses for a sports bra and us curvier gym-goers are left wondering if that suspicious section on Amazon offering up horrible white grandpa bras is simply our sad fate.
But I didn't know any of this when my long-trusted sports bra I bought abroad finally started falling apart. I found myself on The Quest, touring stores for a logical solution. Finally, I showed up on Victoria's Secret doorstep, and found limited, yet hopeful options. Wired and properly fitting, the always sexy VS's choices were a little too colorful and busy for my taste, but it was better than nothing. The wires—crucial for that stay-put feeling—were present and properly padded, and the straps were thick and sturdy.  
But I was hoping for more—so when sports giant Nike launched they custom-fit online sports bra tool this week, I held my breath (and breasts) in anticipation.
The brand new Pro Fit tool—meant to help you find your perfect sports bra with just a few clicks, is offered online and looks as slick and modern as you'd expect. I choose my band and cup size, requested "high support," pressed the magic button . . . and what the hell?!
The only bras the system gave me had "molded cups for extra support" with nary a wire in sight. Let me repeat. Why is wiring important? Because unless your breasts stand upright like preposterously perky hills, no soft molding—no matter how snuggly—will endure heavy exercise and rapid movement.
So here's a suggestion: dear Nike designers, don't stop at the sophisticated website. Invest in some real-life user feedback. Provide some much needed support, and I'll come back to shop. Until then, you'll find me in Victoria's Secret's back room, where the sexy lace stops and the neon zippers begin.