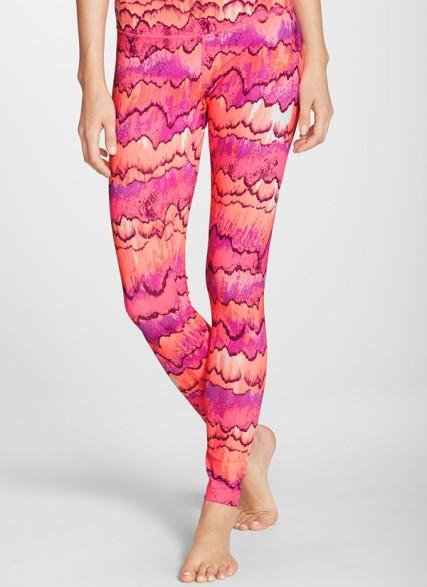 With current trends blurring the line between sportswear and formal wear and office wear, there have never been more options for truly fabulous activewear, and some of it is even functional.
Dear Winona,
I just joined a gym again after not working out for . . . let's just say a long time. I'm a curvy lady (size 12-14) and I don't even know where to start shopping for gym clothes. Do you have any recommendations for workout clothes or athletic brands that are functional and cute?
Signed,
Stylish While Sweaty
Dear SWS,
I'm a firm believer that half the fun (or maybe more than half? Maybe all the fun, actually) of going to the gym is getting decked out in cute workout clothes. With current trends blurring the line between sportswear and formal wear and office wear, there have never been more options for truly fabulous activewear, and some of it is even functional  (as opposed to the "satin joggers" you got at H&M, which are liable to disintegrate mid-Zumba).
Here are the three brands that I return to again and again to restock my workout wardrobe:
Zella
Zella's "Live In" Leggings are far and away my favorite workout pants. The stretchy fit and moisture-wicking fabric make them perfect for running, yoga, walking, weight lifting, biking — you name it. They're thick enough to ensure they're not see-through like SO MANY leggings these days (seriously, leggings makers, can you not take an extra five minutes to ensure that your prototype at least generally obscures the wearer's labia? Please?). Zella leggings come in tons of colors and patterns, and a few different cuts (capri, flare, full-length, high- or low-waisted, etc) that are all flattering enough to wear in real life, not just at the gym. (Speaking of which, all those people who say "leggings are not pants" really need to find a new hobby — leggings are super cute and versatile and you can wear them wherever/however you want!) Zella's size range is great too: their leggings are available in size XXS to 3X. Here's the basic black legging in regular and plus size, but poke around the Nordstrom site to find more color options, many of which are on sale right now (holllaaaa!).
Moving Comfort
Sometimes I feel like finding the perfect sports bra is the spiritual quest I was put on this earth to complete. I haven't yet found the holy grail of cute, comfortable, supportive sports bras (I will probably spontaneously combust when I do because my earthly journey will be over), but I have found a few bras that are pretty damn close to perfect, and all of them are made by Moving Comfort. The most versatile bra of the bunch is the Maia bra. It's got underwire cups for serious support, wide straps that don't dig into your shoulders, and a high-cut neckline to ensure your boobs don't pop out in downward dog. When it comes to comfort, though, my absolute favorite is the Fiona bra. It doesn't have an underwire, but somehow still keeps my double-Ds in place through jogging, dancing, and jumping jacks. Amazing.
Athleta
I'm a huge fan of Athleta not just because their clothes are super cute, but because their return policy is as fluid and forgiving as I strived to be when I became a Zen Buddhist for a month in college. They have a "Give it a workout" guarantee, which literally means you can buy the item, go work out in it, and if you don't like it, bring it back for a full refund. I have tested this return policy and it is the real deal. This is an especially comforting feature when it comes to buying workout clothes, which, as you know, can look and feel much different in the middle of an intense session on the elliptical than they do in the dressing room. One piece I can promise you won't need to return: the "Fastest Track" Tee. It's flattering and comfortable and looks ridiculously cute with leggings, bike shorts, yoga pants, and even cutoff jeans for running errands on the weekends.
Most Athleta pieces are made with moisture-wicking material and are equally awesome for traveling as they are for hitting the gym. Also pretty much everything in the store is always on sale, a fact which is slightly confusing but fine by me.
Ravishly readers, feel free to weigh in here on your favorite workout brands or specific gym-appropriate pieces you love in the comments. And if you have a fashion question you'd like me to answer in a future Off The Cuff, email me at winona.rose@gmail.com!