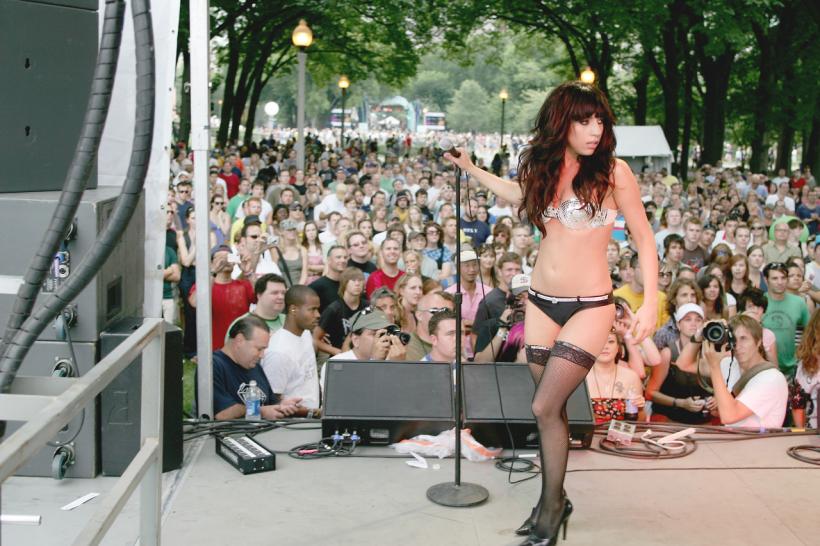 Oh, Lollapalooza. It's arguably the scrappiest of music festivals (for proof, see Gaga, above), especially in terms of fashion statements, but it's going down this weekend in Chicago and we couldn't be more excited. To celebrate the shenanigans and all the style that accompanies it, we're counting down our top five festival fashion moments, from Glastonbury's muddiest looks to Coachella's questionable cultural appropriation.
5. Solange Knowles at Bonnaroo, 2013
Who else could rock a cardigan at a music festival and have it be totally cool? Solange performance at last year's Bonnaroo festival in a sweet little coordinated bustier and shirt and we're still smitten. The braids, the lips, the geometric shades … Beyoncé who?
4. Alexa Chung at Glastonbury, 2008
This photo proves one thing—Alexa Chung has a personal style that since 2008 deeply penetrated the fashion and street style scene. Her combination of high-waisted denim shorts, a Breton striped shirt and a leather jacket, worn with knee-highs and patent boots made every fashion person (at least those stateside) say, "who is hell is that?"
3. Dita Von Teese at Lollapalooza, 2013
While everyone else at Lollopalooza wore an old tee shirt, Chuck Taylors and cut offs, Dita Von Teese stayed true to herself in a dress fit for a flamenco queen. The apron dress, teamed with a fishnet purse and gaucho hat (gotta keep that fair skin fair) proves that you don't have to dress like a slob at a music festival.
2. Kate Bosworth at Coachella 2014
We're not gonna lie. In the past, we've dubbed Kate Bosworth Kate Blah-sworth because her style can often be super contrived and super boring. But this look is kind of a Sicilian widow meets Peruvian alpaca farmer meets Maverick, and we really like it.
1. Kate Moss at Glastonbury, 2005
Ah, the look that launched a million Hunter boot purchases. Though this photo is almost ten years old, you'd never know based on Moss' outfit . . . but that dinosaur-era disposable camera is a dead giveaway. This is grunge glamor at its finest.