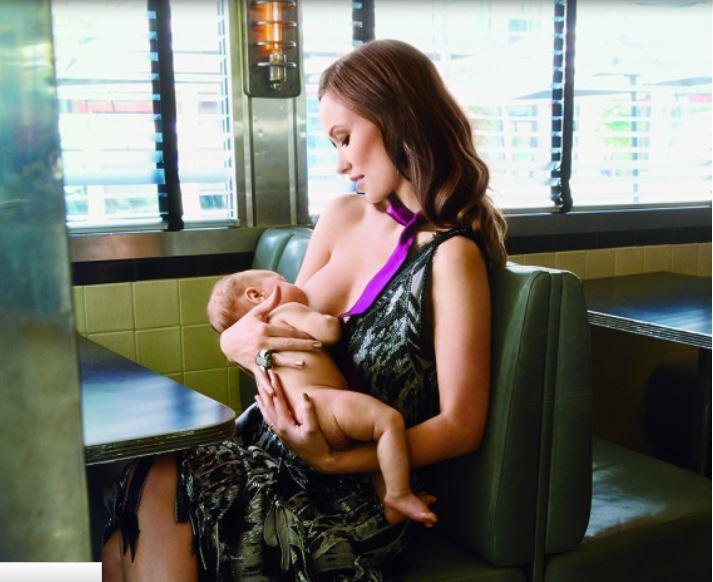 Credit: Glamour
What was the top trend on Facebook this morning? It wasn't Gaza or the Ebola outbreak. It was actress Olivia Wilde breastfeeding her son in a fashion editorial for Glamour magazine. It's a beautiful picture shot by famed fashion photographer Patrick Demarchelier, and shows a tender, intimate moment between mother and child. It's also a weird, disingenuous publicity stunt that cheapens motherhood. Here are my qualms with the controversial photo.
It's Inauthentic
Wilde did address that this is not how she typically breastfeeds her son Otis: "I certainly don't really look like that when I'm [typically] breastfeeding. And there's usually a diaper involved," she told the magazine, speaking to the fact that her baby is totally naked (and apparently peed on her beaded Roberto Cavalli dress). But seriously, why is the baby naked, other than a creative decision made by Demarchelier? They couldn't have found little Otis a beaded Cavalli diaper? It makes the tender moment seem overly staged and inauthentic. 
It's Disingenuous
Wilde's editorial debuts during World Breastfeeding Week. It's an annual celebration to promote breastfeeding awareness worldwide. Yesterday, Alanis Morissette Instagrammed a picture of herself breast-feeding her child, and some of my mommy friends did the same. It's all part of an effort to take the taboo out of breastfeeding in public and show support for nursing mothers.
These are all great things, but I can't help but feel like these celebrities are talking out of both sides of their mouths. Olivia Wilde, for example, has been pretty outspoken about her complicated relationship with being a celebrity and being followed around by the paparazzi. She told Buzzfeed last September:
I think when it's paparazzi, it drives me insane, and when it's tourists who act like they're at Disneyland and you are Minnie Mouse, in a big fuzzy Minnie Mouse head, and it's their turn to come up and take a picture with you, that's when I get really irritated.
What if Wilde had been breastfeeding in a restaurant or on a park bench and got snapped by a pap? I imagine she'd feel different about people seeing those photos of her breastfeeding. And yes, I know, the difference between a Glamour editorial and paparazzi photos is consent, but I still think celebrities need to be consistent about the personal information they present to the public.
It's a Cheap Shock Tactic
When Demi Moore posed pregnant for a 1991 issue of Vanity Fair, it was a big effing deal. But since then, numerous celebrities including Jessica Simpson, Britney Spears, Claudia Schiffer and Christina Aguilera (this week!), have done the pregnancy nude shoot. So at this point, it's old hat. 
Airbrushed breastfeeding feels like a new wave in celebrity buzz-building—a staged tactic to drum up publicity, rather than a realistic portrayal of motherhood, which as it turns out, lacks Glamour-worthy sheen (and that's OK). For that reason, this photo leaves a sour taste in my mouth.