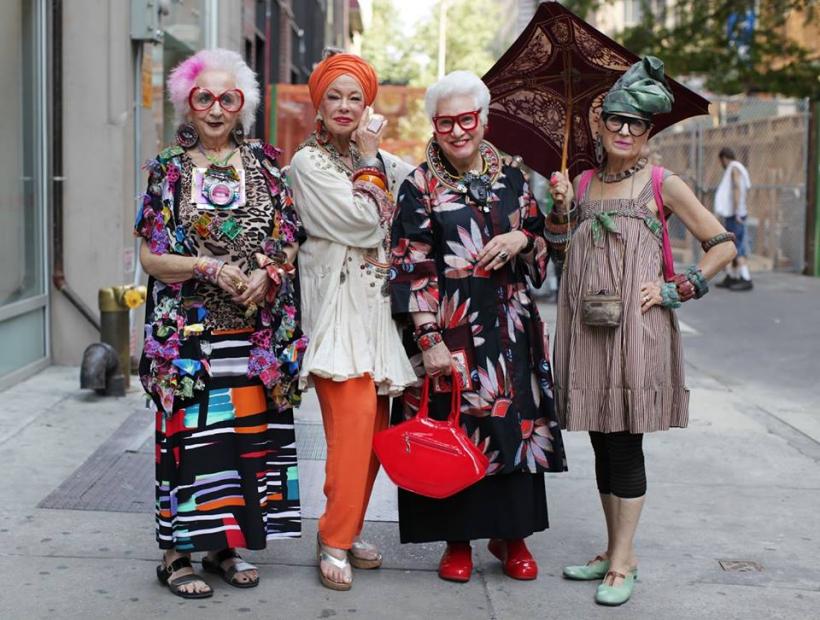 Advanced Style (while admittedly a pretty terrible brand name) is the perfect manifestation of a multi-media success story—a popular blog turned book turned documentary.
Ari Seth Cohen's ongoing tribute to fashionable ladies over 60 exploded a couple of years ago and became an industry darling for the all right reasons. His whimsical, unapologetic portraits of flamboyant females who wear their wrinkles as proudly as their Hermes scarves have set a precedent in the fashion world, shining the spotlight on women whose age previously made them invisible to designers and magazine editors.
Soon, designers such as Karen Walker and Alber Elbaz of Lanvin warmed up to the power of ageless style and began shooting these women for their campaigns.
And now, out comes the documentary. If you weren't too inspired by the exuberant, bauble-laden photos, just wait 'till you see these women live. "I'm dressed for the theater of my life every day. I get such a kick out of it!" says one foxy lady in the trailer, casually fluffing her huge flower brooch. "I feel the same way as when I was 18, but I have fewer cares," proclaims another lion-hearted fashionista, clad in a colorful brocade suit and sporting a red mohawk.
And while these women are undoubtedly head-turning, they shouldn't be considered—or caged—like exotic rare birds, nor should they be relegated to the bowels of a too-cute meme. 
See, I promised myself years ago I'll be one of them when I grow up. Raised by Russian grandmas who chopped their hair come 60 and began donning "sensible," horrible, beige pants and unshapely blouses for good, I often felt sad and discouraged by the prospects of getting old. Sure, we all do, but style plays a bigger role in this headspace than we might think.
Becoming transparent, asexual and aesthetically insignificant is a deeply depressing prospect, stemming from the ancient mantra of our grandmas' generation—"I'm too old for this."
The women of Advanced Style feel decidedly the opposite—one is never too old for this. "This" being self expression, artistry, celebrating life and looking beautiful—all in your own eyes. So when you watch the movie, don't disregard these quirky ladies as odd or "eccentric"—instead, fantasize about the gravity-defying crazy hair you're going to have when you're old and take your time contemplating about all those magnificent outfits you're going to don to embarrass your not-yet-born grandkids (mine include a kimono, endless tulle skirts and a tiara).
And if "fantasizing" and "getting old" in the same sentence make you squirm, watch the movie twice. That should do the trick.