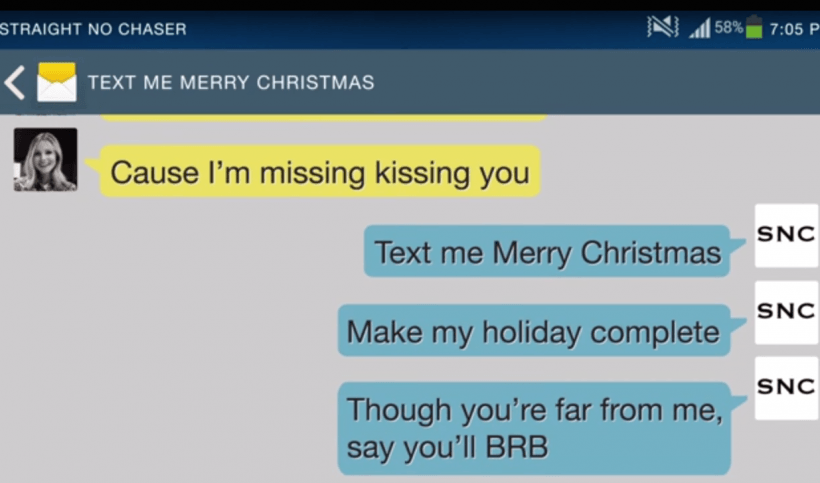 Even if I lived alone on an island with no way to track time, I would know every holiday solely by the incoming text messages. "Happy Turkey Day, G!" Oh, must be Thanksgiving. "Merry Christmas! Hope Santa is good to you ;)" A flirty yuletide reminder. And who could forget: "Happy Jesus Zombie Day!" We just call that "Easter" where I'm from, but whatever. 
As someone who is guilty of sending such saccharine, festive messages myself, I can't help but ponder the practice. I spend the holidays with my family, but I want to show friends some love too. So, I type out a general holiday text to send to the masses: "Happy Thanksgiving! Have a wonderful day with your family :)" Next, I compose a message for the inner circle that (roughly) looks like this: "Happy Thanksgiving my love! I'm so thankful for [unprintable inside joke dependent on recipient] LOL! Have an awesome day with [insert names of family members], and give them my love! XO." Lastly, I will send 100% personal messages to a few friends with whom I've shared some special experience recently. 
Part of loving someone is wanting that person to enjoy their holidays. But when did sending text messages to express that desire become an accepted social practice? Is it not enough to reach out to friends after the holiday and ask them how it was? Though I'm happiest when communicating with loved ones, detailing my efforts reads like a job. I don't like thinking about my social life in this manner . . . so what gives? 

One theory is that we simply like to avoid having "deep" conversations. We want to keep in touch, but don't want to wallow in feelings. The holidays are the perfect avenue for walking the line between human connection and potentially awkward intense conversations. While the family is together, being sentimental and stuff, we want to make a gesture of connectivity—but can't muster the strength for an emotional phone call. It's an easy way out, but also a thoughtful one.
I'm not sure if that's sad, sweet or neither, but Kristen Bell and a cappella group Straight No Chaser have a definite opinion. Together, they've crafted a witty tune all about texting your partner "Merry Christmas," and how lovely and meaningful it is. Just kidding. This parody video mocks the silliness of our favorite method of communication, regardless of the day.
I'm not sure it's right to dismiss the holiday text altogether—isn't it better than nothing at all?—but in the spirit of holiday giving, and because the song is now stuck in my head and I want others to share my misery, I've included the video to watch above. Use it to ruminate on the bizarre ritual of holiday texting. Then, please, send all of your Thanksgiving texts to me (it's my favorite holiday!). Thx.