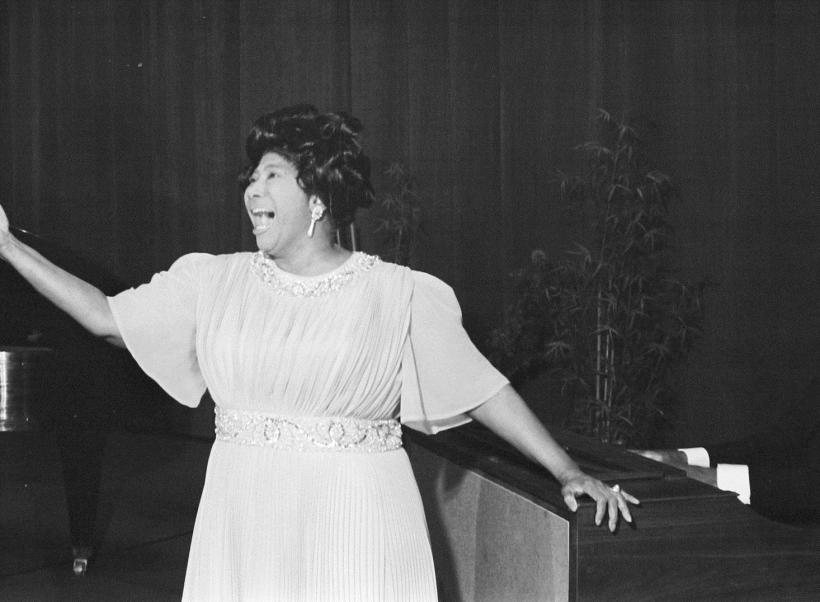 Credit: Flickr/U.S. Embassy New Delhi
Gospel is the forgotten roots music. Blues, country, jazz, rockabilly, early R&B—they all continue to be repackaged by revivalists and celebrated periodically by pop historians. Louis Armstrong and Hank Williams may not exactly be household names, but if you care about the history of American popular music, you probably know who they are.
That's not the case for most of the greats of gospel. Secular retro-acts from the Rolling Stones on down have been tentative about appropriating the Christian tradition wholesale. From the other side, gospel's fierce dedication to authenticity and realness made it risky for stars to crossover. When they've done so (like Sam Cooke and the Staple Singers), they've tended to put their gospel roots behind them, at least for marketing purposes, and/or to take major flack from their gospel audience.
As a result, gospel's place in the history of American music is often glossed over or forgotten. This despite the fact that gospel is arguably the most influential American music tradition—the one roots music that remains centrally relevant to the radio today. Beyoncé's powerhouse vocals and rap's use of rhythm and breath both come directly from the Church.
The loss of gospel history has meant, too, a forgetting of how important black women have been, and continue to be, to American performance styles. Women were hugely important to, and central in gospel music, in a way that complicates the image of rock as walking in the footsteps of black rural bluesmen. But what Elvis got from Rosetta Tharpe, or what Little Richard got from Marion Williams, often drops out of rock history.
Which is a shame, both because it distorts the historical record, and because there are so many great gospel performers who deserve to be remembered. Here's an introduction to some of them, for the uninitiated—and a chance to revisit some great music for those already in the know.
Two Gospel Keys, "You Got To Move"
The Rolling Stones took this song from blues singer Fred McDowell, but it was first recorded by the Two Gospel Keys, a female duo from Augusta, Georgia. Little is known about the performers, but you can hear the shout and strut of rock and roll foreshadowed in their Sanctified rhythms.
Rosetta Tharpe, "That's All"
Rosetta Tharpe scandalized her gospel followers by performing sacred music in secular venues during the late 1930s. You listen to that dirty, suggestive guitar solo, though, and it's hard to believe she was in the church in the first place; Jesus has never been so raunchy. Chuck Berry—and through him just about every rockstar who ever picked up an axet—owes her a debt. But precious few of them had a voice that could call down God with her same earthy authority.
Sallie Martin, "I'll Tell Him Wherever I Go"
One of the great early gospel performers, Martin's group—the Sallie Martin Singers—were a training ground for future starts like Brother Joe May and Dinah Washington. She's best known, though, for her collaboration with pioneering gospel songwriter Thomas Dorsey, who plays piano on this number. Martin didn't have the power of some other gospel singers, but her style, both down-home and theatrical, was inimitable. Someone needs to sample that dip-down low vibrating "Go-o-o-o-o."
Clara Ward and the Ward Singers, "How I Got Over"
The Ward Singers were one of the most popular gospel groups during the post-war era. Their leader, Clara Ward, had a longtime romance with the preacher C.L. Franklin, and is a major influence on C.L.'s famous daughter. You can hear the foreshadowing of Aretha in the call and response dynamics and with the soulful array of hums, shouts, and swing with which Ward varies her vocal line.
Marion Williams, "Travelin' Shoes"
The most spectacular performer with the Ward Singers, and indeed in the history of American music, was Marion Williams. "Travelin' Shoes," one of her signature numbers, highlights her low end, interspersed with an occasional high pitched whoop that pierced right through Little Richard and on to the Beatles. Her authoritative growls would make God jump back and kiss himself, much less James Brown.
Ruth Davis, "I'm Too Close to Heaven"
The Davis Sisters were one of the Ward Singers' chief rivals. Ruth Davis' gravelly soul on Alex Bradford's "I'm Too Close to Heaven" seems to anticipate Ray Charles numbers like "Drown In My Own Tears," as well as much of the rest of the history of soul.
Dorothy Love Coates, "That's Enough"
Dorothy Love Coates was not just a great singer, but a major composer, writing songs like "You Can't Hurry God" and "That's Enough" (covered by, among others, Johnny Cash). This performance nicely fuses the Sanctified rhythmic style of the Two Gospel Keys with that of latter-day gospel groups, as Coates and the Gospel Harmonettes swing around that up-front drumbeat.
Mahalia Jackson, "In the Upper Room"
If you've heard of one classic gospel performer, it's probably Mahalia Jackson. You can hear why she's so famous on this number, where she moves from a slow, almost classical dignity into a call and response shouting of the end. A slow burn for Jesus.
Shirley Caesar, "They've Got a Place Like That On the Other Side"
Shirley Caesar was one of the stars who took the classic gospel style from the 50s into the 60s. She started out with the popular group the Caravans before pursuing a very successful solo career. You can hear her here incorporating some of the rhythms of preaching into her singing, the "huh"s and accented breathing "hums"—laying the rhythmic basis for hip hop a few decades down the road.
Sister Winona Carr, "The Ball Game"
Sister Winona Carr was never a major gospel star—her closest brush with fame was this novelty hit with Moses, faith, Satan, Jesus and other prophets entangled in an improbable and vaguely sacrilegious baseball metaphor. Major gospel star or no, though, Carr is a great singer, with a bit of the flirtatious authority of LaVern Baker, melding gospel fire and pop fun. This performance shows just how deep gospel's bench was; even the second-stringers were all stars.