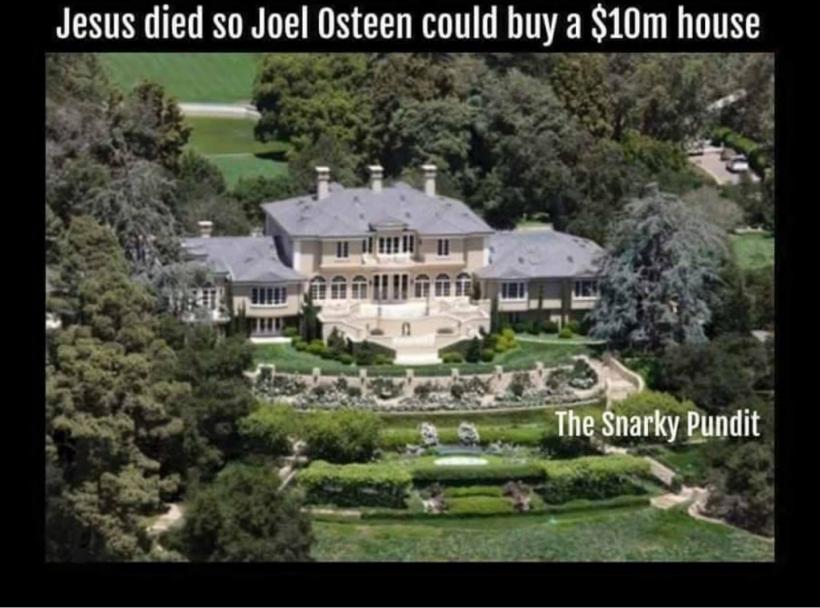 Joel Osteen's "house"
Hurricane Harvey will undoubtedly be remembered as the costliest natural disaster in American history.
At last estimate, damages are up to $160 BILLION dollars. Thirty lives have been lost.
If there has ever been a time to band together to help those in need, this is it.
I mean, unless you're Joel Osteen. If you're Joel Osteen, now is the time to shut your church's doors and hide away in your $10 million mansion. With a church seating over 16,000, and the love of Christ being what it is, you'd think he'd open it willingly. Alas, no. 
Rather than open the church to flood victims, Joel told folks to rely on faith. 
Jesus promises us peace that passes understanding. That's peace when it doesn't make sense.

— Joel Osteen (@JoelOsteen) August 28, 2017
OH SURE. Faith is definitely going to shelter displaced families, Joel. 
To be fair to Joel, he has since opened the doors and said they've always been open, so maybe there is some kind of bizarre misunderstanding. 
Kind of like reading the Old Testament and thinking we should stone gay people but let dudes beat their wives. 
Anyway, Twitter never disappoints. While the flood is a terrible tragedy, these tweets are not:
And on the 7th day, the Lord said, "DON'T LET THEM INSIDE, JOEL."
Joel Osteen and the rest of the "prosperity gospel" peddlers are parasites!#JoelOsteen pic.twitter.com/uXt0s4RdvQ

— Give Him The Finger (@protestcards) August 29, 2017
Clearly, this Christian preacher could learn a thing or two from the teachings of Islam.
Take THAT #JOELOSTEEN! pic.twitter.com/On14ip841Z

— OLIVIA FOX RADIO (@Oliviafoxradio) August 29, 2017
Never seen GoT, still think this is pretty good.
Joel Osteen is the real life Petyr Baelish
Backtracking only when their character is revealed #JoelOsteen #GameOfThrones pic.twitter.com/DzFEcBszfk

— A Girl Has No Name (@lorislifehacks) August 29, 2017
Gotta love an appropriately placed Simpsons GIF. 
JOEL OSTEEN WHEN #HOUSTON NEIGHBORS ASK TO SEEK REFUGE IN HIS CHURCH. #JoelOsteen #houstonflood #Harvey #HurricaneHarvey #Christian pic.twitter.com/GZkSUAgV9w

— Robert Sedona (@RobertSedona) August 29, 2017
Show me the MON-AY!
Live look at #JoelOsteen doing his best to help Houston flood victims: pic.twitter.com/5aBkmRFAQM

— JPM (@JPM_80) August 28, 2017
OUCH!
Bloop! #JoelOsteenisaFraud #joelOsteen pic.twitter.com/rOE0q0x8yw

— David A (@dagrant519) August 30, 2017
And the Lord God said, "Keep your muddy shoes off my carpet."
The Gospel According to Joel Osteen #PrayForHouston #PrayforTexas #JoelOsteen pic.twitter.com/O7gbKvictx

— Philip Moon (@Philip_R_Moon) August 28, 2017
Everybody mad at Joel Osteen should remember he is offering to pray FOR FREE. He normally charges thousands of dollars for that. https://t.co/tql3K9MeUm

— Nunca Trump (@NeverTrumpTexan) August 28, 2017
I mean, that is a REALLY big house. Maybe he could let some people in there?
You actually thought a guy who preaches hope to those struggling then goes home to this mansion actually gives a damn about u? #JoelOsteen pic.twitter.com/kizxvHj2Xq

— TJ (@That_Guy933) August 29, 2017
AAAND BONUS TWEET:
Preparing for the disaster. pic.twitter.com/eMXkKyHnYv

— Alternative NOAA (@altNOAA) August 29, 2017