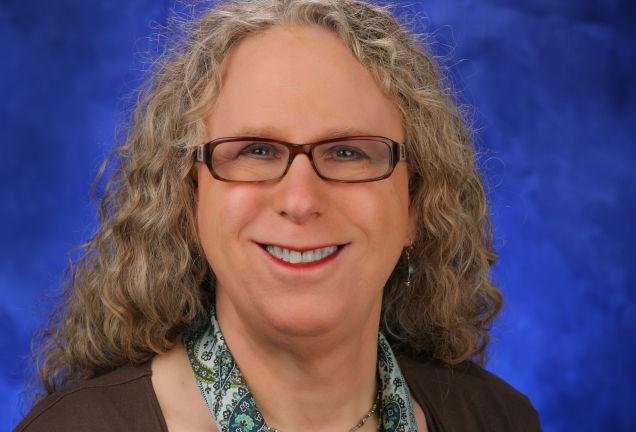 Dr. Rachel Levine (Credit: Pennsylvania State University)
One need only look at the Oval Office to see that when it comes to politics, we've got a bit of a gender discrepancy. In this weekly roundup, we focus on powerful political women in the news who are helping to break the proverbial glass ceiling of policy-making around the world. Politicos, move aside. We bring you . . . politicas. For more on female politicians to watch, click here.
Dr. Rachel Levine
It's hardly a surprise that Pennsylvania Governor-Elect Tom Wolf has appointed Dr. Levine as physician general. A professor of pediatrics and psychiatry at the Penn State Milton S. Hershey Medical Center, with over 30 years of experience in the field, Dr. Levine definitely has the chops for the high-profile role.
She also just so happens to be transgender—and, if confirmed, will be the highest-ranking trans woman in the state government.
Levine is just the latest transgender politician to challenge, subvert, and otherwise ass-kick the status quo. In England, Emily Brothers, a trans blind woman, is running for parliament, and last year, Paula Overby became the first transgendered person to run for Congress in Minnesota. 
As liaison for LGBT Affairs at Penn State, and an Equality PA board member, Levine is poised to push for change from her new perch. But make no mistake: As significant as her work as a LGTBT champion is, Levine is first and foremost a highly qualified and accomplished choice for the job at hand. In addition to her seasoned medical resume, she is an impassioned voice for those struggling with eating disorders, and is the founder and chief of Penn State's Division of Adolescent Medicine and Eating Disorders.
In short, she will kill it as physician general. To quote Wolf:
"Dr. Rachel Levine is well-respected in the fields of pediatrics, psychiatry, and behavioral health, where she has practiced for close to three decades. She has been a leading voice in efforts to treat teens with medical and psychological problems, as well as adults and children with eating disorders. It is important to me that we place equal emphasis on behavioral and physical health issues. Dr. Levine will bring expertise and wide-ranging knowledge to this important role advising the secretary of Health and me on medical and public health matters."
Tzipi Livni
Former foreign minister. Lead Israeli negotiator in the peace process with Palestinians. Ex-spy with the Israeli intelligence agency Mossad.
Over the years, Livni has accumulated one hell of a political resume. And now, alongside Labor Party chief Isaac Herzog, the politician named one of the "150 Women Who Shake the World" by Newsweek and The Daily Beast is looking to usurp Israeli Prime Minister Benjamin Netanyahu in the upcoming March elections.
To dethrone the controversial current leader of Israel, Livni is touting her foreign policy cred. This week, she told Bloomberg of the Israeli-Palestinian crisis, "I don't promise that peace is around the corner. But we need to move forward with decisions needed to break the isolation Israel is facing" that will be "in accordance with the vision of two states for two peoples."
Thanks to candor like this, Livni's resume might soon be marked with a new, and particularly impressive, distinction.
Hillary Clinton
Meanwhile, in Hillary-World, it was a typical week of good, bad, weird, and ugly. Everyone's favorite uncle Joe Biden slyly announced "there is a chance" he could challenge Hills in the presidential election; Fox News ranted about her being an "enabler of [Obama's] clueless foreign policy"; and Hillary herself lauded universal health care and presented a multi-pronged approach to dealing with terrorism. Oh, and Hillary impersonating Vladimir Putin happened.
Probably the biggest news of the week, though, was a Washington Post-ABC News poll showing Hills crushing her potential Republican challengers. And we do mean crushing; the poll revealed double-digit leads over all possible GOP contenders, as shown in the handy graphic below (yes, word on the street is that Mitt Romney could be back in the game, again, in 2016):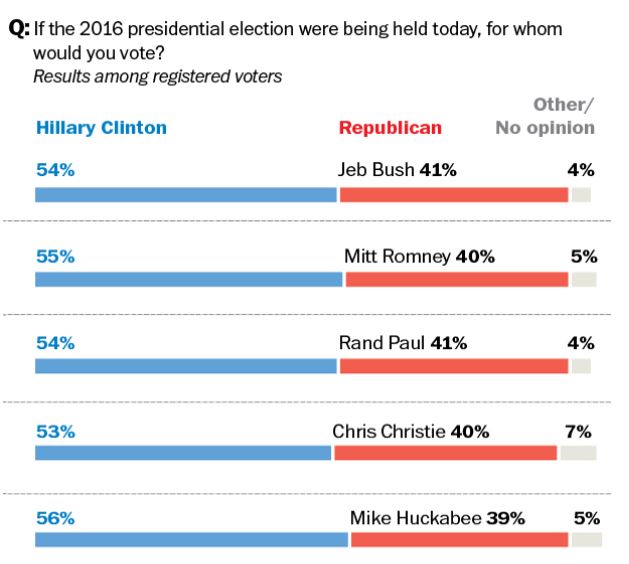 Then again, according to one of the more strangely sublime headlines of the week, Mitt Romney is beating Hillary Clinton at Facebook.
Hey, you can't win 'em all . . .