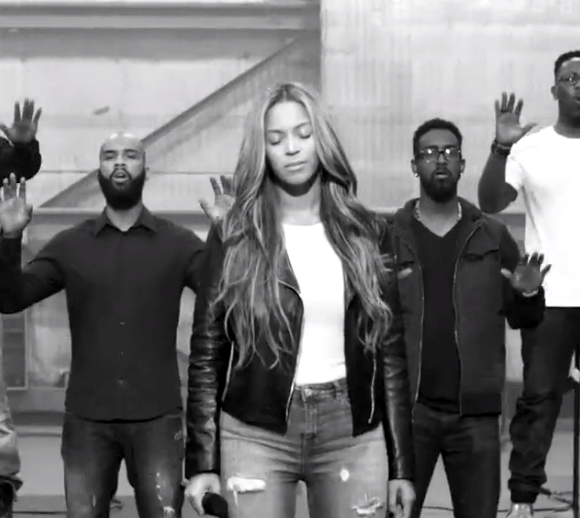 A behind-the-scenes shot of rehearsal. Courtesy of Beyonce's Facebook
Blues, jazz, country, rock, hip hop—all of them, in various ways, are about keeping it real. About authenticity. About banishing bullshit.
But no American popular music has as fraught a relationship with authenticity as gospel. Being true to the spirit—a metaphor in most music—is much more concrete in gospel. And acts that attempt to cross over to secular music (like the Staple Singers or Sister Rosetta Tharpe) have sometimes lost audiences and fans in their leaps across the chasm.
So it should come as no wonder then that Beyoncé's Grammy performance of "Take My Hand, Precious Lord" has been greeted with skepticism. 
Beyoncé's vocal style is steeped in the church, and her effort, even set against the glitzy award-show background, was clearly in the tradition—she's spoken movingly about first hearing the song when she was a child. But many watchers were unconvinced—and compared the performance unfavorably to that of Ledisi, who sang the song in the film Selma.
And in truth? I prefer Ledisi's version too; I pretty much would always rather listen to gospel a cappella, and Ledisi's bluesy take is a lot more appropriate to the material than Beyoncé's glamorized, national anthem-esque melismas. But still, it seems odd to see the song as more authentically Ledisi's, or to see Beyoncé as an interloper, when "Take My Hand, Precious Lord" is such a hoary standard, sung, it sometimes seems, by just about everyone with a pair of lungs. As I said, I like Ledisi's version. But is hers really superior to that of the woman she plays in Selma, Mahalia Jackson?  
Those bluesy moans are inimitable; the song becomes all inhalation, exhalation, and moan. The power is enough to shake the rafters, but she still sounds like she's speaking alone to her God. Mahalia and gospel—together and separately—became linked to the Civil Rights struggle of the 60s. Part of why Beyoncé was seen as an interloper is because she turned the filmed version of that struggle into a pop confection (even though she did, specifically, frame the performance in the context of #BlackLivesMatter and the Ferguson protests.)
But the original inspiration, or context of "Take My Hand, Precious Lord" was not political; it was personal. Thomas Dorsey, the great gospel songwriter, wrote the song after his wife and unborn son died. He tells the story here with an assist from the great Marion Williams—who has an "ooooooh!" that even Mahalia Jackson can't rival.
Selma politicizes the song, turning it into a hope for racial healing and renewal—but it was originally about personal trials, pain, and hope. As such, it's struck a chord with white singers as well as African-American ones—it's almost as much of a standard in the country tradition as in gospel. Merle Haggard's gently rolling version has a low key vulnerability that's a nice contrast to the powerhouse gospel renditions.
And Doc Watson's wavering old timey version sounds even closer to Thomas Dorsey's own talk-singing recitation.
Gospel and country hardly exhaust the song's reach though. Listen to this amazing percussive acoustic blues version, with yodeling hollers, by Blind Connie Williams.
Or Nina Simone's jazzy cabaret rendition:
So, if there are so many ways to sing this song, and if it's meant different things at different points, why complain about Beyoncé's version? 
Well, I can think of a couple of reasons.
In the first place, listening to more all these different singers perform "Take My Hand Precious Lord" (Al Green! Rosetta Tharpe! Aretha!) only emphasizes how weak Beyoncé's effort is. Hers isn't the worst I've ever heard (Brenda Lee's cover seems misguided, as just one example.) But you could also spend about half a day at least on YouTube listening to versions of "Take My Hand, Precious Lord" that are better than Beyoncé's.
Seeing the range of what the song can be also underlines how unimaginative Beyoncé was—and how myopic. If folks have done the song as country, as blues, as jazz, then surely Beyoncé could have done it as duet. If the song's been political and personal, it seems like it could also be communal—"Take My Hand, Precious Lord" could have been a way for Beyoncé to share the spotlight and give a colleague a hand up.
As R.H. Harris and James Medlock demonstrate, it wouldn't have been the first time that two great singers shared the spotlight on "Precious Lord.