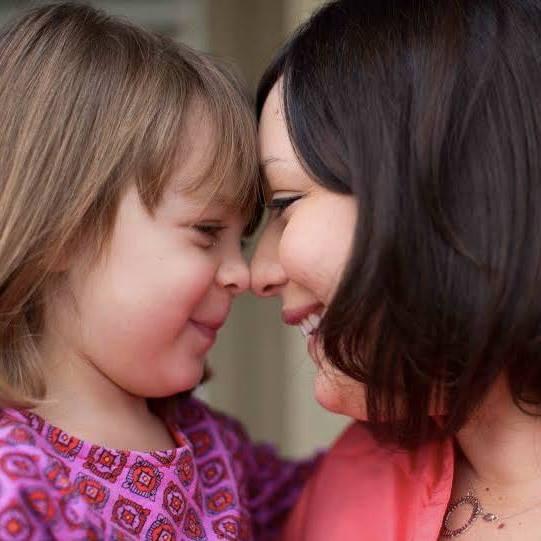 As we end the month of May, we're reflecting on motherhood and gathering perspectives from mothers of all kinds. How are their experiences the same? How are they different?
Though not everyone mothers the same way, one person's parenting journey is never any less valid than another. We talked to some women with differing opinions on how being a mom — or not being one has changed their life.
A woman at my daughter's hourly class, beaming from ear to ear, stops me. "Congratulations!" she says excitedly, looking at my growing stomach. "How thrilling for your daughter to finally have a sibling!"
It's at that moment my world slowly grinds to a halt, my mind racing as I think in a very short amount of time how I can explain this — or not explain and yet not leave feeling like the worst mother ever. Often I find myself short with people, unsure of how much of my story they are able to process in a few minutes. Other times I babble on, filling the gaps where something unintentionally hurtful might be said if I pause.
I feel as though I'm walking around with a secret life no one can possibly guess. One daughter, five years old, skipping next to her pregnant mama as we run errands and head to classes and groups.
She has three brothers that died — all shortly after birth. I was pregnant with identical twin boys in 2012, and they were born too early, living only a short time after a weeklong, traumatic hospital stay and then horrific birth. In 2013, I made it to full term with my perfectly healthy third son. We were told when he was five days old that he had severe cardiomyopathy, and after two weeks at Children's Hospital, he passed away on his three-week birthday. My daughter finally met him the night before he died.
This pregnancy was a surprise, and sometimes it's hard to feel anything but as if there's another bomb waiting to go off in our lives. I don't feel the ultimate rush of happiness when someone wants to know all about this baby I hold my breath for, I often just feel like crying. I don't know how to tell them our story without having to face their fears too.
You are my worst nightmare, their eyes tell me.
I know.
As I compare my body with other women expecting their second, or even third, I remind myself that this is my fifth child. I am OK. This is my fifth baby. My fourth pregnancy. I look normal for that. But to anyone else, I am a surprise. "Second trimester? Goodness, I thought you were almost due!" It's at these moments I wish my life looked like it should - like it does in my head; a five-year-old, two three-year-olds, and a nearly two-year-old standing beside me.
I've learned to navigate my life story a little better in the past years, and to let go of some of the guilt. There are times I simply only have time to say, "Thank you, we're excited as well." I chalk it up to telling someone, "I'm fine!" when your day really isn't going that well. Other conversations are harder — comments about my body, the length of time between my daughter and this baby, or the fact that being sick (still) is "what it takes for a healthy baby!" In those moments I often say the wrong thing, or say nothing at all. I'm trying to give myself grace to falter when it hurts.
Grace for them too. After all, who could guess my story? Who knows what to say when it spills out?
Motherhood is always going to be different. My anxiety, my worries — all the ones that are brushed off as new mom fears have deep, painful roots for me. While we hope with all our hearts that our home will finally welcome a baby this fall, we also live with the reality of coming home empty handed, packing up a life that wasn't ever started.
My motherhood is full of suffering — my own and my children's, always on the verge of having to give back another desperately wanted child. Yet it's also full of beauty, hope, and longing. The way my husband, daughter, and I have walked this together, over and over again, and we find ourselves anticipating this new baby — so very much.
Maybe this time around will be all of our "finally."