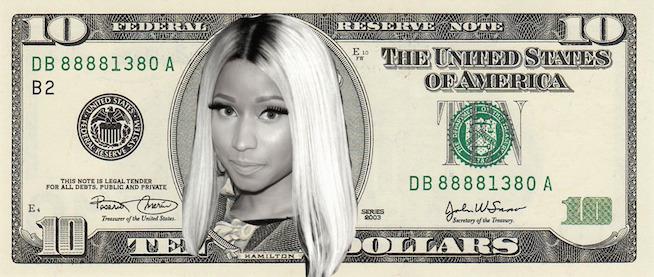 There's going to be a lady on the 10-dollar bill!
Like –– a woman! An actual, real-life, bona-fide lady person is going to be on a piece of cash money, just as all money is becoming digitalized.
But really, I am super stoked that this is happening. It is really cool to picture little girls of the future being given lady-faced 10-dollar bill novelty relics in birthday cards. 
There has been a lot of discussion about the who of this 10-dollar bill. We have until 2020, but there are already some popular suggestions: Harriet Tubman. Rosa Parks. Eleanor Roosevelt.
But this was a decision made in our modern times –– post second-wave and all that jazz. I think the new bill should reflect that. Let it be a woman with the same values as those revered figures of the past, but with the added perspective of a woman living in the world right now.
Let it be a woman who's got buns, hun.
Let it be Nicki Minaj.
Queen Onika is the perfect first woman to be put on American paper money because, well, first of all, she has a lot of it and likes to talk about it. In my mind, the anti-counterfeit micro script inscribed behind her angelic portrait will read, in her own words:
"And I'm all up, all up, all up in the bank with the funny face/ And if I'm fake I ain't notice cause my money ain't"
Nicki works in a male-dominated industry, so she would be no stranger to the challenges of being the only woman in United States currency circulation. She'd probably enjoy it. If she can spit a verse better than Kanye can on his own track, she can definitely hold a place next to Andrew Jackson. She'll team up with the Sacagawea dollar and give him a run for his money. All the way to Oklahoma. KARMA.
Technically speaking, Nicki is from Trinidad, but what would be more American than to have someone like her on our money? We claim to be a country of immigrants –– let's put our money where our mouth is (last money pun, I promise). And Nicki has no shortage of patriotism. According to her, "American girls run the planet." She'd be proud to have her face on the bills she probably uses to blot her real, actual, flawless face.
And let us not forget what a fantastic role model Nicki Minaj is. She has made it her mission to let her fans know that education is the most important thing –– even more important than music. She lifts up girls and proves that you can be sexual, sensitive, sassy, and smart all at once (because, OMG, women are complex, multi-faceted people). And smart she is. Whip smart. She writes every song she spits, and her prowess is a force to be reckoned with.
She is a forced to be reckoned with.
I'd forgo my Apple Pay to use a bill with her face on it any day.